In this article:
Quickbooks Set Up (Only if using QB)
Enable & Accept Deposits on Jobs
How Deposits Sync to QuickBooks
Deposit Settings in SingleOps
Enable Deposits in SingleOps
Contact SingleOps Support Team to enable the Deposits feature in your settings.
Deposit Settings
| | |
| --- | --- |
| Setting | Description |
| Jobs requiring deposits should be on-hold by default | Jobs that require a deposit will not be available for scheduling until deposit is made. Learn more about On Hold Jobs here. |
| Default Deposit % | If you require a standard deposit % on all jobs, enter it in this setting. This will have all jobs defaulted to deposits enabled with the % entered. If no default deposit is desired, leave this field blank. |
Quickbooks Set Up (Only if using QB)
Set Up QuickBooks Account for Deposits
In Quickbooks:
Create a new account in you Chart of Accounts (e.g. Customer Deposits). This must be an Income Account and Other Current Liabilities type.
Create a new service in your Products and Services section and associate with the Income Account (Customer Deposits) that you just created.
Note: You can name this whatever you'd like, and it will sync as an item to SingleOps.
Set Up SingleOps Account for Deposits
Once Quickbooks setup complete and deposit setting enabled:
From the SingleOps home page, navigate to Admin > Account Settings
On the Company page in Account Settings, scroll down to find Deposit Item (this section will only be visible after a SingleOps Support Team Member enables the tool)
Click the drop down box and from the list of Items, choose the Income Account (Customer Deposits) service that you just created.
Click Update Account when finished. Now you are ready to start taking Deposits in SingleOps.
Setup (Only if using Quickbooks) Video
Enable & Accept Deposits on Jobs
Enable Deposits
From the Edit Job page, scroll to the bottom to find the Additional Options section.
Next to Deposits, select Enable

Additional options will drop down under the Deposits section:

Deposit Type:

Percentage
Flat (dollar) Amount

Deposit Amount: Type a number into this area depending on what you selected for Deposit Type.

10 = 10% (Percentage)
10 = $10.00 (Flat Amount)
Accept Deposits
Client View
Required Deposit is now displayed.
Note: You may need adjust the totals section of your document templates to include deposit info.


Once the proposal is accepted, the client will be taken to the Pay Deposit by Credit Card screen.
Notes:

A client can pay MORE than the required deposit here but not less. A client does not have to pay the deposit, and can exit out of the credit card window.
A client can only make a Deposit one time, and then any subsequent payments would be treated as regular payments.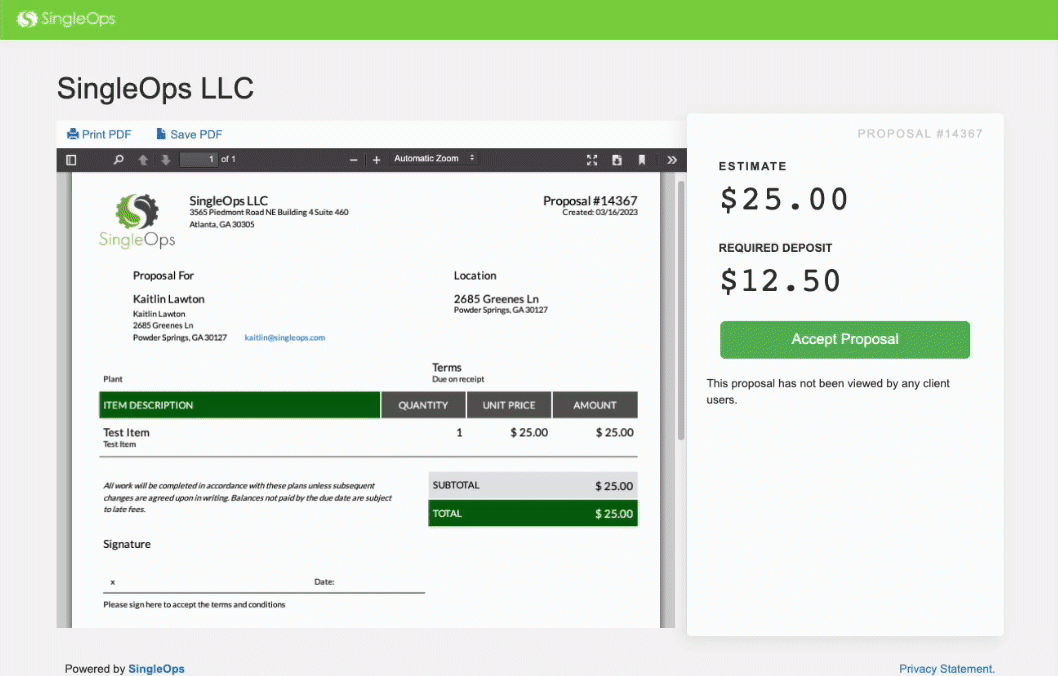 Internal View
Click the blue Deposit button on a job
Click Process Deposit
Add payment details
When finished, click Submit Deposit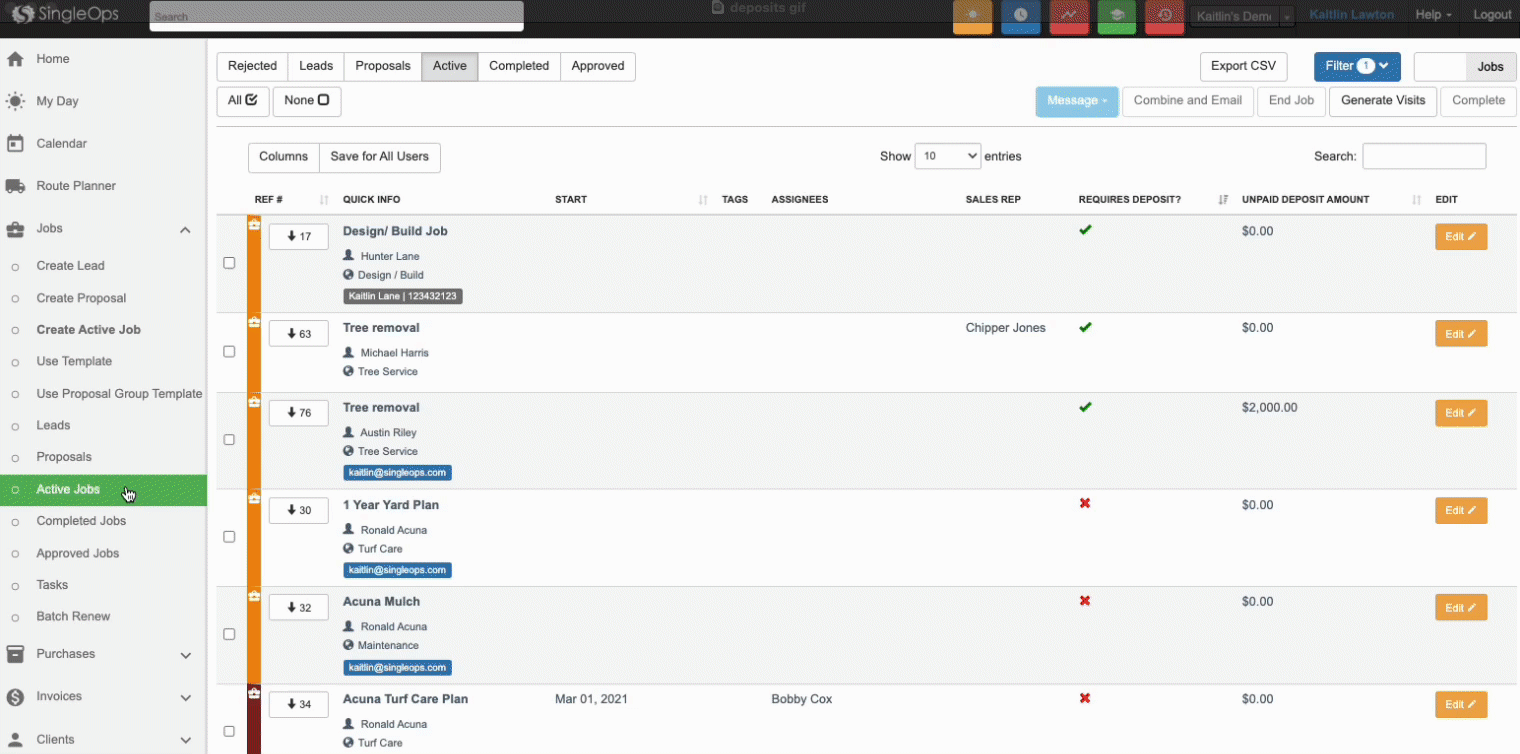 Apply Deposits to Invoices
Deposits will be applied to invoices as payments. This can happen at different times pending the invoice type.
| | |
| --- | --- |
| Invoice Type | Detail |
| Recurring Per Visit or One Off Jobs | Deposit applied on completion OR manually applied prior to completion. See detail below. |
| Recurring Fixed or Progress Billing Invoice | Deposit applied on invoice creation. |
Apply Deposit Manually (Recurring Per Visit or One Off Jobs)
Click the blue Payments button in the top right of the Job or visit page
Select Apply Deposit
Enter amount to apply to the invoice
Notes:

You cannot accept a deposit less than the amount shown on the job.
Deposits can not be applied to other jobs, or used as credits, even if it is for the same client.
Apply Deposits on Completion (Recurring Per Visit or One Off Jobs)
When marking a job or visit completed, the invoice total for that job or visit will be defaulted to apply.
Note: Only Operators and Admins can deselect the 'Apply Deposit' option.
After selecting Complete, the payment is applied and deducted from the total deposit amount.

Note: Make sure that Deposits are applied PRIOR to roll-ups being created.
How Deposits Sync to QuickBooks
When a deposit is paid, a Sales Receipt is created in Quickbooks.
When a deposit is applied to an invoice:


The invoice will sync to Quickbooks
A credit memo will be created in QB to connect the amount deducted from the Sales Receipt to the payment on the invoice.
How to Use Deposits Video