Progress Billing is an invoicing method for one-off jobs that allows you to bill clients based on completed work. Created with Design/Build in mind, this feature gives you more control over the invoicing process. It allows you to review the progress of a job and manually create invoices as needed or create a Milestone and bill their clients as those milestones are reached. Milestone Billing allows you to set specific milestones based on the total price of the job, either by dollar amount or by percentage of the total amount. Progress Billing can only be used for one-off jobs or for one-off jobs that have been split into multiple visits.
In this article:
Enable Milestone Progress Billing on a Job
Generate Progress Billing Invoice
Milestone Progress Billing Video
Enable Milestone Progress Billing on a Job
1. Navigate to

Jobs
2. From any Job page, under the Progress Billing section, check the box next to Enable Progress Billing.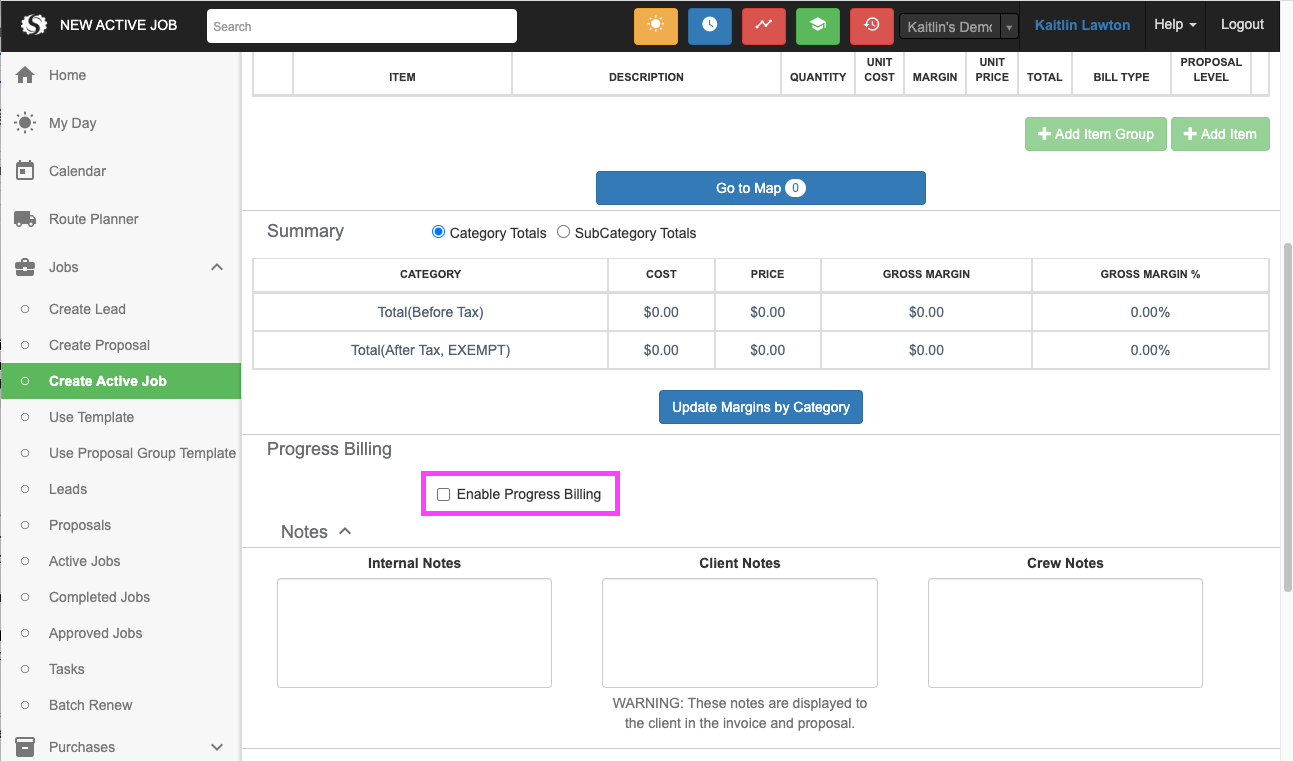 3. Once Enable Progress Billing is checked, the Progress Billing Types will be displayed. Select Milestone.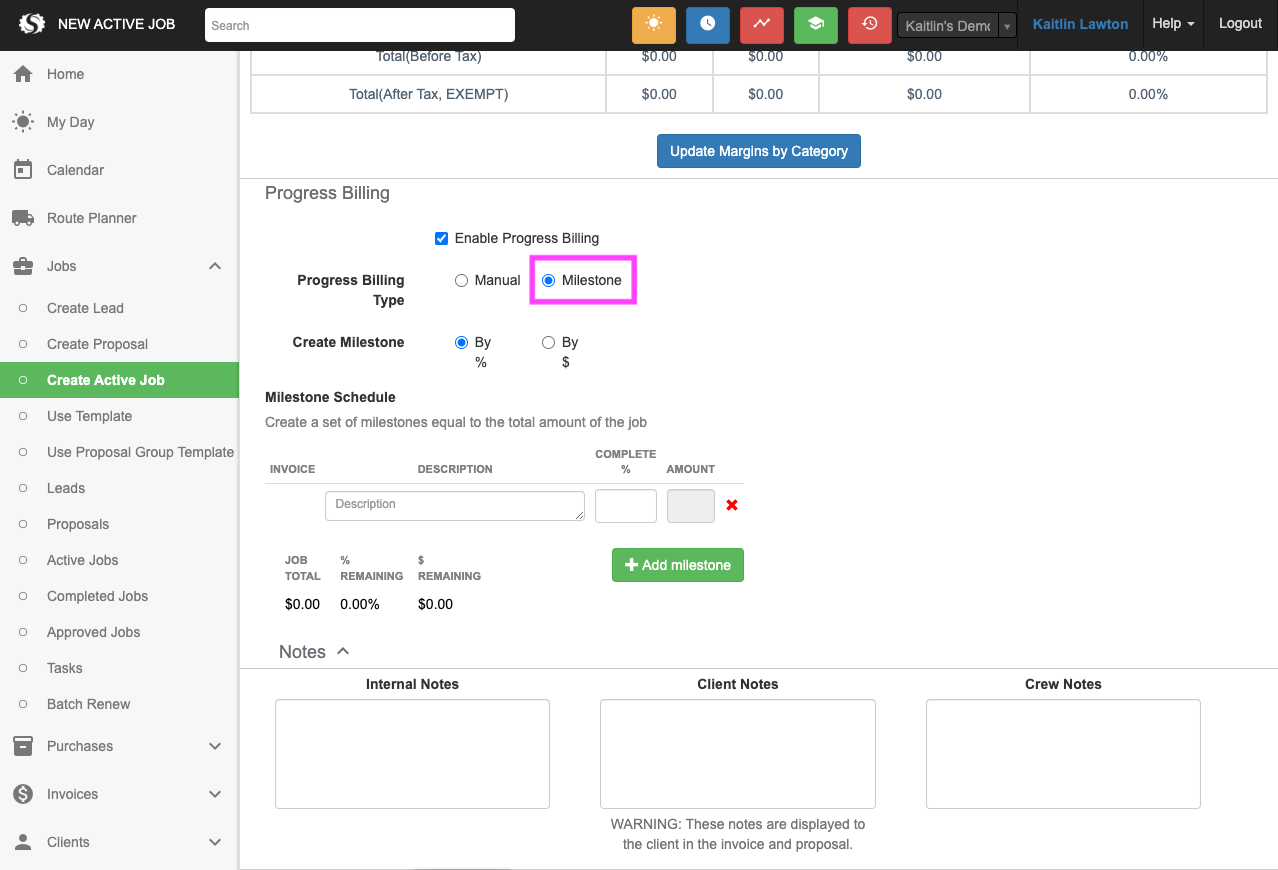 4. Determine if this job will be viewed by % of the job that is completed or by $ and check the box. You can toggle between the two as needed.
5. Set-up the Milestone Schedule by entering Descriptions and Complete % and + Add Milestones as needed. Percentages must add up to 100% and dollar amounts must equal the job total. Running totals for both are available here.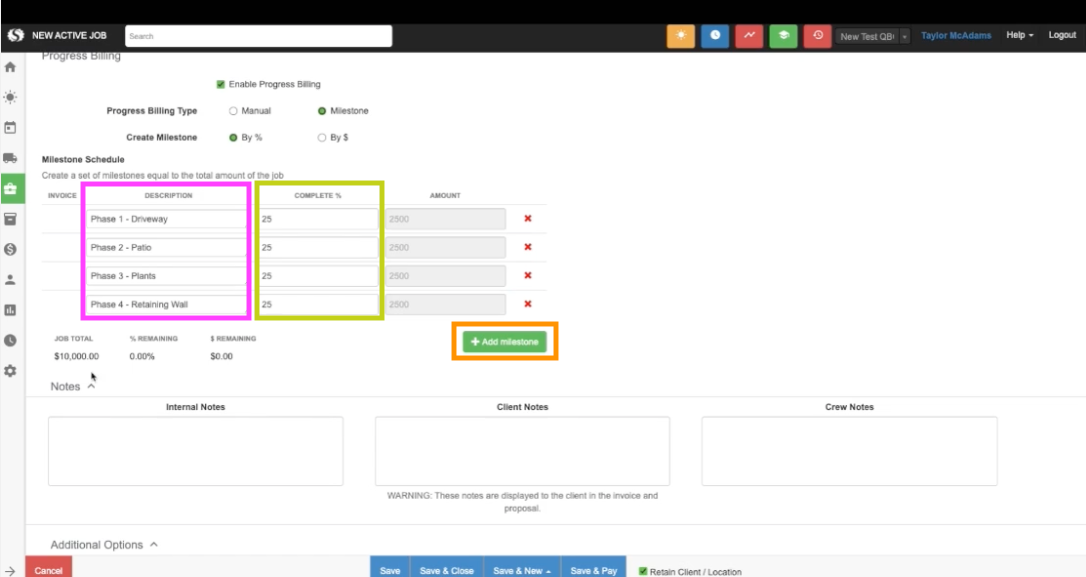 6. Finish the job as usual and Save & Close.
The payment schedule for each milestone will show on the proposal.
Generate Progress Billing Invoice
In order to complete items from this job, you'll use the Split Visit Feature to select which items need to be split into separate visits. This can either be done ahead of time, or as the items are completed. If you have questions about how to Split a Visit check out the Help Center Article
Once items on a job have been split off and completed, they can be added to the invoice.
1. Navigate to:

Invoices > Progress Billing Invoices
2. On this page, you will find a list of jobs set up with Progress Billing that still have an un-invoiced amount. Once the un-invoiced amount is reached, those jobs will disappear from this page. To generate an invoice, select + Invoice (under Actions).

3. The Milestone Schedule that was entered on job creation will appear. Invoices can only be generated in the correct order. You can always go back to the job and edit the milestones there.

*Note: You can edit the items by either deleting them off the invoice or by adding new items or item groups.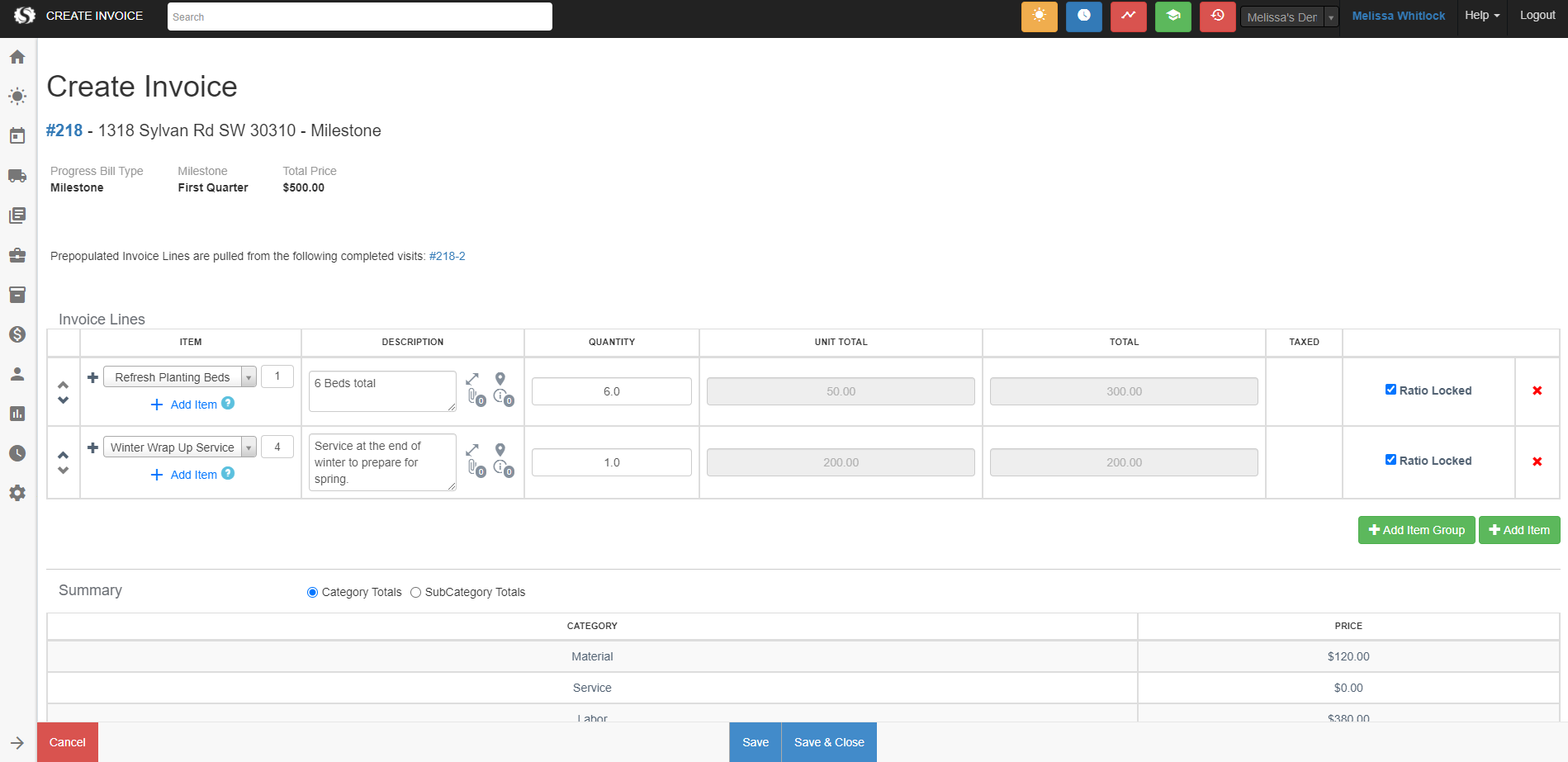 *Important Note: The Total Price of all the items on the invoice have to add up to the Total Price of the milestone, which is displayed in the upper right hand corner of the screen, under Total Price. This may require you to adjust the price or quantity of the items on the invoice.
4. Make any changes to the items, quantities and totals. Be sure to select an invoice date (required), then select Save & Close. This will generate the invoice, sync to QuickBooks, and is now be ready to be sent to your client.
5. This Invoice can be found on the Open Invoices page:

Invoices > Open Invoices
Milestone Progress Billing Video