In this article:
About GreenSky
GreenSky is a lending financial technology company used at the point-of-sale as promotional credit to help grow your business and appeal to customers. This SingleOps & GreenSky integration enables loan offer selection, optional inclusion on proposals, presentation of loan info to consumers on proposal document & portal page, and customers have the ability to apply for the loan on a proposal. This article will walk you through the steps to setting-up, signing up and presenting this feature to your customers. GreenSky is only supported in the U.S. If for any reason you do not see the option to sign up, please reach out to our SingleOps team.
Easy, paperless, fast
A wide range of loan plans suited to many Customers1
Pre-qualification available, with no effect on credit score
Credit limits up to $100,0002
Credit decisions within seconds from application submission3
1 Loans are for personal, family and household use.
2 Subject to credit approval.
3 Applications with data entry or credit check complications may be decisioned in a period longer than seconds.
Sign-Up
1. Navigate to:

Admin > Integrations > SingleOps Financing > Sign Up
2. Select Sign Up & enter your information on the GreenSky Partnership Page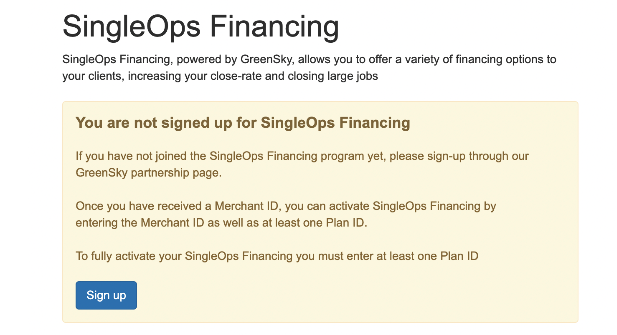 3. Once the underwriting process is complete (this typically takes 3-5 business days), you will receive training & a Merchant ID from your GreenSky representative. Your GreenSky rep will also work with you to determine the best financing plans for you & your customers.
Set Up
1. Navigate to:

Admin > Integrations > SingleOps Financing > Sign Up
2. Enter your Merchant ID
3. Enter at least 1 Plan ID o
4. Enter a minimum job value for Automatic financing on a job. Jobs with a total value at or above the selected value will trigger the finance option on proposals when the job option is set to Automatic. Note: the minimum job value for financing must be at least $1,000.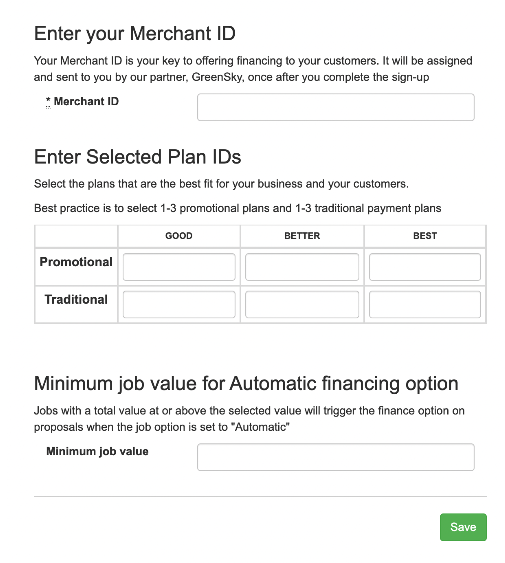 Using GreenSky
1. On the Create Job page, select the drop down next to Financing Option and select Automatic, Enabled, or Disabled.
Automatic - This will be the default selection. Financing will be automatically enabled if the job's total meets or exceeds the Minimum Job Value that was set on the integration page.
Enabled vs. Disabled allows the user to override the default automatic option. Enabled will enable financing on the job regardless of the job's total & Disabled will disabled financing on the job regardless of the job's total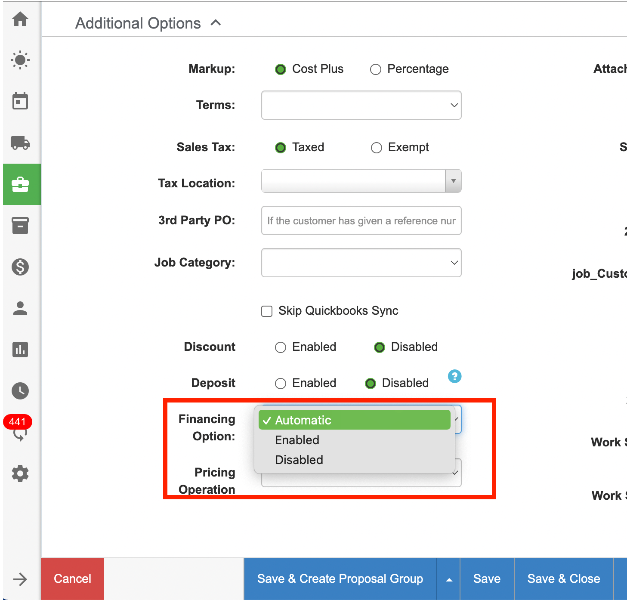 Once the Proposal is saved, you will be able see financing info in 2 new column fields on the job management page: Financing Offered / Financing Accepted

2. Proposal Acceptance - The customer can select Learn More on the PDF or Acceptance screen when accepting their proposal.
Note: This public messaging can be updated here: Admin > Account Settings > Edit Company Info > Financing Intro Text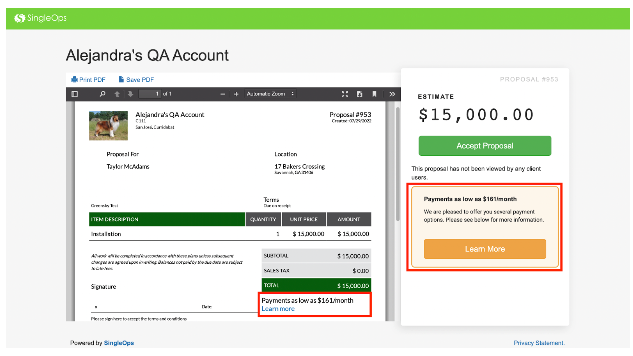 3. After your client selects Learn More, a new tab will open where they can review their financing options. Each option includes a description & disclosure.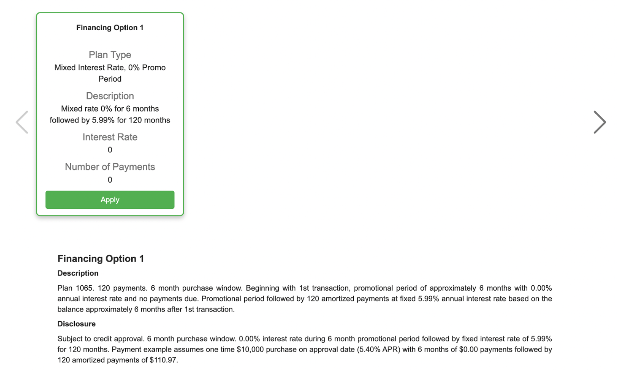 4. Your client can select Apply on the option of their choice to apply for financing.
5. Once their application is complete / approved (typically takes less than 5 minutes), they will receive their loan agreement via email, as well as an immediate pdf that can be downloaded.
6. At the time you are ready to invoice the job, you will need to request approval for the charge in your GreenSky merchant portal, & once that charge is approved by your customer, you will then manually mark the Invoice as paid in SingleOps. *Note: Once the GreenSky merchant ID is set up in the SingleOps Financing page, a 'GreenSky' payment method will be automatically created.
Additional Notes
Financing can be enabled on Jobs within a Proposal Group, but much like Prepay or Deposits, the end customer will not see this information on the Proposal Group document when sending the proposal to the customer. The user would have to send the individual proposals to offer financing on those jobs.
FAQ in GreenSky
How long will underwriting take?
Underwriting process for Merchants (SingleOps Customer) typically takes 3-5 business days.
Requirements:

At least 2 years in business

At least $1mil in annual sales revenue

Once approved, Greensky will provide a Merchant ID, assistance with Plan selection, & training
How long until I see funds in my bank account?
Once a charge for the job is submitted by the Merchant & approved by the consumer, the Merchant will receive funding in 2-3 business days

How long will it take for my customer do be approved for financing?
Loan approval for the consumer takes about 5 minutes or less. The consumer(your customer) is typically approved for more than they applied for (to support funding for change orders).
How do I promote GreenSky to my customers?
You can use this Free Digital Resource Kit. Here, you'll find downloadable promotional materials designed to let your customers know that you can make their home improvement project better and more affordable, helping to generate more leads and interest.
GreenSky Video