Introduction
The Automation feature intends to automate several common tasks in the sales, job execution, and billing/payments cycles for SingleOps Plus and Premium tiered customers. This article will go over Automation settings and editing. More information on tier restrictions and conditions for each Automation are linked at the bottom of this article.
Table of Contents
I. Set-up & Edit
II. Automations Types & Article Links
I. Set-up & Edit
1. To access & edit your Automations navigate to:

Admin >
Automations >
2. Select Set It Up or Edit next to the Automation you wish to edit.
3. From here you can alter a few settings for the individual automation:
Active checkbox: This box must be checked for the automation to trigger.
Operation: This will determine what job operation(s) the automation will apply to.
Time After/Before Trigger: This will indicate the days before or after the trigger that the automatic message is sent.
Email Template: This allows you to select which template you'd like to use for this automatic follow-up email.

You can also edit/create your email templates learn more here

+Add another Event (Premier Only): This will allow you to add multiple events, to send multiple reminders. *Note: All events will be sent off the original trigger, not off previous automated message
4. Click Save when finished
*Note: Automations will send upon saving to all records (jobs/invoices) that fit the parameters set by the automation settings & client eligibility. The only exception is 'Client Invoice Overdue' which will not apply to invoices created before the automation has been activated.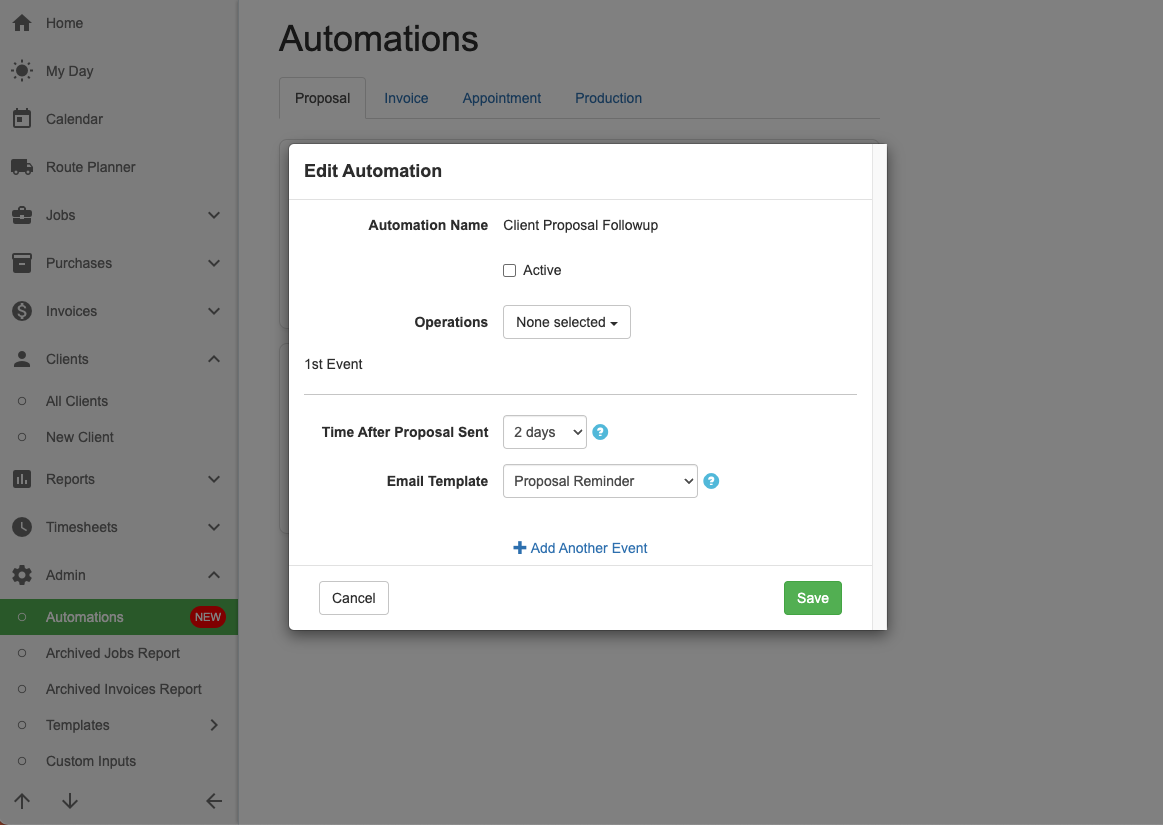 II. Types of Automations and Article Links
Client Proposal Followup
Client Unpaid Deposit Notification - Premier Only
Client Invoice De Notification
Client Invoice Overdue Notification - Premier Only
Client Auto-Pay Credit Card Expiration Notification - Premier Only
Upcoming Onsite Estimate Notification - Premier Only
Upcoming Visit Notification - Premier Only
Upcoming Visit Rescheduling Notification - Premier Only
Crew Arriving Soon Notification - Premier Only
Client Work Complete Notification - Premier Only