The SingleOps Text feature allows Users to send text messages internally to their teams or externally to Clients regarding work that is entered into SingleOps. This is a great tool for communicating internally with Crews about schedule changes or with Sales Reps about new Tasks on their schedule, etc. Texting from SingleOps can also be used to alert Clients that Crews are on the way to their location, schedule changes due to weather, or appointment reminders, just to name a few examples.
In this article:
Send a Text Message
1. The Message button can be found on several pages within the app including the My Day, Job Management, & Invoice pages.
2. Select Message > Text Message
3. Select a Template or enter new text in the Message field & a mobile phone number in the To field. (Follow this link for more information on Text Message Templates.)
4. Select Send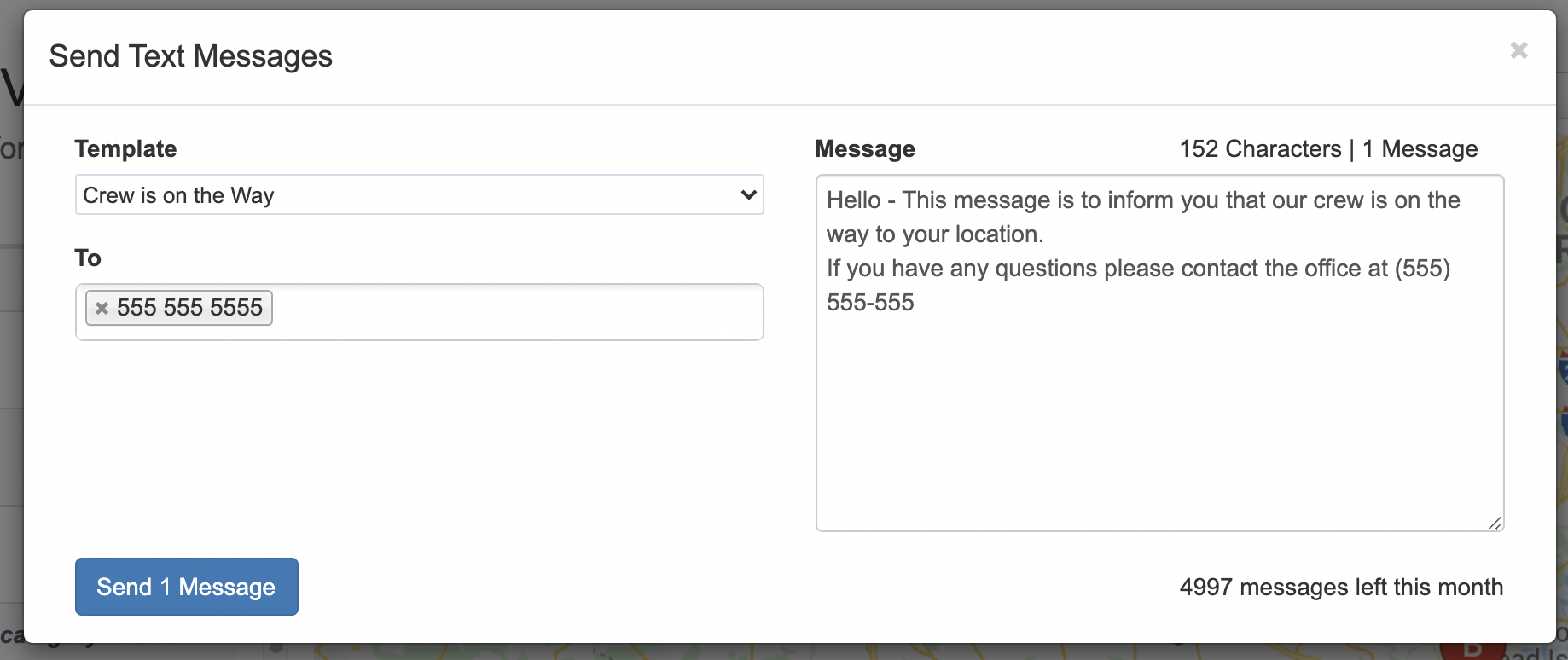 Additional Notes
Texting from SingleOps is one-way & should be used as an alert, reminder, or announcement. If a recipient attempts to respond to a text message from SingleOps, they will receive the following automatic response: Hello! This is an automated system - for assistance please email [company Doc email] or call the [Account Name] office at [company Doc phone]. Text HELP for help concerning these messages.

Text messages sent from SingleOps come from a random number that is selected by our texting service & is unique to each SingleOps account.
Like emails sent from SingleOps, text messages can only be sent in relation to an existing Job. Users cannot send a text message internally or externally outside of an existing Job.
The Text Messages report can be found in the Report Catalogue under Customer Communication.
SMS Texting Delivery Status
To check delivery status of texts:
Navigate to Admin > Reports > Communications > Text
Filter to desired date range
Review the status column
The following is a list of all possible text delivery statuses, including error messages.
Text Status
Description
Delivered
This text was successfully delivered to the recipient.
Queued
This text was recently sent, and we are waiting to hear back on the status.
The following are undelivered messages:
Registration Required
Our provider (Twilio) requires all numbers to go through a verification process. The number you sent has not been verified through the required verification process. Please contact us at [which email o we want to use ] to verify your number.
Recipient is Power Off or Otherwise Unreachable
The message failed to be delivered because the destination was unavailable or unreachable. This error occurs if you are trying to reach an unreachable or switched-off destination handset.
Recipient Number Unknown
This is a generic error message that can apply for a number of reasons. For example, there may be an issue with the mobile carrier, or the destination device does not have enough signal. Or the number may belong to a landline or may be unable to receive SMS, or the destination number is no longer active.
The recipient is Landline or Carrier Unreachable
The message has been sent to a landline, or the carrier is unreachable.
Sender Flagged as Spammer By Carrier
This occurs when your messages are filtered by our messaging provider (Twilio) or by the carrier (recipient's provider). This happens with the wireless carrier if the carrier's rules and regulations are violated.
Carrier Gave Unknown Reason for Failed Delivery
The message was not delivered but the reason is not known. This happens when our provider (Twilio) receives generic error messages from the carrier and is unable to determine what caused this error.