On-Demand Jobs offer a flexible way to set up work when certain aspects of a Job are unknown. They enable Job creation even if the Visit schedule and number of Occurrences for a Line Item are not yet solidified. With On-Demand Jobs, Proposals can be created with unknown Visit dates, number of Visits, or the exact Line Items for each Visit.
On Demand Jobs should serve as a great time saving tool for Sales Reps who need to enter vital information for a Job Proposal without getting into the details of scheduling work on Visits. This is perfect for PHC, Snow Removal, and Lawn Care Jobs where the number of Visits and/or Occurrences may not be known when a Job Proposal is initially set up.
In this article:
Snow Removal Example
PHC Example
Completing & Editing Visits from On-Demand Jobs
Jobs with Finite Line Item Occurrences
Jobs with Unlimited Occurrences
Tips for On-Demand Job Success
How On-Demand Jobs Work
On-Demand Jobs are a type of Recurring Job. When On-Demand Jobs are initially created, each Line Item is entered on a Job, as well as the number of Visit occurrences (Unlimited is an option here if number of occurrences is unknown). Visits are not scheduled during Job setup, as they will be created "On-Demand" as needed using the Line Items entered on the Job. Other Recurring Job fields are identical to other types of Recurring Jobs.
On-Demand Jobs can be created in Proposed or Active Stages. Proposals are sent using the same email template as other Jobs, but any services with "Unlimited" occurrences will not display a price since the number and amount of total services is unknown.
Once the On-Demand Job is in the Active Stage, the entered Line Items exist on the Job, but are not tied to any particular Visit at this point. To begin setting up Visits containing these Line Items, the Visits will need to be generated. This can be done for an individual Client or for multiple Clients at once. Either way, the only thing that must be decided during this stage is which Visits to create, and which Line Items need to be on them. Scheduling these Visit(s) does not occur during the Generate Visits action.
After Visits are generated with chosen Line Items, they function like any other unscheduled Visit. They will appear on the Calendar and Route Planner and Visits pages as Unscheduled Visits, and can be scheduled for your team using any of these places.
When to Use On-Demand Jobs
Snow Removal (unknown occurrence/number of Visits) - if you have services which happen based on weather occurrences, such as Snow Removal, and the number of times you will need to add the Line Item is not known, it can be added with "Unlimited" occurrences. Then, Visits can be generated for these Jobs as needed when it snows to quickly create Visits for all of Snow Removal customers at once who are set up with an On-Demand Job for Snow Removal.
PHC or Lawn Care (unknown timing of Visits) - if you have services which begin based on seasonality, such as PHC or IPM, On-Demand Jobs can be used to set up a series of PHC services/treatments without specifying in which month these will occur. This is perfect for Jobs which sometimes have a second treatment in May, but may be pushed to June due to the year's weather patterns, for example.
Flexible Visits (unknown Line Items on each Visit) - if you know which Line Items will occur throughout the length of a Job, but aren't sure which Line Items will occur on each Visit when setting up the Job, On-Demand Jobs help to capture all of the information that you need up front, while worrying about which Line Item should be added to which Visit later.
Using On-Demand Jobs
1. On-Demand Jobs are a type of Visit Frequency on Recurring Jobs. Therefore, to create an On-Demand Job, create a Job in either the Proposal or Active Stage, as needed from the Jobs module.
2. In the Create Proposal/Job page, populate the basic client and location information in the top section. Then, select "Recurring" as the Job type and enter a Start and End date for the earliest and latest possible dates this Job will run for. A few tips on Recurring Job date ranges:
Limit Job range to one year or less, if possible. With the Batch Renew Recurring Jobs feature, it is easy to renew work on a yearly basis, and this is recommended for optimal workflow. The fastest way to batch renew Jobs is to have a standard for Recurring Job ranges (such as January 1st - December 31st for all Lawn Care Jobs or October 15th - April 15th for all Snow Removal Jobs).
If using Fixed Schedule Billing: Fixed Invoice Jobs produce invoices based on the full Date Range entered on a Job. Therefore, please be aware that an invoice will create for the entire span of the Job for the frequency entered in billing settings . If this is not desired, billing on a Per Visit basis is recommended. Please see other articles on billing for more information on Invoice types.

3. Once the On-Demand Visit Frequency is selected, the scheduling fields of the Recurring Jobs page will be removed and you can continue straight to the Visit Location and Items Table to set up the Job. Only the Estimate Type: Contract Total can be chosen for On-Demand Jobs. Per Visit estimation will be disabled if On-Demand is selected for the Visit Frequency.
4. Add each Item and Item Group as usual, entering the number of times this Line Item will occur throughout the course of the Job.
Quantity should be used for the quantity of Line Item which will be performed on each Visit.
Occurrences should be used for the number of Visits on which that Line Item is going to occur. Again, Unlimited is an option here.
Snow Removal Example

PHC Example

5. Continue populating fields in the Job as usual, then Update and Close when finished. At this point, the Job's Line Items are retained, but no Visits exist on the Job. Visits for On-Demand Jobs must be generated as needed.
6. Generating Visits for On-Demand Jobs can be accomplished in a few places using the Generate Visits button, as shown below. Click this button to begin Generating Visits for On Demand Jobs.
Job Management page (toggled to Jobs) in the upper right:

Calendar, at the top toward the right:
Client Page in the upper right (if used, a filter for that Client will be pre-selected):
*Note: Do not use the Job's "Add Visit" button to Generate Visits (shown in image below). This button creates a Visit outside of the One Demand Job function, and will not produce Visits based on the Line Items entered on the Job.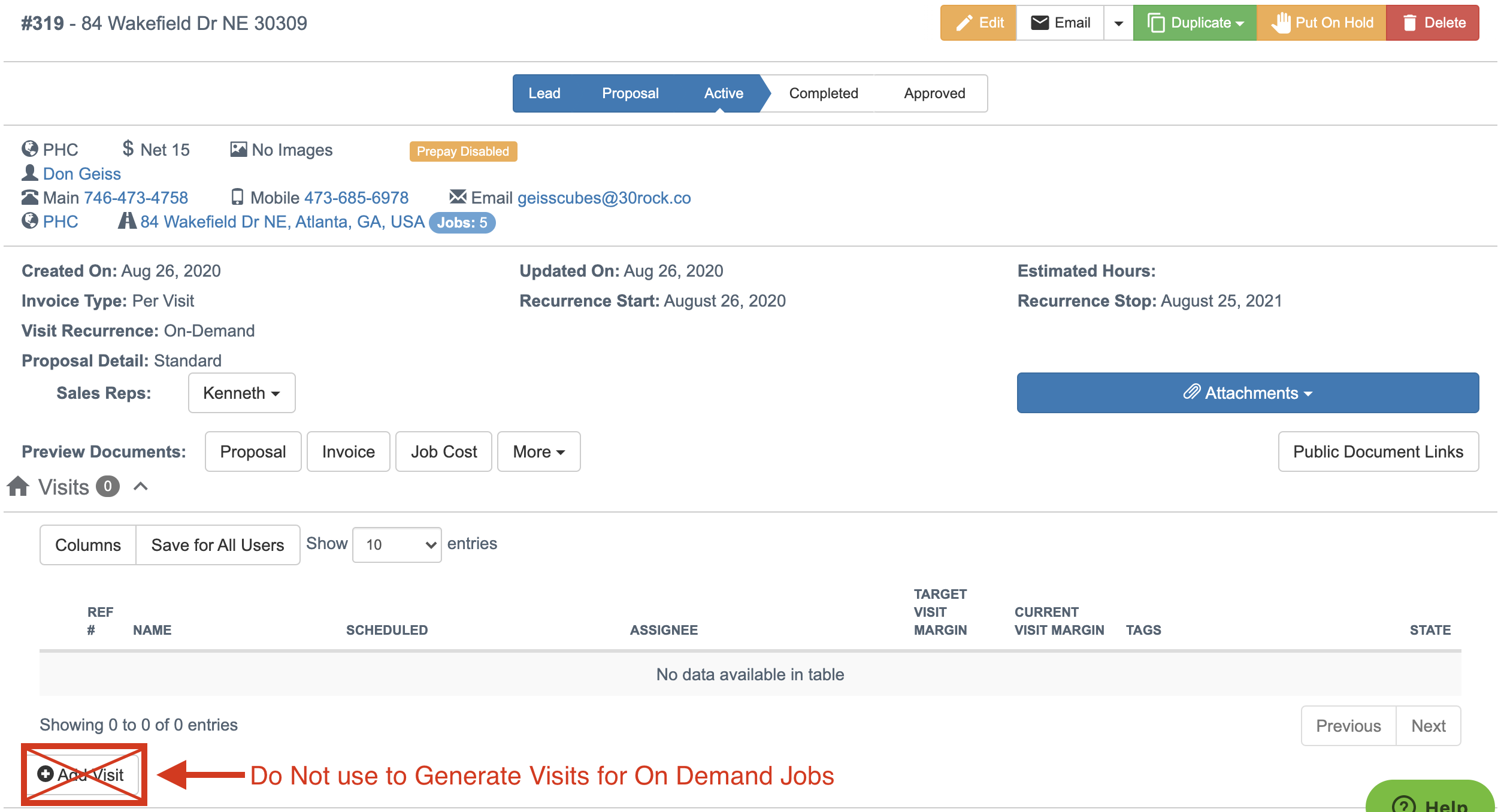 7. Once the "Generate Visits" button is selected, a page will open with all Line Items from On Demand Jobs which are eligible to be added to a Visits. For ease of scheduling similar Visits at once, filters for Item, Operations, and other data are included.
The table here displays a summary of all Line Items for all Clients. Here are descriptions of each Column in this table:
# OF SERVICES TO BE SCHEDULED - the number of Visits which are ready to be scheduled now for this Line Item

An Item which has multiple Visit occurrences for one Job for one Client will only show 1 here because the first Visit is eligible to be scheduled now. Therefore, even if there are 4 Occurrences of the Harkness Rose Plant on a Job, a 1 will display here because the first Visit must be created first.
An Item which displays 2+ here indicates that multiple Jobs contain this item.

QUANTITY TO BE SCHEDULED - This is the total quantity, including the Quantity total of all Occurrences. For example, on the Snow Removal - Manual Line Item in the table below, 4.25 is displayed because there are 2 "Services to be Scheduled", one for Qty. 2.5 and one for Qty. 1.75; the added total of these is 4.25.
ESTIMATED HOURS TO BE SCHEDULED - This displays the number of Labor Hours which will be scheduled with this Line Item. In the Installation Line Item below, 9 is displayed here because Installation is a Labor item with 9 hours occurring on each Visit for the On Demand Job.
TOTAL PRICE TO BE SCHEDULED - This combines the Price of all Visits to be Scheduled. For example, Snow Removal - Manual displays $161.50 because it contains two Visits' worth of this service: one for $66.50 and one for $95.00.
NUMBER OF SERVICES REMAINING - This includes all Services remaining for a Line Item, and differs from the Services to be Scheduled column in that all Services for all On Demand Jobs with remaining Occurrences for this Line Item are included instead of only the next Visit(s) to be created. A value of "0*" here indicates an "Unlimited" number of Occurrences. No value is displayed because the number is unknown.
QUANTITY REMAINING - Similar to the last column, this includes the Quantity of all On Demand Line Items which have not yet been added to Visits.
ESTIMATED HOURS REMAINING - This refers to Labor Items' quantities, and multiplies the Quantity per Visit Occurrence for each Job containing this item by the Number of Services Remaining on those Jobs to calculate the Estimated Hours Remaining.
TOTAL REMAINING - The total price of all On Demand billables for each Line Item not yet added to a Visit is displayed here. A value of "0*" here indicates an "Unlimited" number of Occurrences. No value is displayed because the total price for the Job(s) is unknown.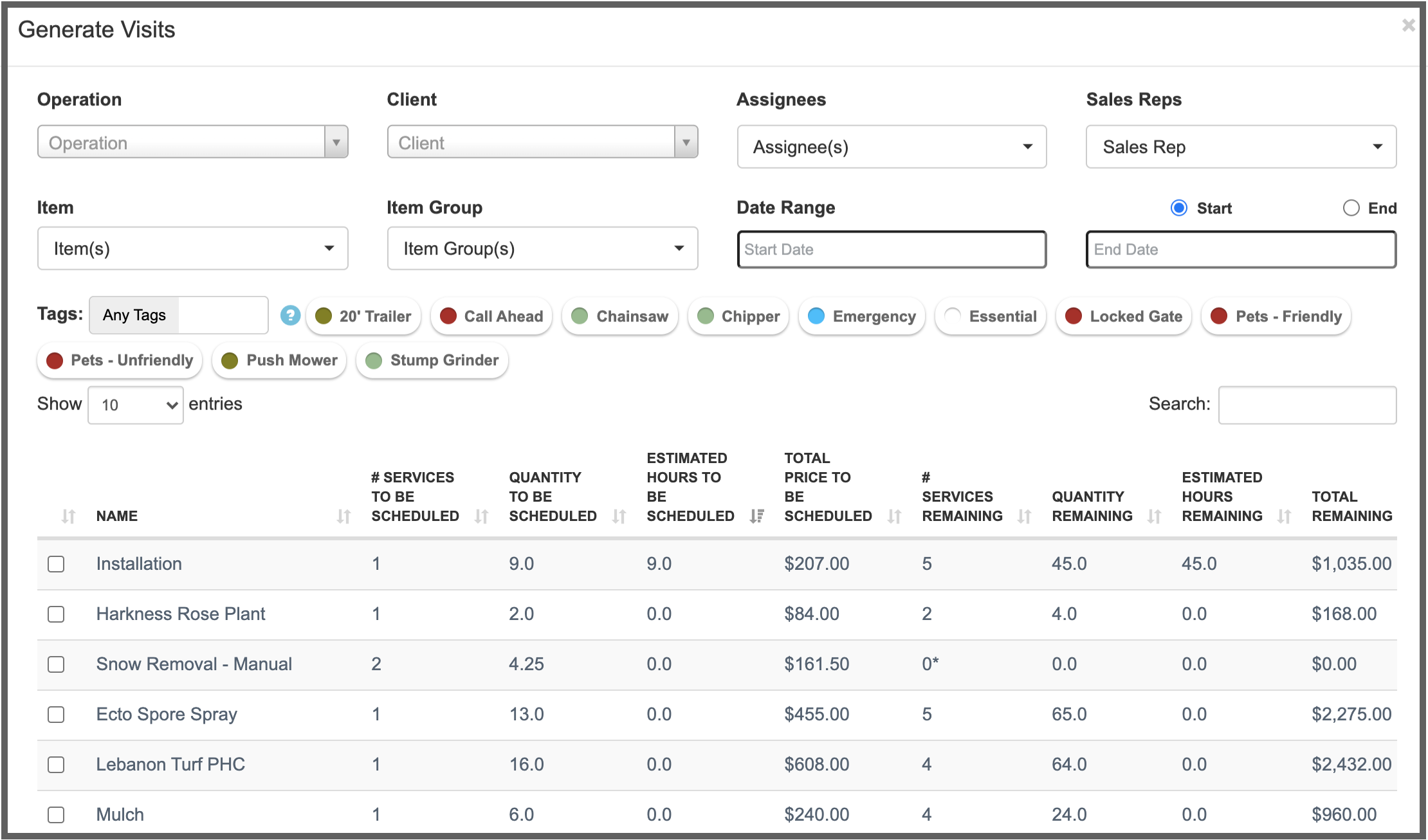 8. To Create Visits from this page, select each Item you want to include on the Visit(s) by placing a check mark to the left of the Item(s). Then select Generate Visits in the lower right.

9. A Confirmation page appears to verify the Visit details before creating the Visits. Expand the gray Visit bar to view the details of each Visit. Select Generate # Visits in the lower right to create the Visits.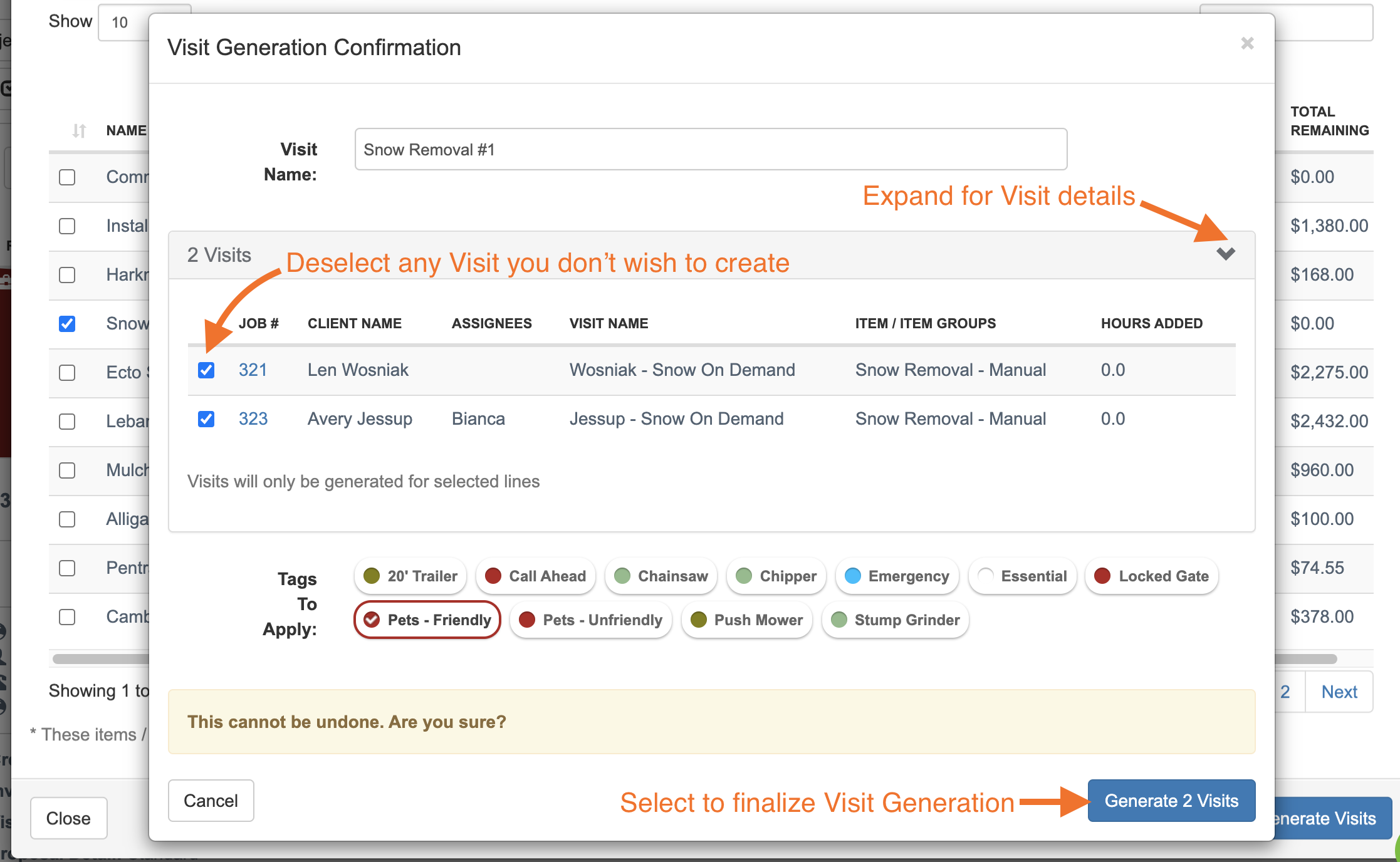 10. Once the Visits are created, they function identically to other unscheduled Visits in SingleOps. They will appear on the Job as a Visit, and on the Calendar and Route Planner's Unscheduled Visit areas for efficient scheduling.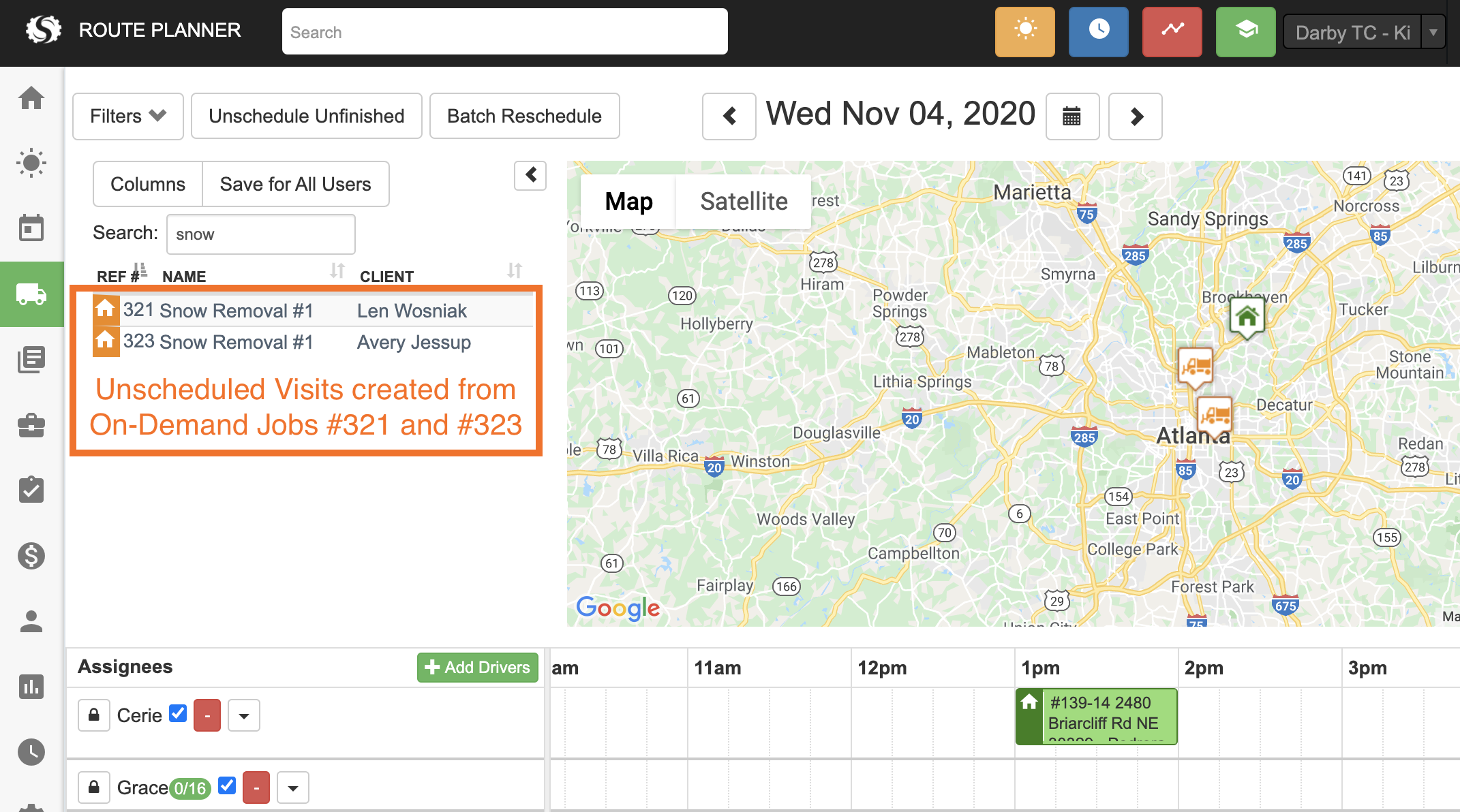 Completing & Editing Visits from On Demand Jobs
By default, only the Line Items added to Visits will display on the Completion page for On-Demand Job Visits. However, if you want to add Visit TBD Line Items, it is possible to do so on the Completion page from the "Add Visit TBD Lines" section. This will deplete the Occurrences from the Line Item on the Job.
To remove all Line Items on a created Visit and return them to the On Demand Job for future Visit Creation, use the "Reclaim" button at the top of a Visit. This will return all of the Line Items to the Job; specific Line Items cannot be selected for reclamation here while leaving others.
Ending an On-Demand Job
Line Items for On-Demand Jobs will continue to appear in the Generate Visits page until either all available Occurrences for that Line Item have been used, or until the Job is ended.
Jobs with Finite Line Item Occurrences
Once all Line Items have been added to Visits for the determined number of Occurrences, these Line Items will no longer appear in the Generate Visits page.
Ending these Jobs will function the same as regular Recurring Jobs - as the last Visit is Completed and Approved, the Job itself will move into the Completed and Approved Stages
Jobs with Unlimited Occurrences
When a Job should be stopped and contains Unlimited Occurrences, it will need to be moved to the Approved Stage manually to let the program know that no other Visits will be Generated for the Job.
To stop a Job:

Navigate to the Job's Page
Select the red "End Job" button in the upper right.
This will end the Job and remove the Line Item from displaying on the Generate Visits page. A pop up page with details will appear. Select "End Job" to finalize.

Batch End On-Demand Jobs
Designed with Snow Removal jobs in mind, you can now batch end On-Demand Jobs. This feature allows the ability to filter your jobs down to only Unlimited jobs and end them in batch.
Navigation & Set-Up
1. Navigate to:
Jobs > Active jobs
2. Select the filter Unlimited Jobs. When selected, it will filter all of the jobs with at least one Unlimited Item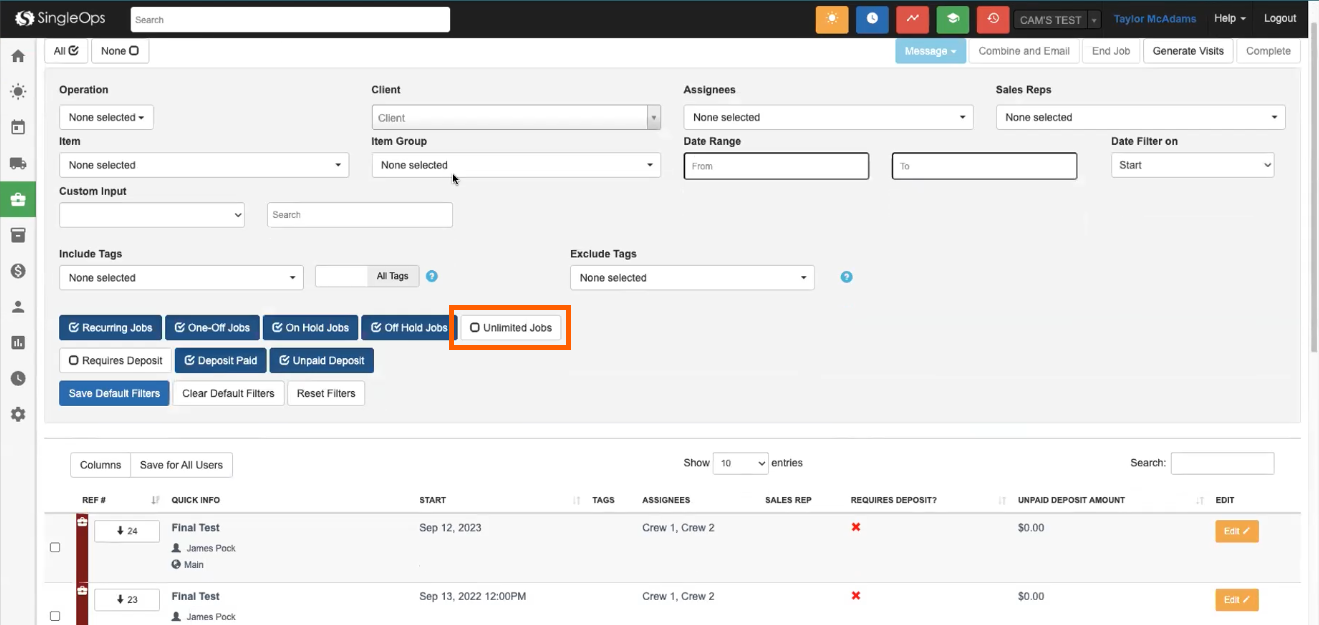 3. Select the All button (top left) or select the individual jobs boxes you would like to end
4. Click the End Job button at the top of the page.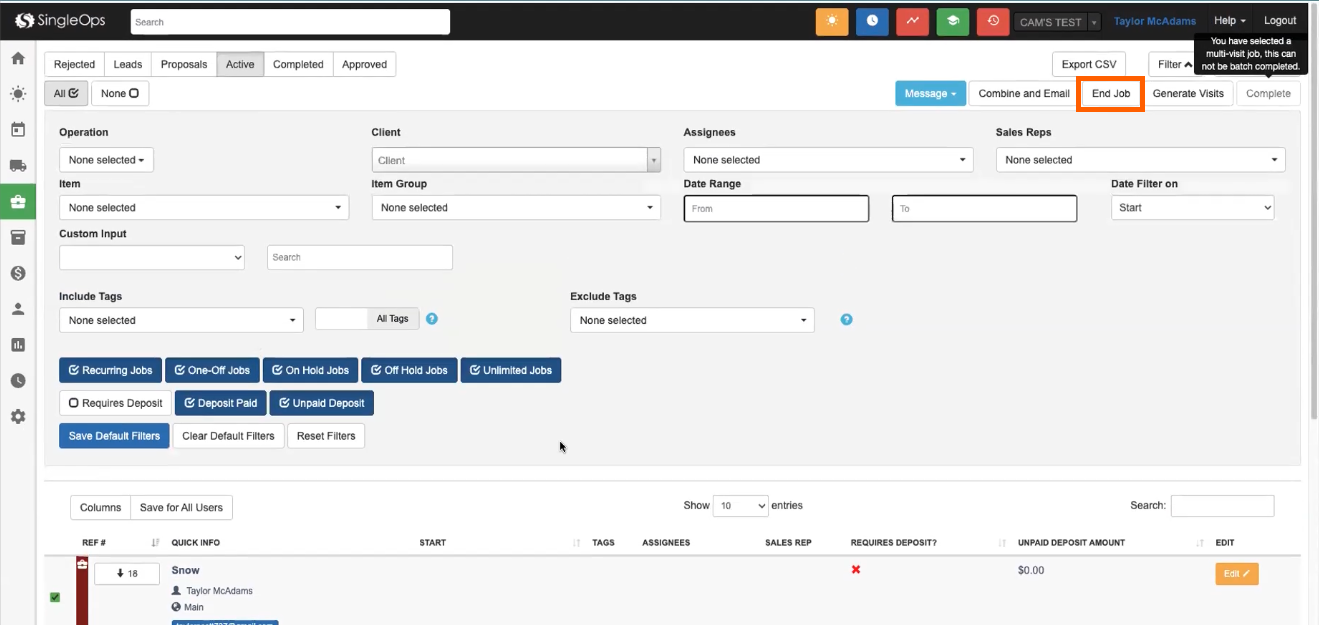 5. In the End Job Confirmation popup, you have the option to Stop Incomplete Visits or make the job still Eligible for Renewal.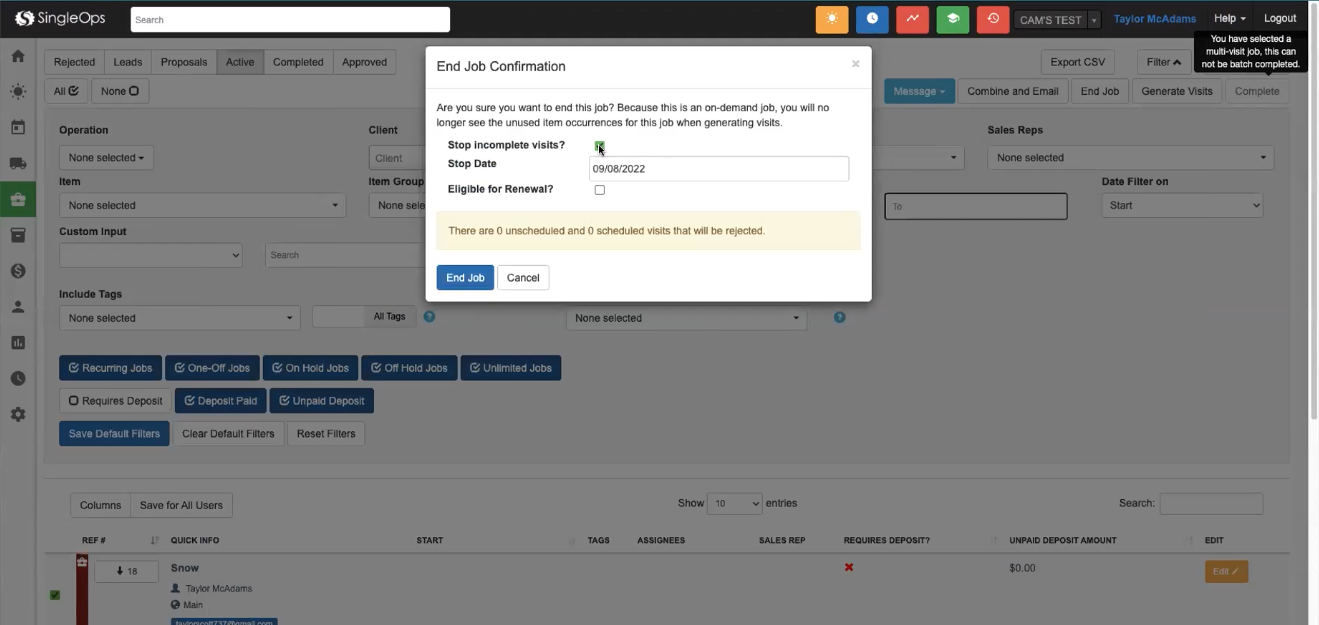 6. When finished, select End Job.
*Note: The jobs you have selected are now moved off of the Actives Jobs page. You can find these jobs on the Completed Jobs page.
Tips for On-Demand Job Success
When Batch Renewing On-Demand Jobs, the original Occurrence for each Line Item will be retained. Therefore, if a Job's Line Item Occurrence(s) were changed throughout the course of the Job, it will revert back to the original Occurrences.
If you want to track On-Demand Jobs in lists or reports, it is helpful to either include "On-Demand" in the name of Jobs/Visits or create and attach a tag for easy filtering.
When adding Occurrences to Line Items, the number of total Visits for the Job is not requested. Therefore, the number of Occurrences can signify either a total number of Visits (if each Visit has only one Line Item on it) or the highest number of Occurrences could serve as the Visit number (one of three Line Item has 8 occurrences, and this is the number of Visits on the entire Job), or a combination of these. Basically, while the Occurrences by Line Item is requested here, the number of Visits is not. This decision can be made later.
When creating new contracts mid-season, the best practice for On-Demand jobs that have already been completed is to add the occurrences and ignore them on the generated visits page. When the season/project is complete, you can end the job which will end the remaining visits. This will allow the contract to stay intact while being able to renew it in its entirety later.

On-Demand Visit Run Complete Emails cannot be opted out. These notifications play a vital role in keeping you informed about the completion of each run.