Proposal Groups are a tool for combining two or more Proposals onto one Proposal document for your Client. This feature is perfect for providing a bid which includes multiple services for one client, or for quick upselling opportunities in the field. Prior to Proposal Groups, Contracts were the only way to include more than one Job's work on a single Proposal Document.
The Proposal Group feature is not enabled on all accounts by default. If you are interested in using Proposal Groups, please contact support@singleops.com and a Support Specialist will enable this feature on your account!
How Proposal Groups Work
Proposals are created and grouped together during the Proposal Stage in SingleOps using new Proposal Group functionality (described in more detail below). Proposal Groups can include both One-off and Recurring Jobs for a single location. Once the Proposal Group is accepted by a Client or internally, the Jobs included in the Group are moved into the Active Stage as separate Jobs. From this point onward (through the Active, Completed, and Approved stages), these Jobs are no longer grouped, and function the same as all other Jobs in SingleOps.
When to Use Proposal Groups
Upselling Opportunities - Clients who request a bid for a Tree Removal or weekly Mowing may be interested in other services offered by your company. Proposal Groups allow Sales Reps to add additional Proposals to a single Proposal Group document on the spot so that the document including all services can be combined for improved customer experience.
Ongoing Multi-job Clients - many loyal Clients receive the same services each year, but like to verify a new Proposal on an annual basis. Proposal Groups allow you to combine all of the Jobs for each Client and Location onto one Proposal Document, simplifying the Proposal process and document for you and your Clients.
Creating a Proposal Group
1. To begin creating a Proposal Group where none of the Proposals have been entered into SingleOps, create a new Proposal (the first of the Proposals you want to include in the Group).
2. Complete the Proposal as desired. From this page, there are two buttons which will Create a Proposal.
Option 1: At the bottom of the New Proposal page, select "Save and Create Proposal Group"

Option 2: Right below the Items Table, select "+Proposal Group"

3. Once one of these is selected, a pop up window will appear. In this, a unique name for the Proposal Group can be created (will default to the first Job's name).
4. To begin creating the next Proposal in the Proposal Group, either select the desired Job Template or select "Save & Create New Proposal" to create the second Proposal in the Group.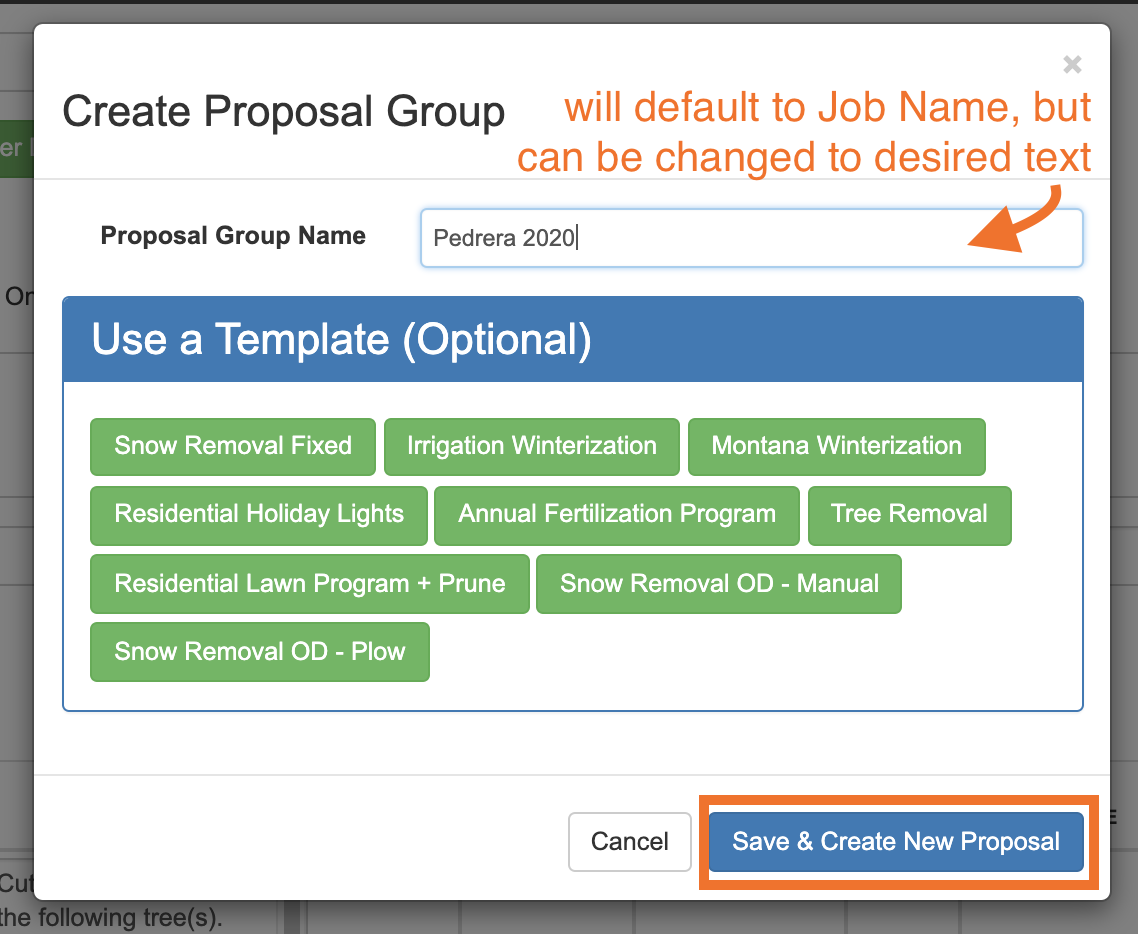 5. Complete the Proposal for the second Job, then select Save & Close to save the Proposal and add to Proposal Group.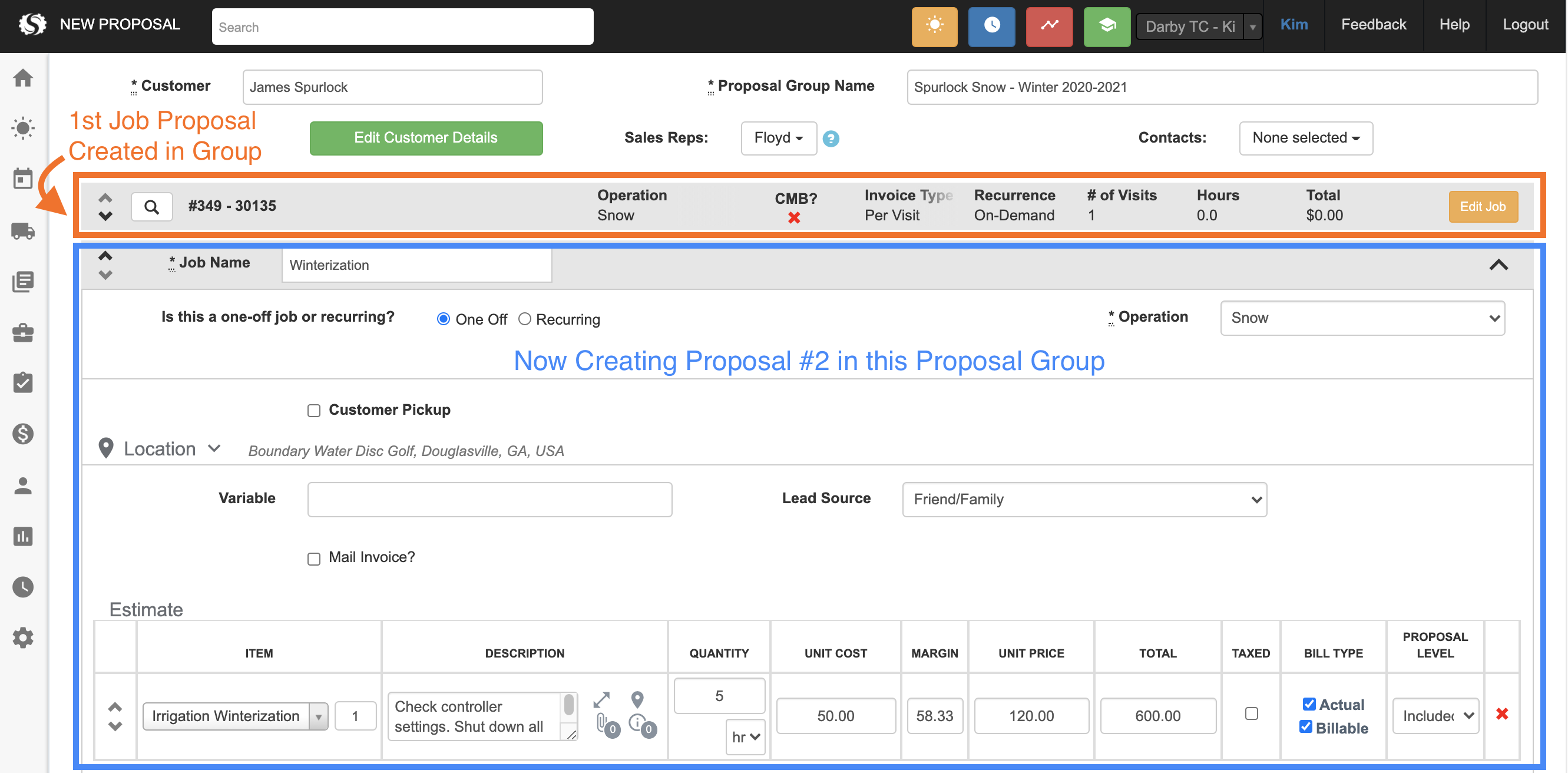 6. To add additional Proposals to the Group, there are two methods:
Option 1: On the Proposal Management page, expand the Proposal Group, then select "Add Job" underneath the existing Proposals.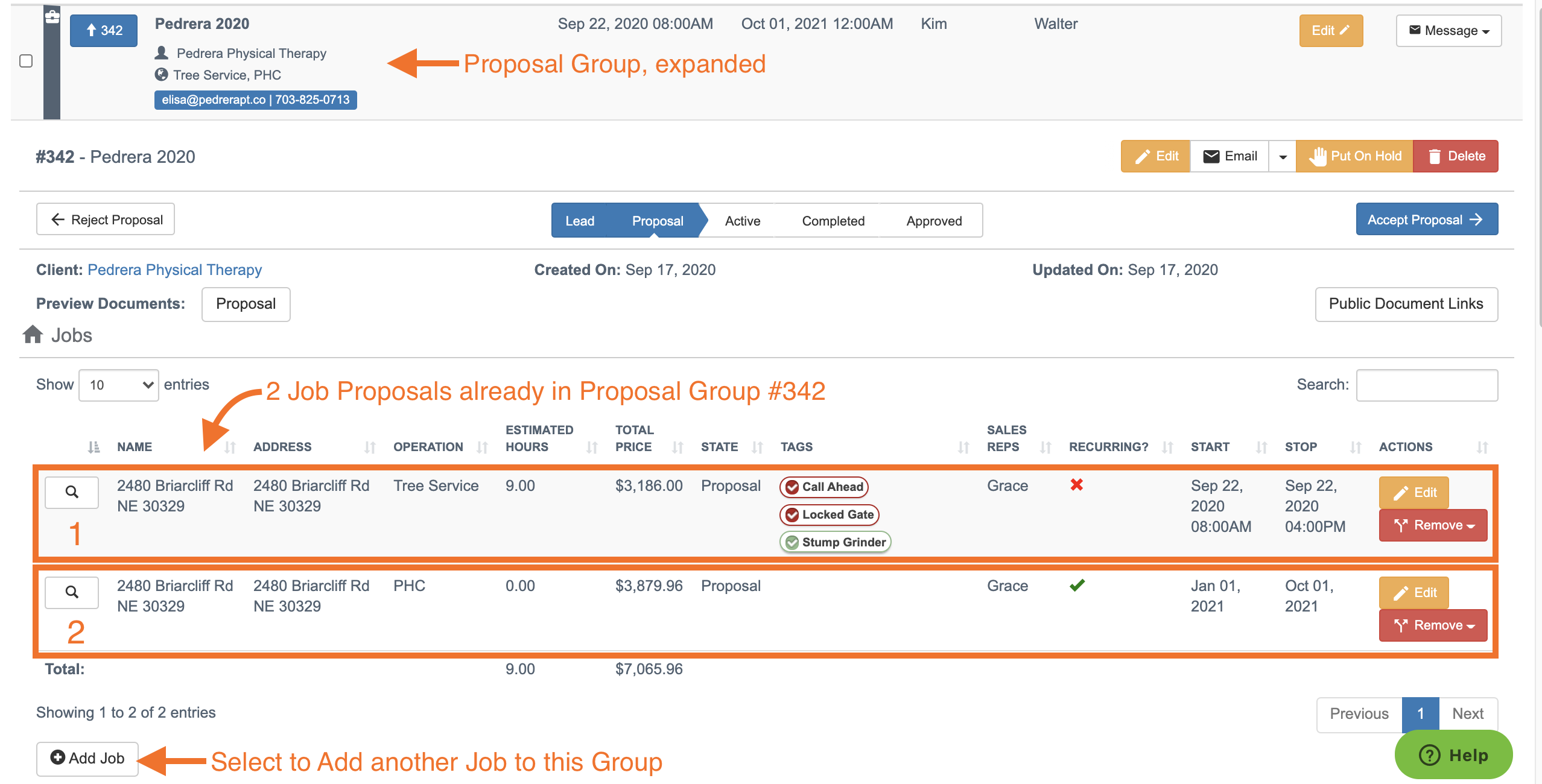 Option 2: Create a Proposal using the normal "Create Proposal" process, then at the bottom of the proposal, select the arrow next to "Save & Add to Proposal Group" and select "Save & Add to Existing Proposal Group".
A pop up window will appear. Select the Proposal Group you would like to add the Proposal to, then Save to confirm.

Editing a Proposal Group
When Edit is selected on a Proposal Group, the edit page is opened for the first Job Proposal in the Group. To edit the other Proposals in the Group, find the Grey header for the Job you would like to change and select "Edit Job" on that Proposal.
Note: selecting Edit Job on another Proposal will cause the current Job Proposal to save in its current state before switching to the next Job Proposal.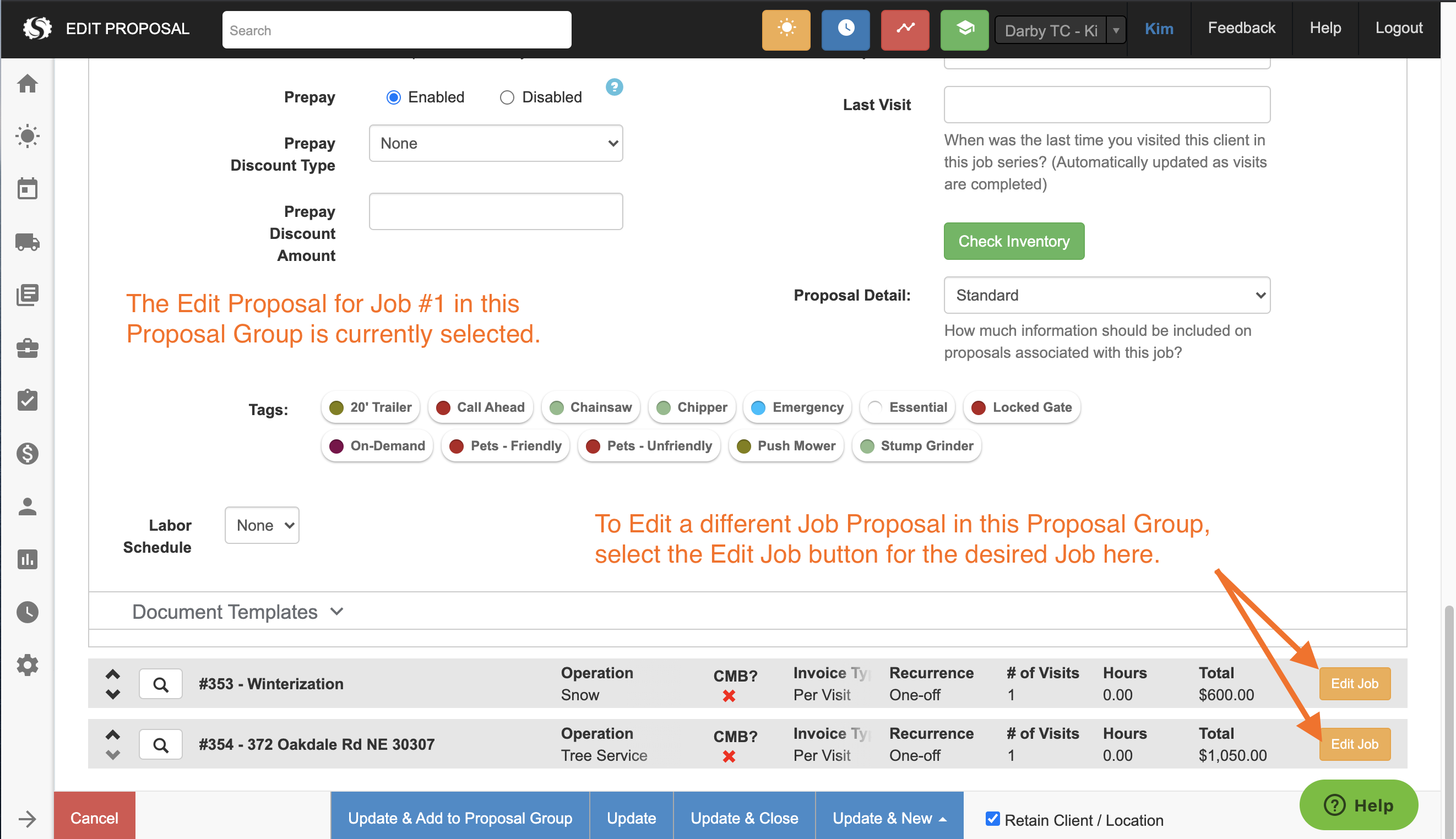 Accepting the Proposal Group
Once created, Proposal Groups can be accepted by Customers or internally in the same manner as other Proposals. Proposal Groups display as shown below:
Proposal Group Without Options Proposal*
Proposal Group With Options Proposal (Line Items marked Optional/Recommended)*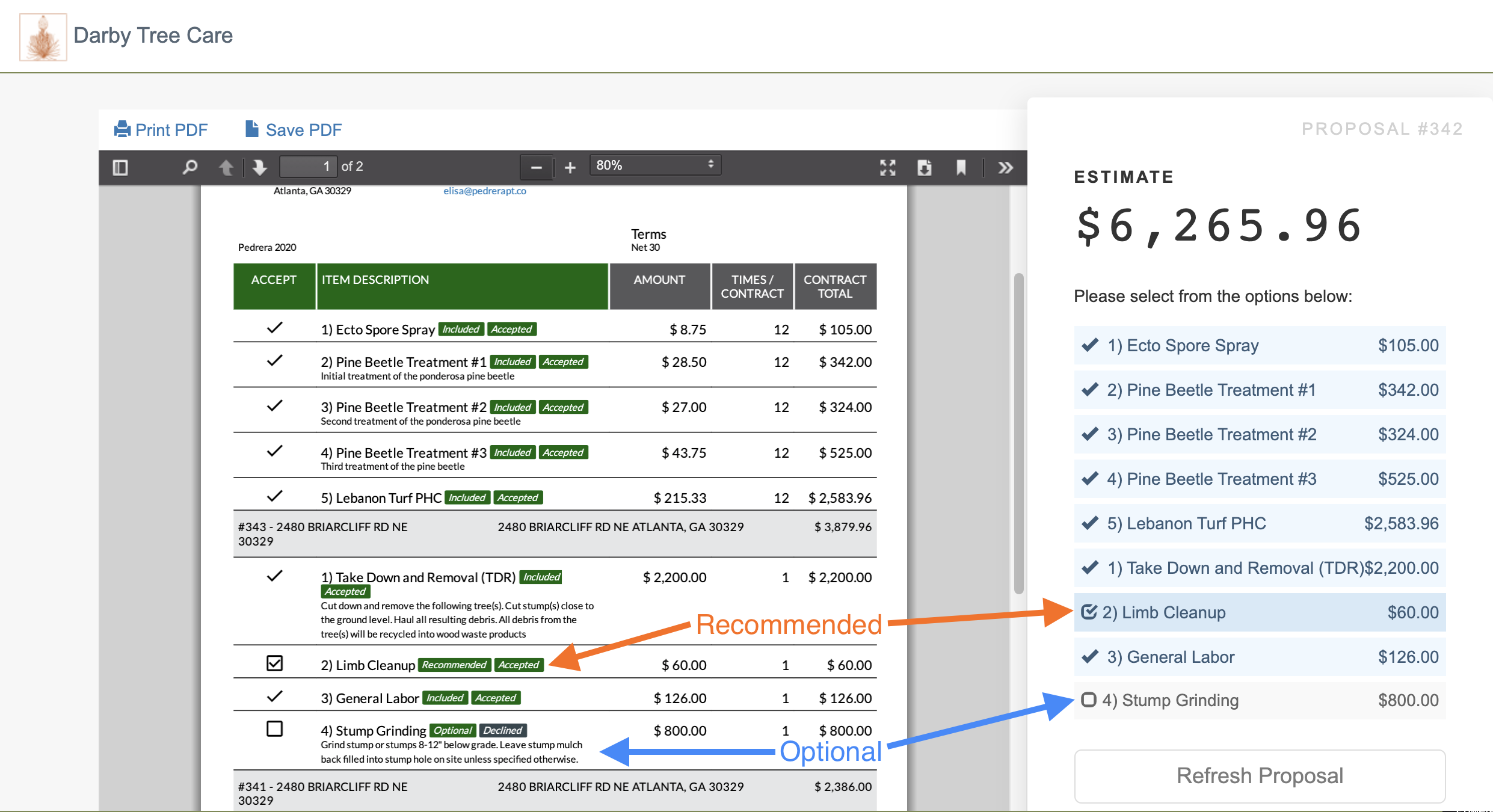 *note: Proposal PDFs have been zoomed out to 70%-80% for this demonstration; default view is 100%.
Once the document is accepted, the included Jobs will move from the Proposal stage to the Active Stage, and be assigned unique Job numbers which differ from the Proposal Group number.

Each Job's expanded detail page will also contain a banner indicating it was tied to a Proposal Group.

Viewing Proposal Groups
To find all Proposal Groups in a central location:
1. Navigate to the Job Management page's Proposals tab. By default, all Proposal Groups and individual Jobs in the Proposal Stage will be included here.
2. Expand the filters; at the bottom of the filtering options are a set of Job-type related buttons. In this section, select only the Proposal Groups button, and Delivery and/or Pickup button(s), to view a list of Proposal Groups and no other Proposal type.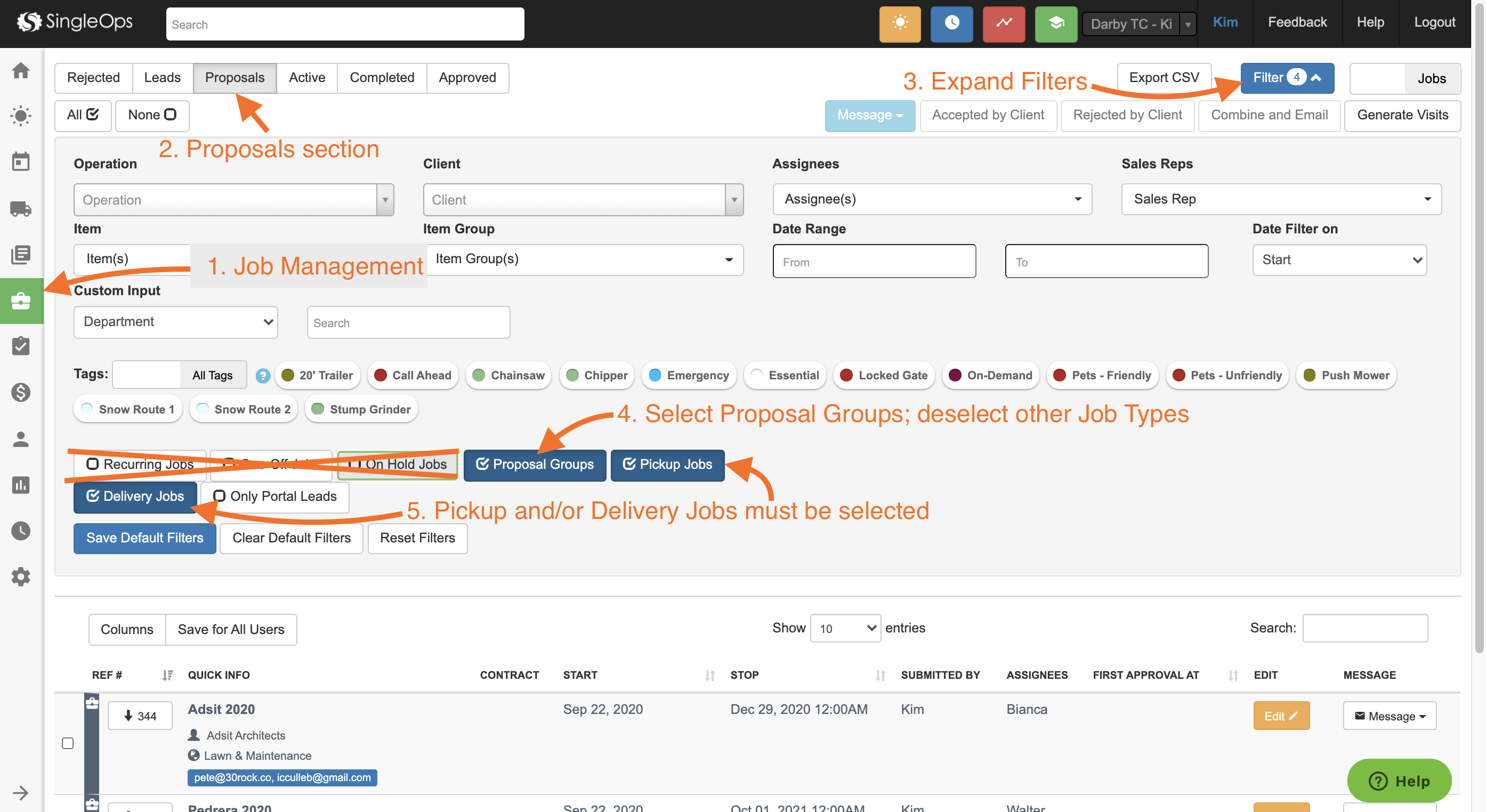 Reverting Accepted Proposal Groups
If a Group is accepted, then needs to be moved back to the Proposal Stage, this can be done by selecting Unaccept proposal, then confirming by clicking "OK".

Removing Proposals from the Group
If you need to remove one or more Proposals from a Proposal Group:
1. Go to the Proposal Group in Job Management, and expand the Proposal Group which needs to be changed.
2. Next to the Proposal you would like to remove, select "Remove" then click "Remove from Proposal Group"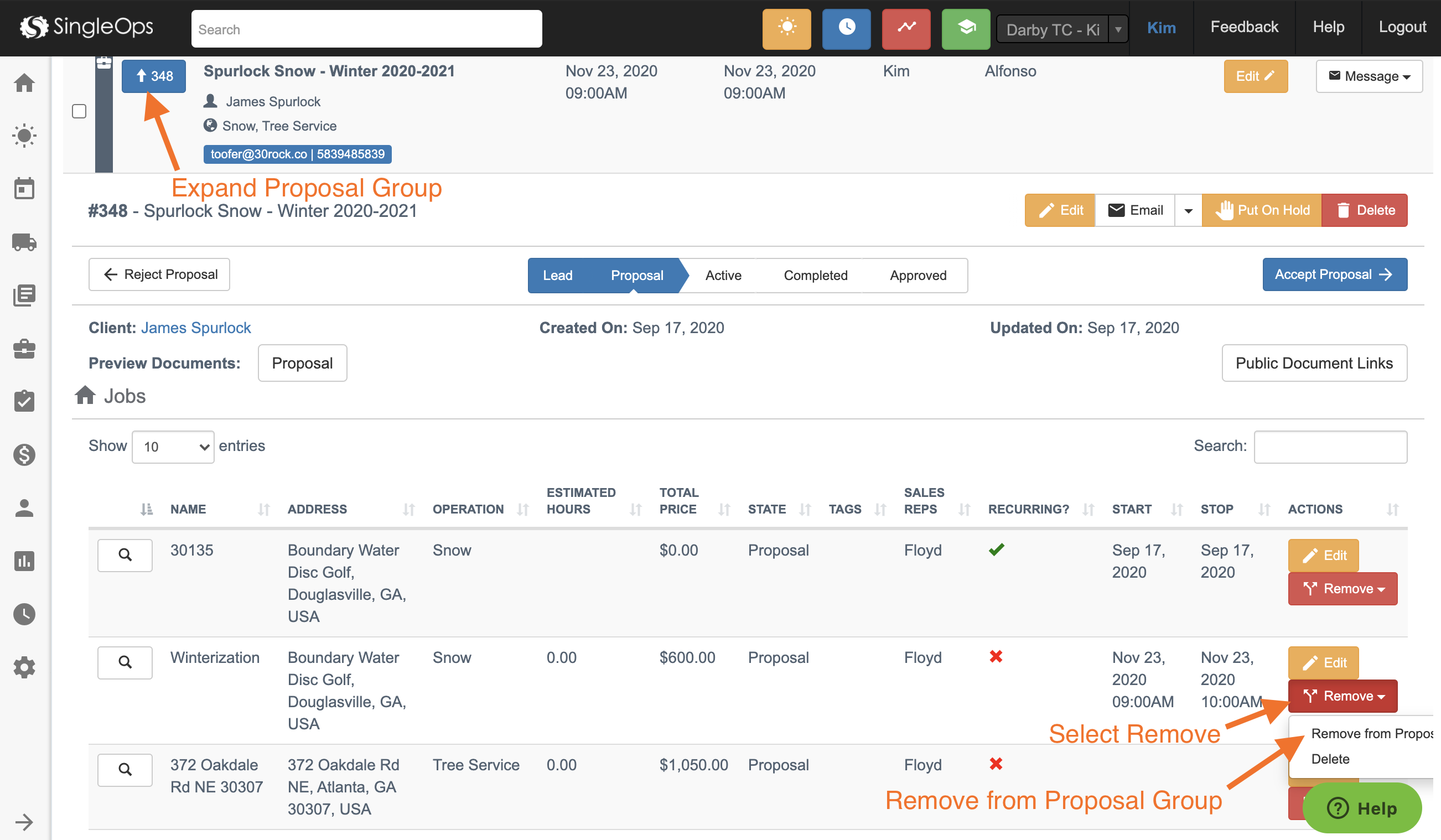 Undoing a Proposal Group
To Retain the Jobs in the Proposal Group, but Delete the Grouping itself:
1. Go to the Proposal Group in Job Management, and expand the Proposal Group which needs to be ungrouped.
2. Select "Delete" and a pop up window will appear, providing the option to either delete the Group and all Jobs within it, or delete only the Group itself which retaining the Jobs as Individual Proposals.

Proposal Group Numbers
The numbering system for Proposal Groups differs from that of regular Jobs. During the Proposal stage, when these three Jobs' Proposals are grouped together, the Proposal Group is assigned a number based on the sequential Job numbering system.
The individual Jobs are assigned their own number as well, but these are not used for reporting and Job management until the Proposal Group is accepted and the Jobs move into the Active Stage. Until then, the individual jobs are "nested" within the Proposal Group. Individual Job numbers can be accessed through global search in all stages.
Example: Numbering for Proposal Groups and Jobs:
Proposal Group #785 is created for Client: Juan Martinez. It includes three Jobs: PHC, Mowing, and Tree Removal. At this point, all three of the Jobs are included in the Proposal Group, which is numbered #785 (numbers are generated by SingleOps, just like with Jobs, CMBs, etc.), but are assigned their own numbers based on the current Job numbering system. Because the most recent Job created prior to this Proposal Group's acceptance was #793, these three Jobs will be numbered #794, #795, and #796 for the remaining Job Stages.
Juan accepts the Proposal Group #785.
The three Jobs included in the Proposal Group move to the Active Stage, and each uses its number assigned in step 1.
Please note, this is only an example, and not all Proposal Groups and Jobs will follow this exact sequence. If Proposals were created, then added to a Proposal Group later, accepted Proposal Group Jobs may have a Job number which is less than the Proposal Group number.
Proposal Groups vs. Contracts
If you have been using Contracts for multi-job proposals, you may want to consider using Proposal Groups instead. The main difference between Proposal Groups and Contracts is a streamlined process which eliminates the need to convert Segments to Jobs and finish setting up the Job. Other benefits include added functionality for Options Proposals.
In a Contract, an initial set of information is gathered, then Segments are created. The Contract Proposal is sent to the Customer for Approval. Once Approved, the Contract's Segments must be Converted to Jobs. Proposal Groups, on the other hand, allow you to create Job Proposals with all information included for the Job at the beginning, then link the Proposal to other Proposals to form a group. This eliminates the need for Converting Segments and creates a more efficient workflow.
Proposal Group Workflow:
Proposal Group > Approval from Customer > Active Jobs
Contract Workflow:
Contract with a Segment for each Job > Approval from Customer > Convert Segments > Active Jobs
Key features and functionality which were not available in Contracts are also available on Proposal Groups. Here is a feature comparison of the two methods:
| | | |
| --- | --- | --- |
| | Contract | Proposal Group |
| Options Proposals | No | Yes |
| Prepay | No | Yes* |
| Autopay | Yes** | Yes |
*Available to apply on individual Recurring Jobs in the group; must be processed by a SingleOps user (not available to your clients for processing payment)
**Available after Accepted and Converted
Reporting
For the purpose of reports, Proposal Groups will appear:
Jobs Report - Proposal Group will appear as an individual line item; If Stage filter is selected, the group will be included in the Proposal Stage. Jobs within the Proposal Group will be included as individual Jobs, but only after the Proposal Group has been accepted.
Master Line Item Report - Items within a Proposal Group will appear under their individual Job numbers, not the Proposal Group number. This applies to all stages - Proposal through Approved.