Invoice Roll Ups enable SingleOps users to create a single Invoice document by combining multiple existing Invoices for the same Client. Invoice Roll Ups can include two or more invoices, and must be created manually.
In this article:
Invoice Roll Ups vs. Combined Billing Schedules
Creating an Invoice Roll Up (RUP)
A. Top Roll Up Invoice Button
B. Client Page's Invoice Tab
Tips and Best Practices for RUPs
Use Cases
A few examples of ideal use cases for Invoice Roll Ups are:
Infrequent Invoice Batching

- a Client has hired your company to complete a few one-off Jobs, such as Tree Removal, Stump Grinding, and Seasonal Color Installation. Since these are not recurring Visits, which would be better suited to a Combined Billing Schedule, you only want to group the three invoices created by these three Jobs so the Client can receive one Bill with all three Jobs' Invoices. Creating a RUP is an excellent way to produce a document containing the three invoices.

Combining Past Due Invoices

- If a Client has several Jobs which are past due, and sending each Invoice separately is no longer practical, these outstanding invoices can be combined into one billing document using a RUP. Furthermore, the RUP can be edited over time to include new invoices which have not been paid.

Combining Split Visit Invoices

- When a Visit is split into multiple Visits, its Invoice is also split into multiple Invoices. Invoice Roll Ups were specifically designed to combine these types of Invoices.
Invoice Roll Ups vs. Combined Billing Schedules
Invoice Roll Ups differ from Combined Billing Schedules (CMB) in that they are completed manually, and their creation cannot be scheduled to combine Invoices automatically. This allows for more specific control over which invoices get combined. For more information on CMBs, please see our article here.
Creating an Invoice Roll Up (RUP)
1. Navigate to:

Client > All Clients
2. Click the clients name you would like to create a RUP for.
3. There are two methods for creating an Invoice Roll Up:
A: Roll Up Invoice button

1. At the top of the Client Page, select the button Roll Up Invoices

2. A separate "Roll Up Invoices" window will appear, which includes required fields:

RUP Name

- the RUP can have any name; SingleOps will assign a # to the document following its creation, so using a number in this field is not recommended.

Invoice Date

- the date of the RUP is flexible, and can be in the past, present, or future

Operation & Term

- the RUP must have an assigned Operation and Term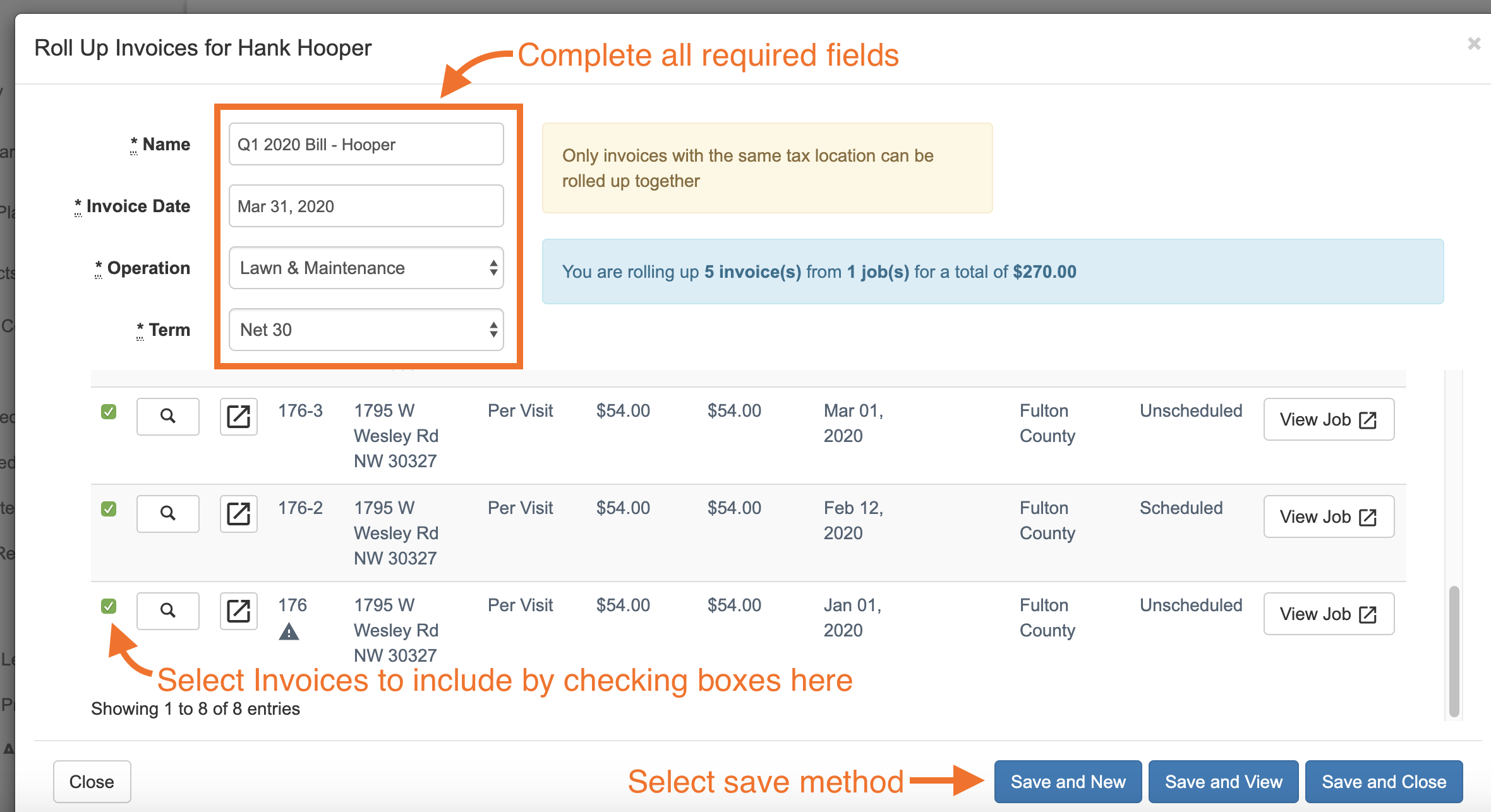 3. Under the required fields, the Invoices which are available for Rolling Up are listed. Select the Invoices which should be included by checking the boxes located at the left of each Invoice line.
4. Save the RUP using the preferred method, and the document will be created immediately.
B:

Client Page's Invoices tab

1. Navigate to the Invoices Tab on the Client Page
2. Within the Invoices tab, select the invoices which should be included in the RUP by checking the boxes located at the left of each Invoice line.
3. Select the Roll Up Invoices button located toward the top of the Invoices Tab.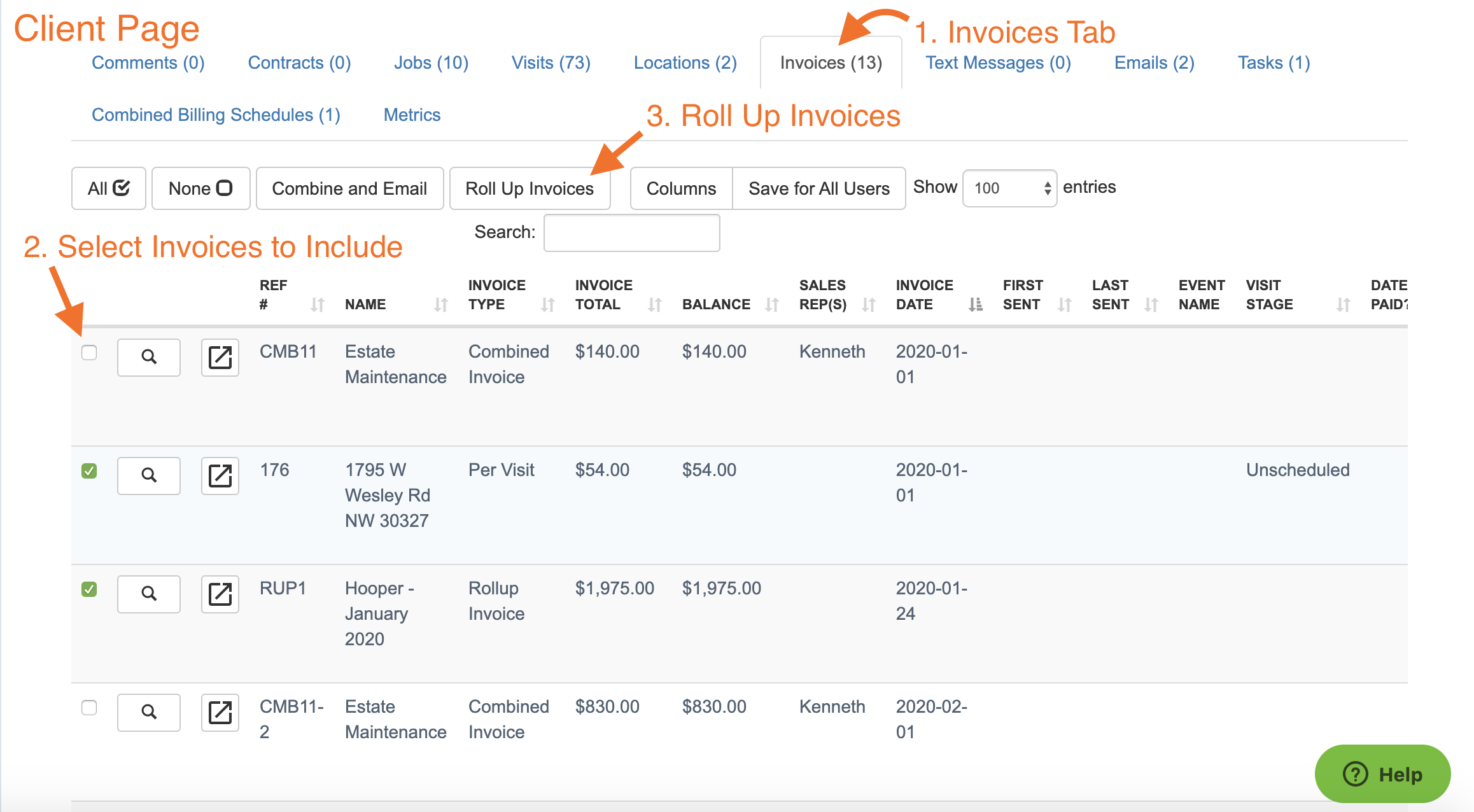 4. Once the Roll Up Invoices button is selected, the standard Roll Up Invoice page will appear. To finish creating the RUP, follow the same instructions listed above in step

A

.
5. Complete all required fields, and Save to create the document.
3. Reviewing the document
Once the RUP is created, it can be viewed by clicking on the Invoice and selecting View PDF. The document formatting for Rolled Up Invoices is identical to CMBs
To edit the Standard Combined Invoice Document (not available for Custom Documents):

1. Navigate to: Admin

>

Document Templates
2. To the right of the Combined Invoice Document, select the Edit button
3. Make changes to the document, as desired, then Update to save
Editing a Rolled Up Invoice
1. Open the RUP show page
2. Select Edit Invoice in the upper left corner

3. The Invoice Roll Up page will appear, allowing included Invoices to be removed, or additional Invoices to be added.
Please note:
A RUP must contain at least 2 invoices.
If you need to "undo" the RUP, simply select the Magnify Glass icon associated with that RUP, select Edit Invoice in the top right, click the blue check marks, click Save and Close when finished.
If an Invoice is removed from the RUP, any applied payment does not follow that invoice. If a change of payments is necessary, the payments must be adjusted manually.
What Happens to QuickBooks
RUPs will sync to Quickbooks Desktop and Quickbooks Online as described below:
Invoices that are added to a RUP that have previously synced to QuickBooks will be zeroed out with a message about the replacement RUP Invoice: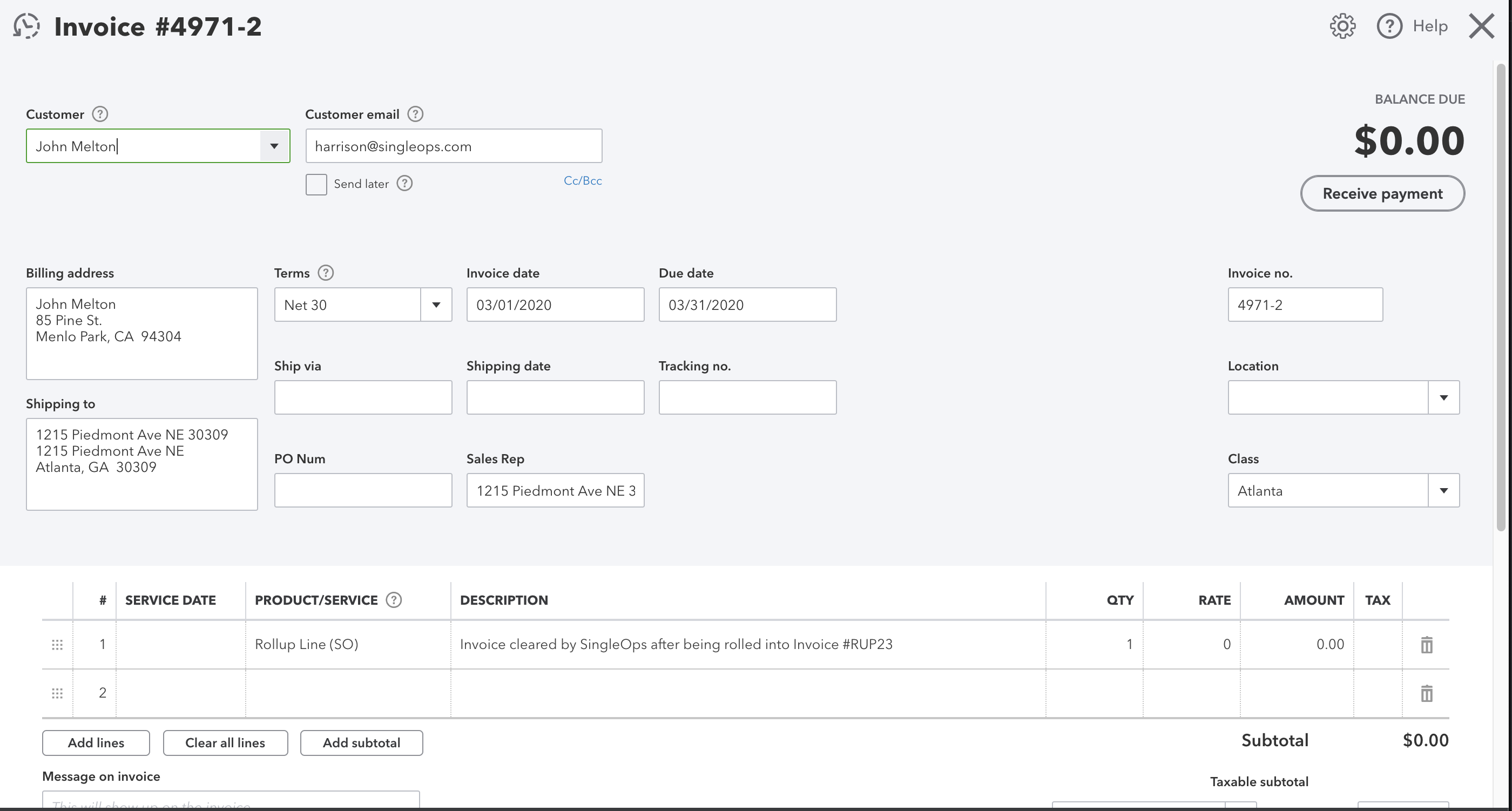 If the synced invoice had an associated payment, that will be moved to the RUP as well.
The RUP itself will sync to QuickBooks when it is created similar to a fixed invoice.
*Note: $0 invoices will not display as a choice to add to a RUP
Tips and Best Practices for RUPs
CMBs - Invoices which are included in CMBs cannot be included in a RUP. This is not allowed because the same Invoice would be billed twice.
Invoice Roll Ups can only include invoices for one Client.
Invoices included in RUPs must have the same Tax Location.
Paid in-full invoices will not be available for RUPs - only partially paid invoices will be (anything with a balance due)
Payments applied to an Invoice that is then included in a RUP will not remain associated with the individual Invoice. Instead, the payment will "belong" to the RUP; if that Invoice is removed from the RUP, it's payment is not removed with it.
Due to their manual creation, RUPs are not intended for long term use for recurring Jobs. If you would like to automatically combine Recurring Job Invoices for a Client based on a regular basis using a set schedule, the Combined Billing Schedule (CMB) function is the best tool to use.
If you would like to enable the Invoice Roll Up feature on your SingleOps Account, please contact our support team at support@singleops.com.
Any invoices attached to jobs that have Deposits - the Deposit will need to be applied prior to the roll-up.