Overview
SingleOps provides users with an easier way to markup items and services when creating proposals. Before we discuss how to markup a job by percentage markup, I'd like to define a few key terms (with the help of Investopedia.com).
Cost: is what you, as a business, pay for a product or service.
E.g., You paid $10 to purchase mulch from your wholesaler - the $10 is your cost
Markup: the amount by which the cost is increased on a product or service to arrive at the price
E.g., If you paid $10 to purchase mulch from your wholesaler and you want to charge your customer $15; the markup would be $5
Price: is the amount your customer is willing to pay for a product or service.
E.g., You charge $15 to your customer for the mulch
The SingleOps platform allows you to designate either a cost plus or a percentage markup.

An example of the Cost Plus method was the example used above in the Markup definition.
You paid $10 to purchase mulch - that was your cost. You want to add a $5 markup to that mulch to cover your overhead. That is Cost plus Markup which brings you to your price.
An example of Percentage markup would be: paying $10 to purchase mulch and wanting to maintain a 50% markup. The SingleOps system multiplies your cost ($10) by the percent markup (50%) which would bring your price to $15.
In SingleOps
When creating a proposal or an active job, you can select which markup method you prefer by scrolling down to the "Additional Options" section. By choosing either: "Cost Plus" or "Percentage", the items table above will automatically refresh to reflect your selected markup method.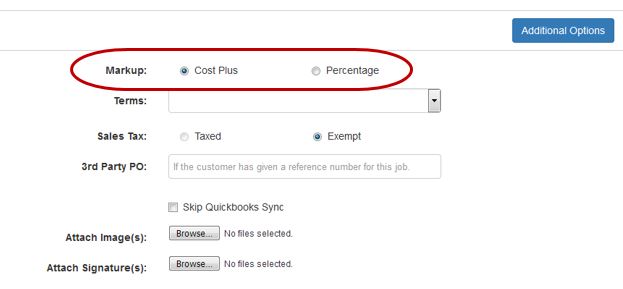 IMPORTANT: Once you've selected "Percentage" as your markup method, the number in the margin column represents the percentage of the total unit price which is made up of the margin.
So, in the example below, the total unit price for the line item 'Take Down and Remove' is $170.00.
The actual cost of the item is $50.00 - which is 29.41% of the total price.

The margin is then $120.00 - which is 70.59% of the total price.

Be sure and enter in the margin dialog the percentage of the total unit price you wish to realize as margin (profit).

You can modify this markup option on a job-by-job basis but if you find yourself constantly doing this, you can set percentage to be the default method of calculation by modifying an account setting.
To do this, go to Admin >> Account Settings >> Company >> Find and Check the box next to "Use Percentage Pricing. Then click the blue Update Account button at the bottom to preserve your change.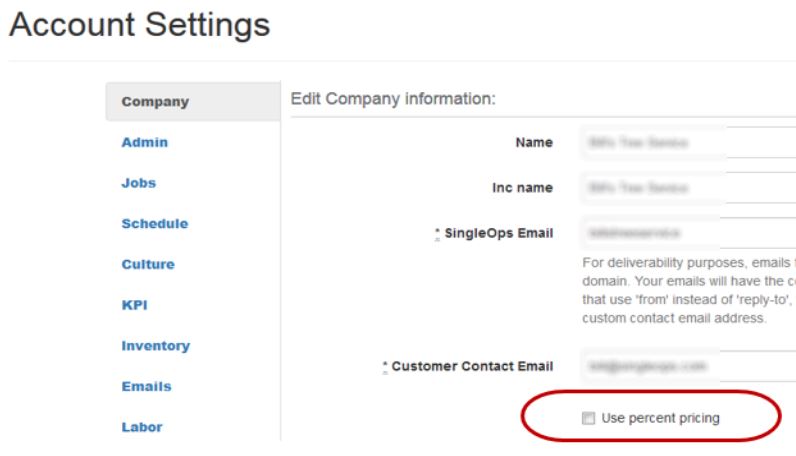 Feedback
If you feel this article was unhelpful or did not contain the information you were looking for, please write a comment below detailing what material you were looking for and how we can improve.
We'll be happy to edit this article to incorporate your feedback!