Tired of having to enter your margins as the delta between cost and price?
From a question asked by one of our users...

If you find yourself constantly having this conversation inside your head when pricing jobs...
'Ummm...   let's see...    I want to make forty points of margin on this job, and it's going to cost me...  (figuring)   ...one hundred and twenty dollars...   so I need to charge [my customer]...   (figuring...  again)   ...two hundred dollars'
There's an easier way when you know what percentage of markup you want to realize in the job.
In the Additional Options section of the job (near the bottom), you'll find an option which will allow you to either calculate your markup as a cost plus - or as a percentage.  Click  the Percentage option if you wish to have SingleOps calculate the markup as a percentage.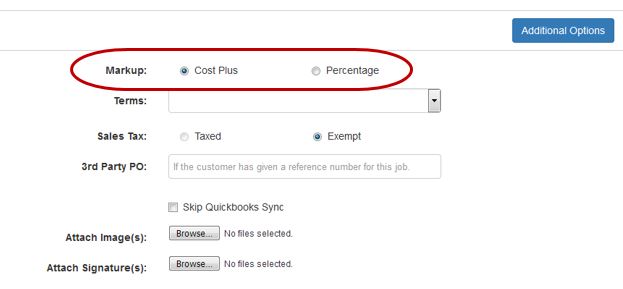 Note that the line item row changes to now show a margin column where it previously contained the price column.   IMPORTANT:  The number in the margin column represents the percentage of the total unit price which is made up of the margin.  So in the example below, for the line item 'Take Down and Remove', the total unit price is $170.00.   The actual cost of the item is $50.00 - which is 29.41% of the total price.  The margin is then $120.00 - which is 70.59% of the total price.  Be sure and enter in the margin dialog the percentage of the total unit price you wish to realize as margin (profit).

You can modify this markup option on a job-by-job basis...    but if you find yourself constantly doing this, you can set percentage to be the default method of calculation.  Go to Admin  >>  Account Settings  >>  Company and check the box next to 'Use percentage pricing'.  Then click the blue Update Account button at the bottom to preserve your change.