Batch Renewal can be used to renew more than one Recurring Job at a time, and is often run once a year by Users who wish to carry certain Recurring Jobs forward into the new year.
Tips & Best Practices
Batch Renewal is not available for One-off Jobs
Rejected Jobs and Jobs with Rejected Visits are eligible for Batch Renewal, and any Rejected element (Jobs and Visits) will take on the Stage chosen during Renewal (Proposed or Active)
Renewed Rejected Jobs and Jobs with Visits in a Rejected Stage cannot be Batch Renewed into a Rejected Stage
If certain items should not be renewed, such as material, discounts, etc., edit the Item and enable the setting to Exclude from Renewal
Attachments such as photos and PDF files do not renew with the Jobs (PDFs set at the document template-level are not affected, and will continue attaching to the proper document based on those settings)
Some Recurring Jobs are ineligible for renewal using this tool. Please see the last paragraph in this article for more information.
How to Batch Renew Recurring Jobs
To Batch Renew Recurring Jobs, navigate to the Jobs section of SingleOps, then click on Batch Renew Recurring Jobs. Follow these steps to complete the batch renewal:
Go to Jobs > Batch Renew Recurring Jobs
Select the date range which includes the end dates of the jobs you wish to renew
Select the jobs you would like to renew from the available results
Enter the new date range for the jobs you're renewing (SingleOps does not recommend using a date range greater than one year).
Click the 'batch renew' button.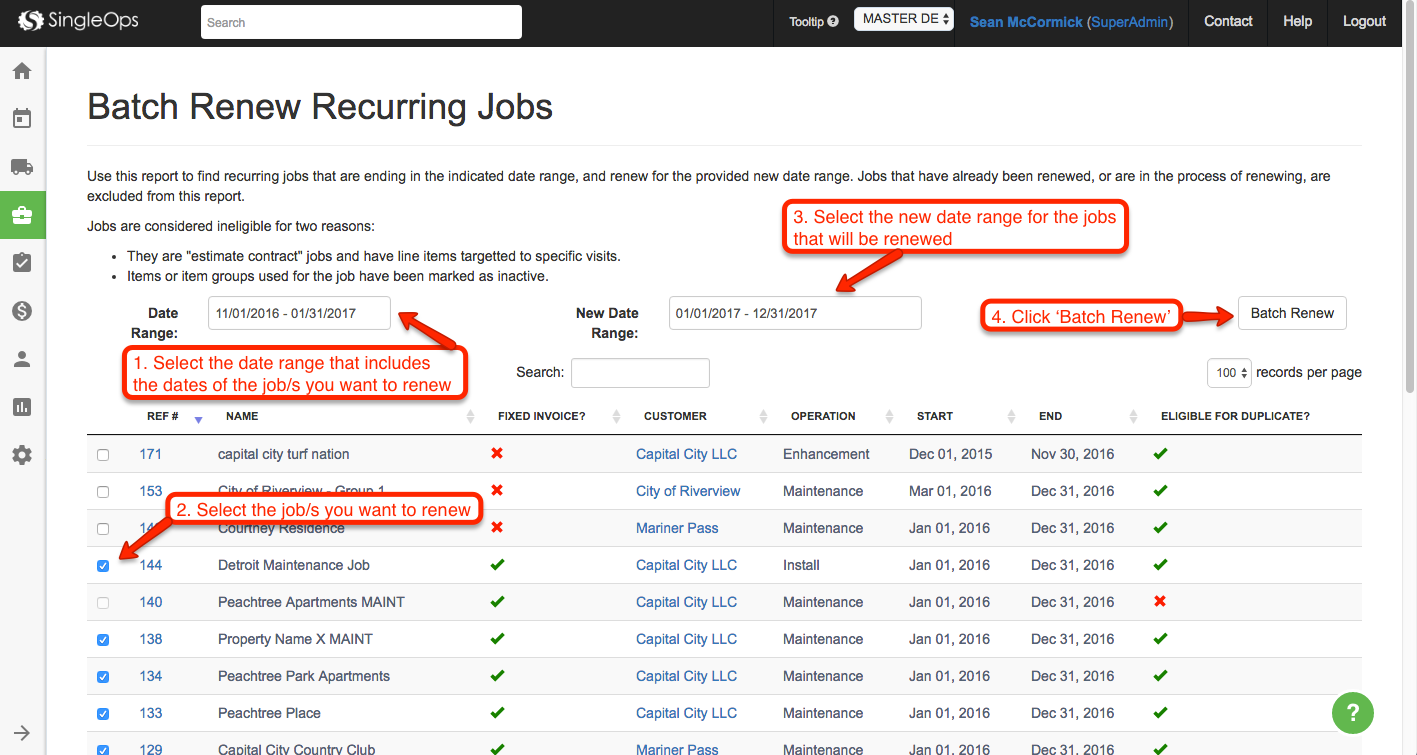 After confirming renewal on these jobs, SingleOps will perform a background task and duplicate each job with its new date range. This can take several minutes. You will receive an e-mail notification once the process has been completed.
Batch Renewal Exceptions
Jobs with the following characteristics will be limited or unavailable for Renewal:
Jobs with Items or Item Groups which have been marked as Inactive will renew, but those Items which are no longer Active will not be included on the Renewed Jobs
Jobs which have already been renewed via manual or Batch Renewal are not eligible for Renewal