What information would you like to collect? How would you use it?
What information do you find yourself needing to collect?   Where would you put it? How would you use it?   Do you need to collect how your customer heard about you?   Do you need to routinely collect information about your customers' trees (e.g., species, DBH, location on the site, etc.)?  Where can you record license, registration, or certification numbers?
Think of custom inputs as 'buckets' that you can create to collect and hold any kind of information you want/need.  The inputs can occur in a variety of locations throughout the job's various pages, and can be of several different data types.  Let's look at the create page for a new custom input and talk about each element in turn.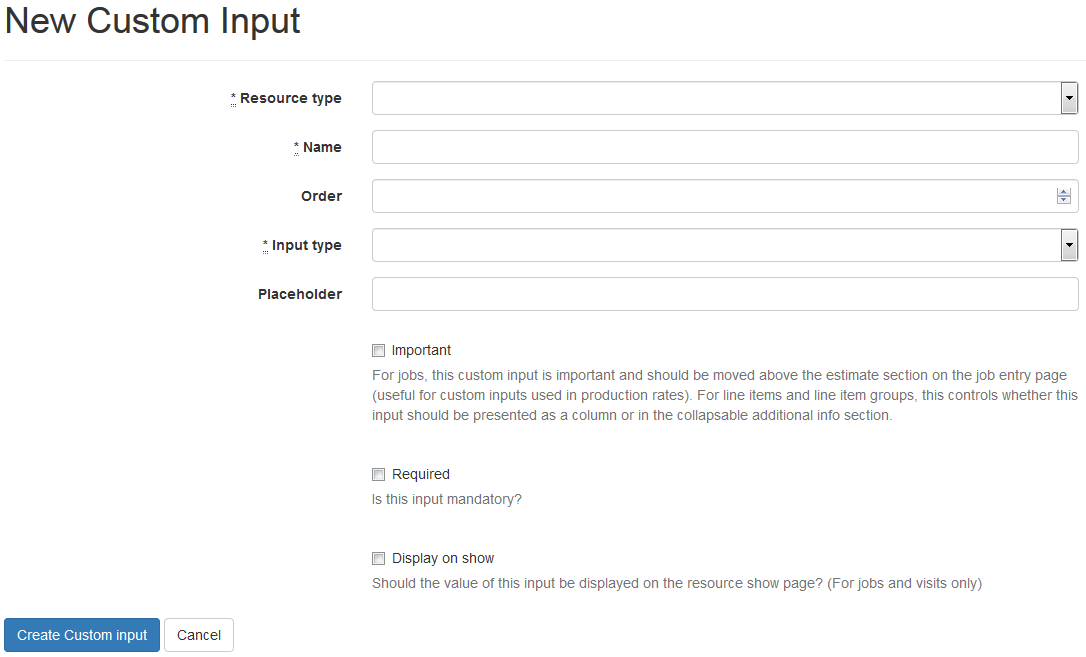 Resource type  -  an exhaustive discussion of all the resource types is beyond the scope of this article, but will be discussed in depth in a future article.  But just imagine that if you wanted to collect some data element for one of the areas listed...   you could probably add a custom input for that area.  Do you need a CDL check box for your users?  Do some of your vendors accept barter?  Are some of your clients chronically-slow payers?  You can create a way to capture this via a custom input. NOTE:  one resource type which is not as intuitive:  if you need something to show on the job completion page, add it as a visit resource type.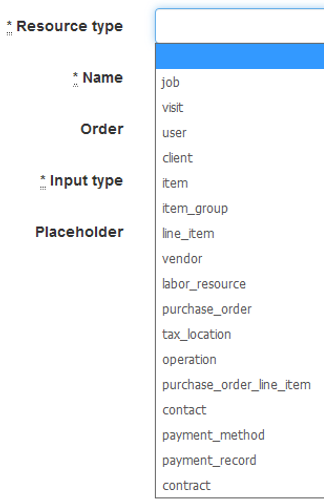 Name  -  this is the easy one:   call it pretty much anything you like!  (as long as it's under 255 characters, that is...  )
 Order  -  custom inputs of the same resource type are normally presented on the page in the order that they were created - but should you later create a custom input which you wish to appear above/before another, you can assign it an ordinal value:  '1' = 'first', '2' = 'second', etc.  Any/all inputs with assigned order will present in the order dictated by their ordinals, then any remaining unassigned will present in the order they were created.
 Input type  -  here you can select the type of input you'd like to present to the user
text vs text area  -  both allow the user to free-type in the value; text presents a         single line entry whereas text area presents a multiple-line entry and can usually be resized by the user
checkbox  -  a single checkbox which allows Boolean 'Yes/No' or 'True/False'          entry
datetime, date, or time  -  datetime, as the name implies, allows for collection of         both a date and a time, e.g.,  '2018-01-26  4:11 PM' whereas date is only the '2018-         01-26' portion...   and time is only the '4:11 PM' portion.
dropdown  -  this is a pulldown selection which allows your user to select from a pre-defined list of values.  There currently is no 'free-text 'Other'' option, but you can create a secondary custom input if you find you need to collect ancillary                 information, e.g., 'How did you hear about us?' [Dropdown value:  Radio] leads to           secondary custom input 'Which station?' [free-text or dropdown of station call                 signs in the area).
 Placeholder  -  you can think of this as the label which is presented to the user prior to any value having been entered.  It works well for any input type except checkbox.
 Important  -  here's the verbiage from the screen shot:
For jobs, this custom input is important and should be moved above the estimate section on the job entry page (useful for custom inputs used in production rates). For line items and line item groups, this controls whether this input should be presented as a column or in the collapsible additional info section.
Meaning varies with resource type, but basically 'highlight the input by placing it at the top...   or bury it by placing it at the bottom'.  Test toggling the value 'on/off' at creation, and see which placement works best for your application.
 Required  -  pretty self-explanatory, but when checked, page cannot be saved unless/until this value is entered.
 Display on show  -  as noted, this is applicable to only job and visit resource types, but determines whether the custom input also shows on the job and visit show pages (the pages where all jobs/visits are listed as a report - but clicking on any one job/visit will allow it to expand 'in-line' for viewing/editing while still showing all other jobs/visits above and below this job/visit in a non-expanded form).
Using the Custom Input Value
Once you've created the custom input and collected data via the input, you can then use its values to reference, report, count, sum, average, sort, and filter your data.  you can use the data you've collected in almost any way you can imagine - but only because you've created the input and collected the data!  You couldn't do anything with the data prior to its collection, and you can never have too much data!  :)   Anyway...   it's better to have it and not need it...   than to need it and not have it.  Let us know in what creative ways you've elected to use your custom input data.
Feb 17, 2018:  Here is an article which discusses how to add a custom input to your proposal, visit, or work order documents.
Contact SingleOps Support (support@singleops.com) if you'd like to use any of your custom inputs in a custom report.
__________________________________________________________________
Here is a data dump of all custom input titles to-date (2018-01-16) to give you some idea of what is being used (care was taken to remove anything which might be proprietary or location- or company-specific):
811, Accepted Date, Access#, Account Last Touch Date, Account Last Touch Notes, Account Next Touch Date, Account Owner, Account Type, Ad Source, Additional Hazard Notes, AddOn, Adjuster, Adjuster Email, Adjuster Phone, ADP Export Key, AI, Appointment required?, Arborist License Number, Arborist Number, Asset Location, Assignee, Attention, Bees, Bid Date, Bobcat Access, Break Out Labor Items On Proposal, Business Phone Number, Cancellation, Capacity, Cell Phone, Chairs (Amount, Clean, Position), Check # , Chemical Reg #, Chip On-Site, Claim #, Clean, Client arrival time, Climber hours, Closest Hospital, COA, Comments, Commission Percentage, Completion Notes, Contact Customer Before Departure, Content Quality, Contract Signature Date, Contract?, County, Coupon Code, Crane/Bucket Truck Access, Credit Limit, Credit Rating Score, Crew Leader Name, Crew Members On Job, Crew Size, Custom Checkbox, Custom Email Signature, Custom Field, Custom Type, Custom visit field, Customer Contract Number, Customer Email, Customer Memo, Customer Number, Customer On-Site, Customer Phone, Customer PO Number, Customer WO Number, Cut Date, Cut Date (job), Cut Type, Date Approved, Date Called, Date of Loss, Date of request, Date Proposal Sent, Daytime Phone, DBH, Decay, Default Prepay Discount Percentage, Degree of Difficulty, Delivered Trailer Number, Delivery Pricing, Description in Detail, Description When No Photo, Desired Contribution Per MH, Development, Division Phone Number, Division Salesperson Code, doc billing address, doc inc name, doc logo source, Dog, Dogs, Driver, Driver Notes, Driveway Inspection And Screen Enclosure, EHTC, Email, Email Invoice, Email Signature, End of Day, Equipment: Tool Inspection, Equipment: Vehicle Inspection, Equipment: Vehicle Stability, Evening Phone, Event Preferences, Event Start, Event start date, Event Stop, Event stop date, ExportKey, Extras, FCC #, Fence, Field Code, Financial Agreement Date, Fire Extinguishers, Forklift available?, Gate, Gate Code, Good Ref, Good Reference?, Gross Margin, Group NPI #, Group NPI#, Hand or Difficult Carry Out, Hazard Scale (1-10), Hazards?, Headshot URLs, Health, Health of Tree, Height, Hidden Notes, Hide Item Table On Proposal, Hide Item Total Price On Proposal, Hide Item Unit Price On Proposal, Hide line item total on proposal, Hide Proposal Total, Hide total on proposal, home, Home Warranty, Honorific, How did you hear about us, How Did You Hear About Us?, How'd they find us?, Hydro: Hold Off, Hydro: Rubber Glove Inspection, Hydro: Safe Limits of Approach, Individual NPI#, Insurance, Insurance Carrier, Insurance Claim, Internal Outlet, Invoice Options,  Irrigation, ISA, ISA Certification Number, ISA Certified Arborist Num, ISA CERTIFIED ARBORIST NUMBER, ISA Number, Isotopes were entered, Item Code, IUSA Number, Job Note, Job Number, Job Site Hazards, Job Title, Jobsite Category, JSA Compliance Section, Key Rec, Landing Zone, Last Touch Date, Last Touch Notes, Lat, Lawn Care Program, Lead Generation, Lead Source, Lead Source If Referral, Lead Type, Leave Chips, Leave Firewood, Leave Mulch, Leave Wood, Level, Level Of Difficulty, Liftgate service required?, Lighting (Secure, Power, Bulbs), Linens, Live or Dead, Loading Dock available?, Location, Location on Property, Location on Site, Location Sales Volume Range, Lockbox Code, Long, Lost Reason, Lunch on property, Mail Inv Only, Make sure removed tools, Man Hours, Manager Visitation Frequency, Map Code, Marketing Code, Marketing Detail, Marketing info, MC Enrollment #, MCR Enrollment #, Measurement 1, Measurement 2, Measurement 3, Measurement 4, Method of invoice delivery, Mini Loader, Miss Dig # & Date, MKTG, MPN, Mulch Color, Multi Day #, Multi Visit Invoice Start, Multi Visit Invoice Stop, Neighbor Access or Permission, Next Touch Date, Non-taxable, Not Account Customer, NOTAM, Notes, Number, Number of Employees, Number of men on crew, NXS, NXS num, Obstacles , Office Email, Office Employee Weekly Overhead, Office Phone, Onsite Supervisor, Operation ExportKey, operation logo url, Operation Office Manager, Operation Office Name, Operation Scheduler, Original Service Start Date, Other, Other Information, Owner, Owner Information, Pallet Jack available?, Permit Applied On, Permit Jurisdiction, Permit Pricing, Permit Received On, Permit Required, Personnel: Competent, Personnel: Other Crews, Personnel: PPE, Personnel: Public Safety, Pest, PESTICIDE APPLICATOR NUMBER, Pesticide License Number, PHC Info, Phone, Phone Number, Pickup Trailer Number, Pin #, PITA, Plant Name, Pmt Pow Nbr Notes, Power Bill Obtained?, Power Bill Rate, Power Drop Required?, Power Lines, Power Lines:  Location, Precipitation, Prepay Discount Percentage, Price Match, Primary SIC Code, Primary SIC Code Description, Primary Type, Production Report Join Calculation Types, Productivity, Project Number, Property Inspection: Driveway/walkway, Property Inspection: Eavestrough/Downspouts, Property Inspection: Windows/Siding, Property Lines, Proposal Date, Proximity to Lines, PTAT/MCR Enrollment #, QAL Num, Quality Control Grade, Quantity Returned, Rad 1, Rad 2, Rad 3, Rad 4, Rad 5, Rad 6, Rad 7, Raise, Reading Physician(s):, Receptionist, Reduce, Referral, Referral Source, Referred, Referred By, Referring Person, Relationship, Removal, Remove, Rental Agreement, Repairs?, Request made by, Resale Certificate Number, Returned pallets, Returned tubes, Review, Review Notes, RGA #, Rigging, Route, RTF Sq Ft, Safe Parking, Safety Comments, Sales Rep, Sales Rep Assisgned, Salesperson, Salesperson Code,  Secondary Address, Secondary Payment Amount, Secondary Payment Method, Septic System + Location, Septic Tank, Septic Tank or Drain Field Marked, Septic Tank:  Location, Service Area Size, Service County, Services, Show Labor Qty On Proposals, Show Qty and Unit Price, SIC Code 1, SIC Code Description 1, Size, SKU, Source, Species, Split Comm, Sq ft, Square Footage, Square_Feet, Start of Day, Street Closure, Stump Grinding, Stump Inches , Subdivision, Sunny or Cloudy, Tables (Legs, Tops, Position), Talon Lat, Talon Long, Tax ID #, Tax ID#, TCIA CTSP Num, Team Name, TEG Phone, Temperature, Tent Anchors, Tent Permit, Tent Straps, Tent Tops, Test Date, TG Phone, Thin, This Proposal is valid for , Time and Material Proposal, Timing, Title, Tower Owner, Traffic Hazards: Crew Assignment, Traffic Hazards: Crew Discussion, Traffic Hazards: Markers, Barricades, & Barriers, Traffic Hazards: Pedestrians, Traffic Hazards: Speed, Traffic Hazards: Traffic Signs, Traffic Hazards: Visibility, Traffic Hazards: Volume, TRAQ, Trash, Tree Species, Trees Tagged, Trip Hazard, Turf Type, Type of work, Underground Utilities Marked, Underground Utility, Underground Utility: Location, User Photo Source, user represents a location, UV Hoodie, Visit Frequency, W9, Web search?, Website, Weight, Well, Well:  Location, Wet Ground, Where did you see our number?, Wind Speed, work address line 1, work address line 2, Work Area: Adjacent Structures, Work Area: Noxious Weeds/Insects, Work Area: Services, Work Area: Terrain, Work Area: Traffic , Work Area: Tree Inspection, Work Area: Weather, Work Order, Yard Sign?