Think of custom inputs as 'buckets' that you can create to collect and hold any kind of information you want/need. The inputs can occur in a variety of locations throughout the job's various pages, and can be of several different data types. Let's look at the create page for a new custom input and talk about each element in turn.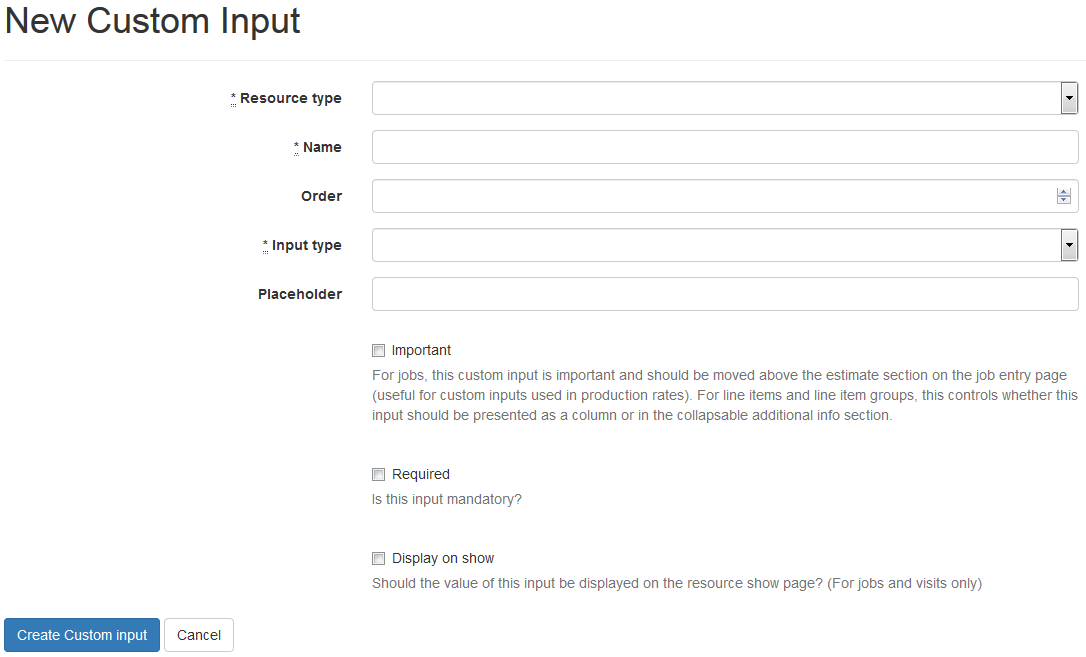 Resource type -

Custom Inputs can be added in many places within SingleOps. These include the elements displayed in the list below. NOTE: one resource type which is not as intuitive: if you need something to show on the job completion page, add it as a visit resource type.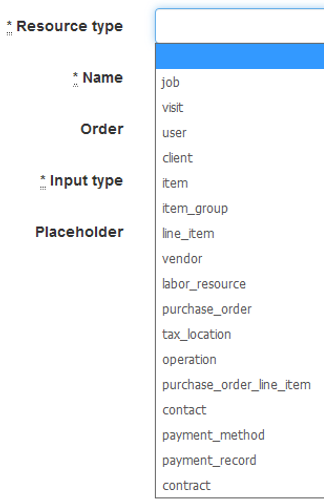 Name - Add a descriptive name for your custom input
Order - custom inputs of the same resource type are normally presented on the page in the order that they were created - but should you later create a custom input which you wish to appear above/before another, you can assign it an ordinal value: '1' = 'first', '2' = 'second', etc. Any/all inputs with assigned order will present in the order dictated by their ordinals, then any remaining unassigned will present in the order they were created.
Input type - select the best method for capturing your information; Note, the dropdown menu provides added report functionality and an import/export tool for quick updates

Text vs Text Area

- both allow the user to free-type in the value; text presents a single line entry whereas text area presents a multiple-line entry and can usually be resized by the user

Checkbox

- a single checkbox which allows for 'Yes/No' or 'True/False' entry

Date Time, Date, or Time

- datetime includes both a date and a time, e.g., '2018-01-26 4:11 PM' whereas date is only the '2018-01-26' portion, and time is only the '4:11 PM' portion.

Dropdown

- produces a dropdown list of options which allows your user to select from a pre-defined list of values. There currently is no 'free-text 'Other'' option, but you can create a secondary custom input if you find you need to collect ancillary information, e.g., 'How did you hear about us?' [Dropdown value: Radio] leads to secondary custom input 'Which station?' [free-text or dropdown of station call signs in the area).
Placeholder - a descriptive line of text which prompts a User to complete the field (i.e. "Enter Gate Code here")
Important - carries different meaning based on the Resource Type:

Jobs - this custom input is important and should be moved above the estimate section on the job entry page (useful for custom inputs used in production rates).
Line Items/Line Item Groups - controls whether this input should be presented as a main column or in the collapsible additional info section.
Required - when checked, the applicable resource type cannot be saved until this value is entered.
Display on show - only applies to job and visit resource types; determines whether the custom input also shows on the job and visit show pages (the pages where all jobs/visits are listed as a report - but clicking on any one job/visit will allow it to expand 'in-line' for viewing/editing while still showing all other jobs/visits above and below this job/visit in a non-expanded form).
Using the Custom Input Value
Once you've created the custom input and collected data via the input, you can then use its values to reference, report, count, sum, average, sort, and filter your data. you can use the data you've collected in almost any way you can imagine - but only because you've created the input and collected the data! You couldn't do anything with the data prior to its collection, and you can never have too much data!