Sometimes you need to show how much you discounted an item or service: here's how...
From an actual question from one of our users...

In some cases, you may wish to negotiate the total price of a job or visit 'off the books', i.e., you and the customer just come to an agreed-upon price. But other times, it's important to show exactly how much the job would have originally cost... and by how much you were able to discount the total price (and why).
In those instances, you'll want to use SingleOps' discount item when estimating and invoicing the job or visit.
.
Creating the Discount Item
Before you can use the discount, you must first create the discount item. If you're going to have discounts which will always be the same amount, you can create the discount with a default value (e.g., Fall Trimming $25 OFF Coupon). But for other discounts, you may wish to simply create a discount item with no fixed amount, and then adjust the discount on-the-fly.
1. (QBD clients only) To create the discount:
Create the item as a discount in QB FIRST and then sync it over to SingleOps.
Continue to step 2.
1. (QBO clients only) To create the discount:
Go to Admin >> Items >> Items
• Click the Newbutton (upper-left)
• In the page that opens, enter something descriptive as the name for your discount and select the type 'Discount'
At the minimum, you need not fill out or check any other boxes except fora) non-inventoried, and b) Active.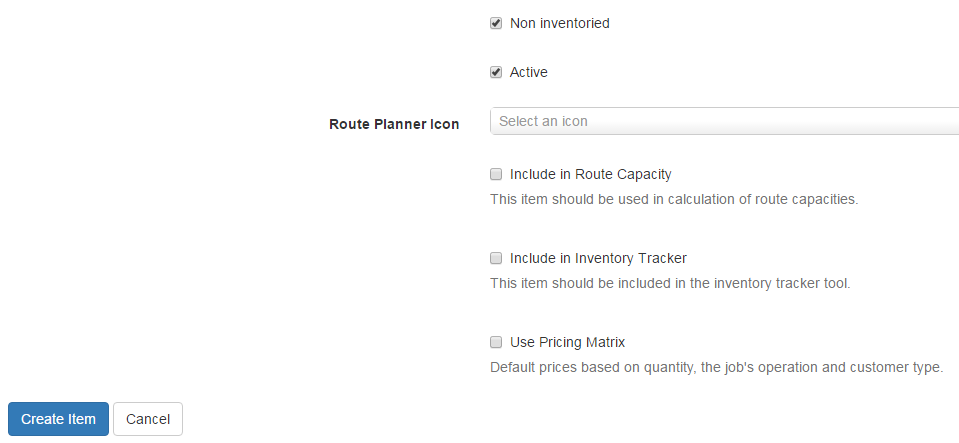 Once you've checked the boxes for non-inventoriedand Active, click the blue Create Itembutton (lower-left) to save and create the new discount item.
.
2. Using the Discount Item
Now that you've created the new discount item, you can use it in your estimation and pricing for the job. Simply click Add Item below the Estimate section and use the item pulldown to find and select the discount from the list. If you've created more than one type of discount, ensure that you've selected the discount most appropriate to the situation at hand.

Note that the Summary table now also reflects your discount...

...as will your proposal and invoice.

Editing or Removing the Discount
Editing or removing the discount is accomplished in the same manner as editing or removing any other line item. Ensure you are in the edit mode for the job or visit by clicking the Edit button (upper-right). To edit the discount, click within the line item to add descriptions, modify the amount, or even select another type of discount. To remove, click the red 'X' at the end of the line item row. Be sure to save your job/visit after any changes by clicking Update and Close at the bottom of the job/visit page.