The SingleOps report catalogue includes 2 Customer Communication reports that provide data on all communications sent out of SingleOps by date & status. These reports include the Email Report & the Text Report.
In this article:
Prevent Emails From Going into Spam Folder
Find Email & Text Reports
1. Navigate to:

Reports > Report Catalog > Customer Communication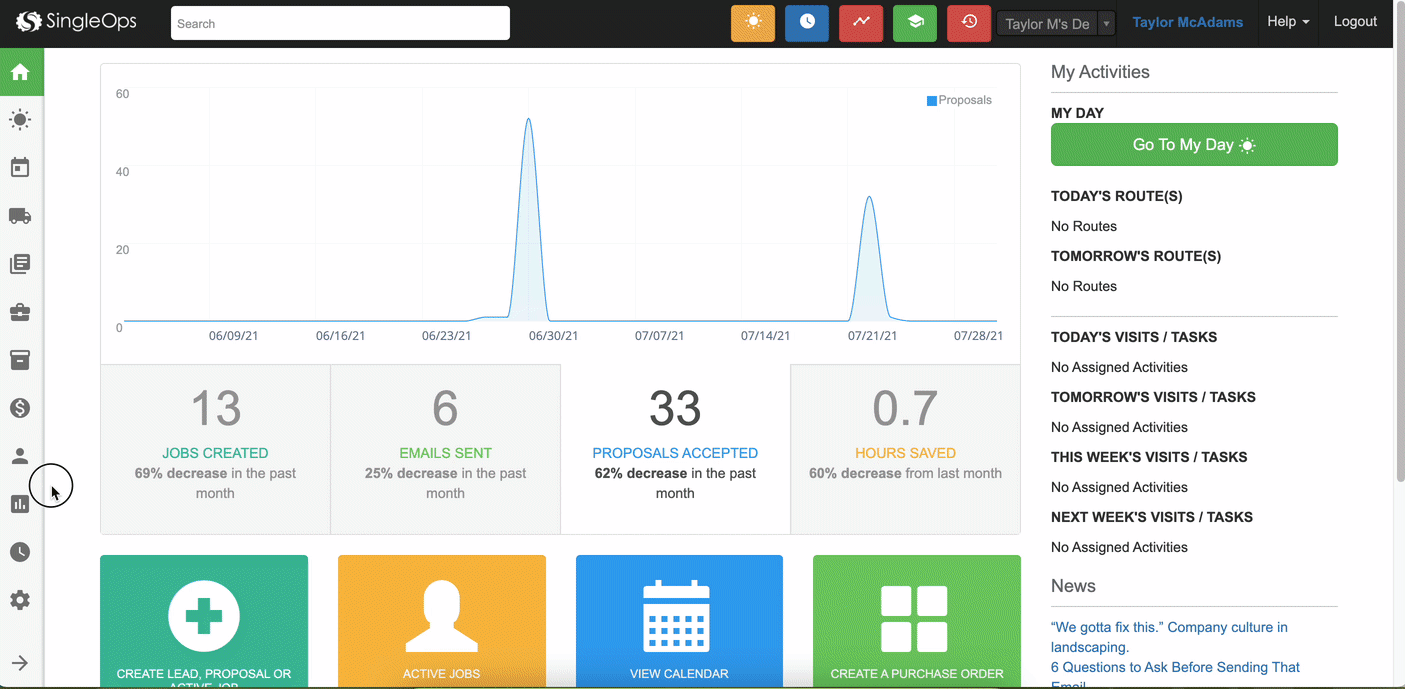 Statuses & Their Descriptions
Each report includes details on the sender, recipient, content, & status. Below is a list with descriptions of each status:
Dropped - Email was not delivered. In certain cases, an email will be dropped to a specific email address to protect your sender reputation. If a certain email address has bounced, marked previous emails from the user as SPAM, unsubscribed to the emails previously, or the email address did not exist at the time of the send, then the email will show as dropped. In some cases, we are able to assist in fixing the issue.
Delivered - Email was successfully accepted by the receiving server. If a certain customer did not receive the email to their inbox, it could be filtered into their SPAM folder or other folder.
Opened - When a client opens the email, it is tracked so that we see the email was opened.
Bounced - The message was returned to our server. Too many bounced email attempts can result in the email being considered "dropped."
Clicked - When an email is opened & a provided link is clicked, the status will show as "clicked." For example, if a proposal or invoice link is included in an email & clicked to view.
Deferral - The recipient's email server has temporarily refused delivery of the email. The most common reason for this is too many emails being sent to this type of email domain in a short period of time.
Blank - When SingleOps sends an email, the recipient's mail server provides a response when the message is accepted for delivery, when it bounces, or when it can't be delivered for any reason; however, some email servers will not allow SingleOps to see this information, resulting in a blank status.
Prevent Emails From Going to the Recipient's SPAM Folder



Every recipient server is different & may apply different spam filtering criteria for the messages being received. In most cases, recipient servers do not provide any information about SPAM filtering to the sender of an email that was filtered. It would give too much information to spammers who would use that data to get around SPAM filters.
SPAM filters are constantly changing to adapt to new techniques & types of spam messages, so what lands in the Inbox today could be SPAM filtered tomorrow.
Most of the major email providers, including Yahoo!, AOL, Hotmail, & Gmail, use engagement-based filtering to help detect SPAM. This means that the more your recipients interact with your emails by opening, clicking, & reading, the more highly engaged your audience is, & the more likely you'll end up in their inboxes. If a lot of users are marking a message as SPAM, it's more likely to end up in other people's SPAM folders. If you've moved emails out of the SPAM folder, that's a positive indicator & can help ensure future emails that are similar are delivered to the Inbox instead.

Tips
Ask recipients to mark your emails as "safe" & add the email send address to their contact list.
If onsite with a customer sending a proposal, it is best practice to collect signature (if able) & then email the proposal in addition. Ask the customer to check their email to ensure they've received your message. If not, go ahead & have them check their SPAM folder & mark it safe. This will ensure all future messages go to this client & help with engagement for customers with the same email provider.
Be sure employees are not marking any emails as SPAM. It is very common that an employee will mark an email as SPAM if they do not want to receive that type of email any longer, without realizing the detriment to your email deliverability.
Do not use SingleOps for marketing. Marketing emails are emails that are not directly associated with a Client's Job(s). Please use an email marketing tool like MailChimp or Constant Contact to send marketing emails. You can export your Client & Contact list from SingleOps to get a list of emails for these services.
Manage Blacklisted Emails
Recipient email addresses are added to the Rejection Blacklist when one of the following events occur:
The recipient address bounces
The recipient address registers a SPAM complaint for an email sent to that address
The recipient address registers an unsubscribe for an email sent to that address
The recipient address is manually added to the Rejection Blacklist
*Follow this link to the How to Whitelist an Email Address article for more information and directions Whitelist an Email Address
Please contact support@singleops.com to remove an email address from the Rejection Blacklist. If the customer has approved the resending of the message, our Support team can clear the address. If they mark SPAM for a second time, we are unable to remove them again without risking your deliverability to other addresses.