The Route Planner is an advanced scheduling tool that allows you to create daily, map-based routes for your drivers.
In this article:
Before Creating a Route
Before you can begin building routes, configure Route Planner Settings.
How to Create a Route
Once you have updated your User(s), follow the steps below to create a route:
1. Navigate to:

Route Planner > Route Planner

2. Select + Add Drivers

3. Check Include next to the desired Driver(s)

4. Select Add Selected Drivers

5. Unlock the Driver's route by selecting the lock next to the Driver's name.
*Note: This lock exists as a safeguard to protect the route from any unintentional additions or deletions. If you attempt to add any event to the route while the route is locked, you will receive a warning message in the lower-right corner of the route planner.

6. Select-&-drag any unscheduled event from your list on the left or from the map & drop it on the intended Driver's route in the allotted time slot.
*Note: The event will default to the predetermined length selected in Account Settings, however, you can grab the right handle of the event & drag it to the appropriate stop time, as needed.
7. Lock the Driver's route
*Note: Once locked, you can view the Driver's route on the map by selecting the Driver's box.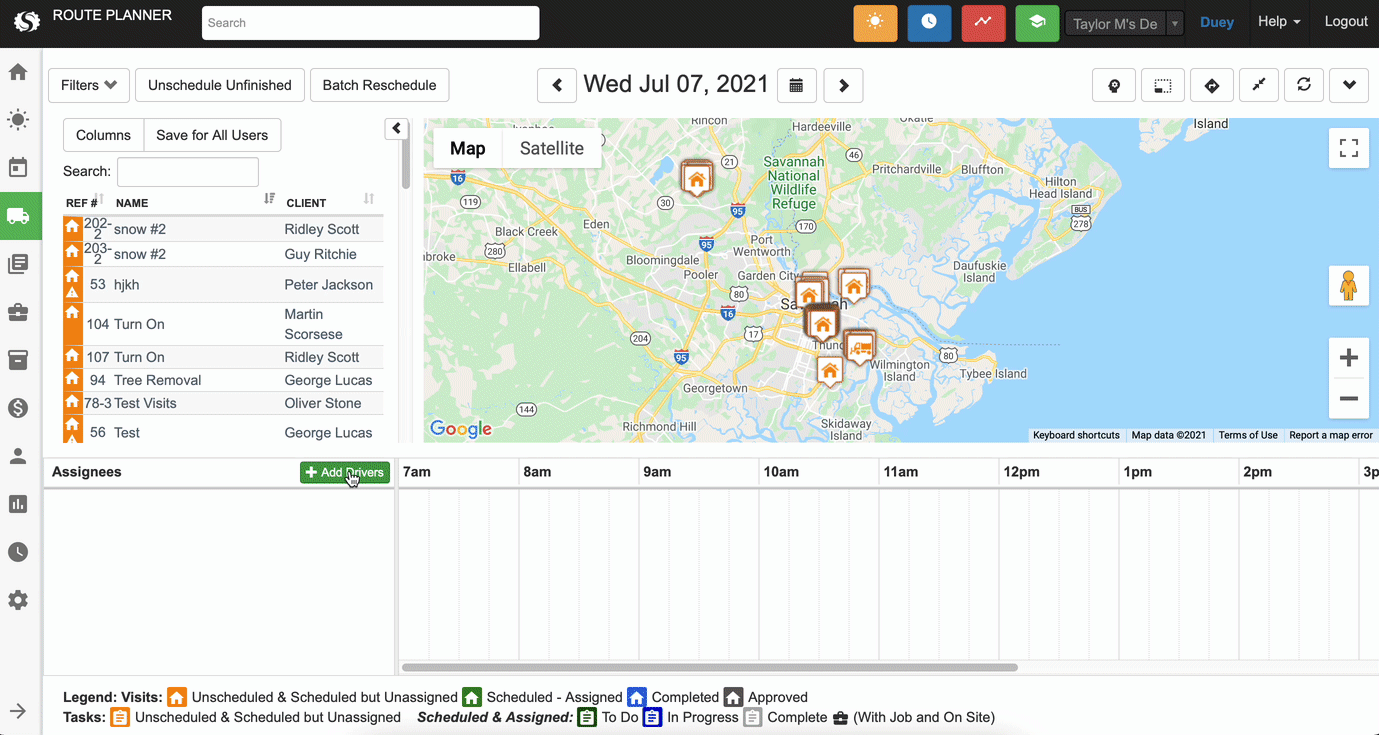 Additional Notes
To adjust the default Task & Visit length, as well as the start & end time of your day
1. Navigate to:

Admin > Account Settings > Schedule


Other Route Planner settings can be found here:

Admin

>

Account Settings

>

Routing

Jobs cannot be created from the Route Planner, however, you can create Tasks by clicking directly into a Driver's route. You can learn more about adding Tasks in the Route Planner

here

.

The Route Planner is a map-based tool. If you are attempting to add a Job to a route which does not yet have latitude/longitude coordinates, you will receive a warning indicating that the Job does not have a usable location. When this happens, you will need to edit the Job & link the location to Google Maps.

Due to the Route Planner's complexity & the small size of most mobile devices, this tool will not work on most cell phones & tablets, unless using a device with a width that is 768px or larger. To find the exact width of your device, please refer to this

website

.