In this article:
Item Categories Overview
Name
Description
Examples
Material
These are physical items used during a visit & left at the job site. Material items can also be used for inventory management within SingleOps, as well as calculating COGS on select reports. These items are taxable by default.

Mulch
Seasonal Color
Fertilizer

Service
These are services provided to your customers that are typically billable. Their quantity is usually measured by something that directly correlates value to your customer (e.g., number of trees removed or sq. ft of pine straw installed). Service items can also be measured in man hours, however, best practice is to use the Labor category for such items (see below).

Mowing
Tree Removal
Shrub Pruning

Expense
These items represent costs from outside vendors that are typically indirectly related to a job. The cost of these items can be billed to the client with no markup. If you want to up-charge a client for purchased materials or subcontracted services, you should build that price into other items already on the invoice or use an item marked as subcontracted at job entry if you expect to apply a related expense at a later time. Expense Items cannot be added to Item Groups.
Labor
Typically measured in labor hours, these items represent direct work completed by crew members or operators. These items are required for specific labor reporting within SingleOps & can be used in conjunction with labor resources.

PHC or Turf Care Application Labor
Stump Grinding Labor
Mowing Labor

Equipment
These are physical items used but not left at a job site. Equipment items also have supported inventory & reporting functionality.
Discount
These items are automatically negative, so the price is deducted from the invoice total.

Family Discount
Military Discount
Referral Discount
Navigation
1. Navigate to:

Admin > Items > Items
2. Select New or click the Item Name, this will open up the Item and allow you to select Edit to make changes.
3. Click the dropdown next to Categories and select an Item Category.
4. When selected, click Update Item to save your changes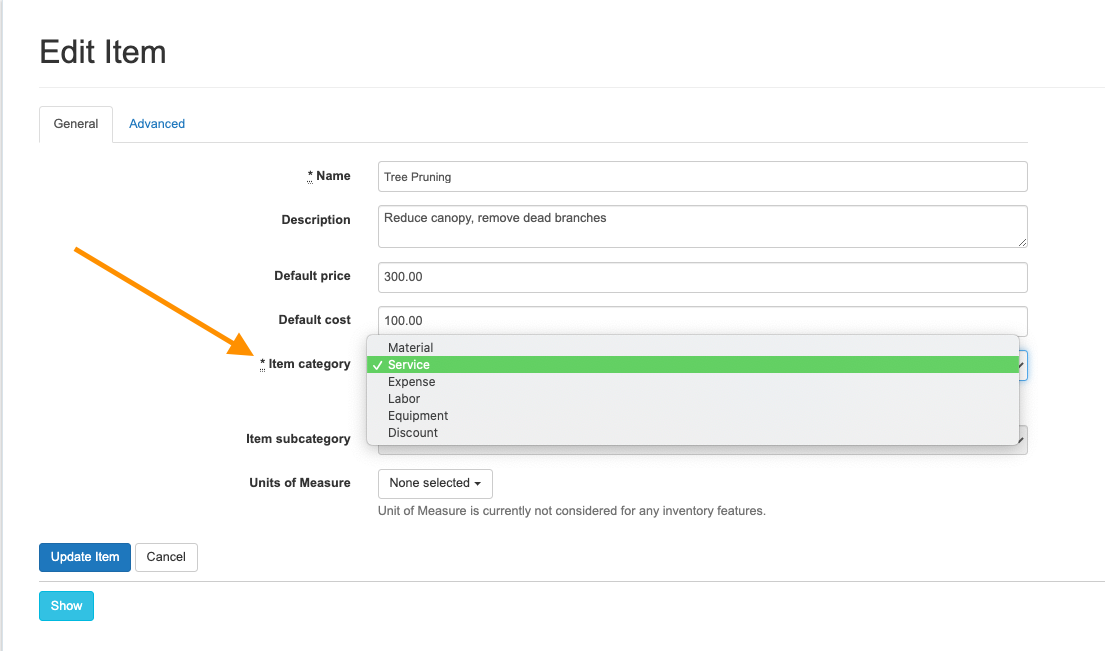 For more information about Items, visit the Items & Item Groups section in the Help Center