Summary Data for Business Insights enables you to take all of the information in some of SingleOps' powerful detail reports and summarize it to develop powerful insights into your business. Using a pivot table style report builder you can slice and dice your data to develop the specific insights you are looking for.. This feature is currently available on the following reports:
Jobs Report
Visits Report
Invoices Report
Line Item Report
Payment Records Report
Tips and Best Practices
Use Saved Reports and save your views when using Summary Data for Business Insights to quickly access data that you'd like to review regularly
Use Dynamic Date Ranges (Help Center Article coming soon!)
How to Set Up Summary Data for Business Insights
This feature will be enabled by default on your SingleOps account. If you have any questions, or don't see the Summary Data for Business Insights option on your Jobs Report, Visits Report, Invoices Report or Line Item Report please contact SingleOps Support.
Data Snapshots
Summary Data runs on snapshots of information based on your reports. These snapshots take all of the filters you have on the report and generate a data set for the pivot table This allows the pivot tables to run lightning fast, and also gives you control over when your report will update. Snapshots are individual to each user unless they are on a saved report. Saved report snapshots are global and available to all users who have access to that saved report. This allows you to use a saved report as a historical reference so you can always go back and see what your data looked like at that time.
I. How to Use Summary Data for Business Insights
First, navigate to either the Jobs Report, Visits Report, Invoices Report or Line Item Report. This example is going to focus on using the Jobs Report.
The first thing you will notice is a new header, highlighted below. Clicking on this header will reveal two new options, View and Refresh or Create Snapshot. The first time you generate a Data Snapshot, you will see the Create Snapshot button. After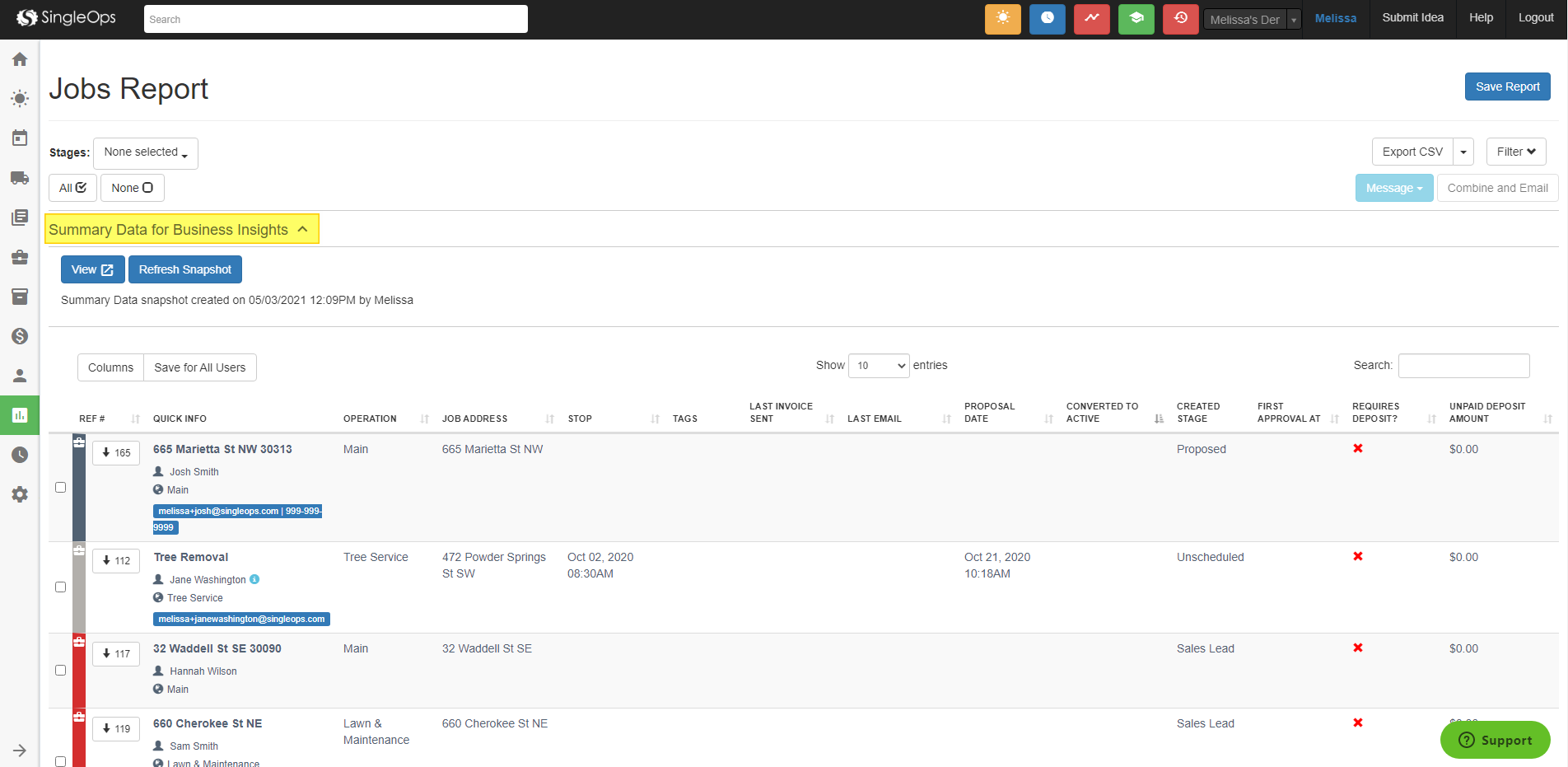 How to Take A Data Snapshot
In order to use Summary Data for Business Insights, you will first need to take a "Snapshot" of the data that is currently displayed in the report. The data snapshot captures the data from the Jobs Report and allows you filter, organize and summarize that data in the Data Summary Table.
You can take a snapshot of all the data in the Jobs Report and filter later in the Summary Data table. If you're only interested in a specific data set, for example, Jobs that were created Year to Date, then it is a best practice to go ahead and filter the data in the Job Report, BEFORE taking a data snapshot.
Once you have the Report Filters set up, click "Refresh Snapshot" to take a snapshot of the data that is currently displayed on the Report: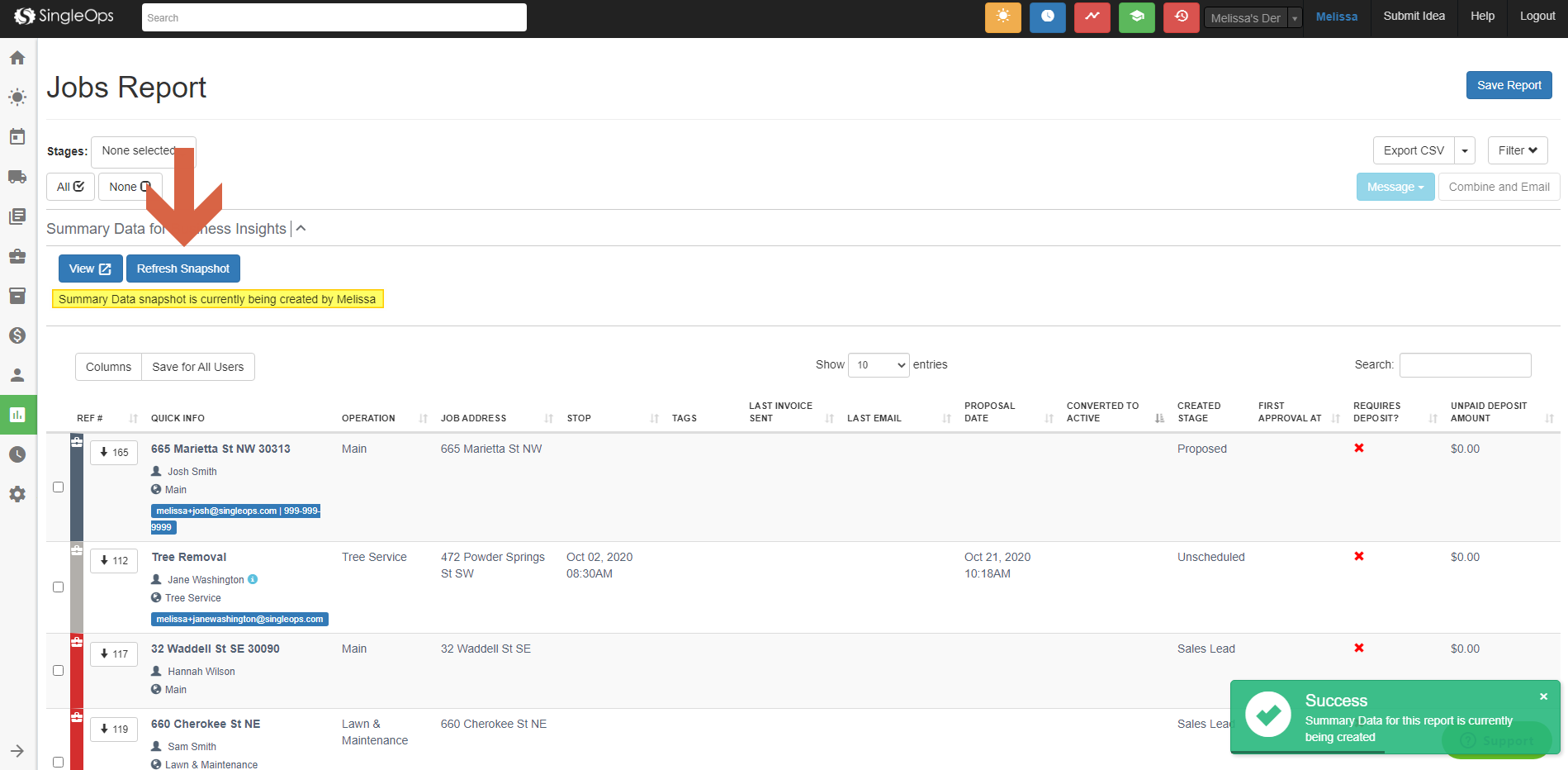 The Data Snapshot takes time to generate and load. After hitting Refresh or Create Snapshot, you may want to do other work and come back in a few minutes.
Hit refresh on the browser to check the Time and Date of the snapshot to ensure that your data snap shot has finished generating and is available.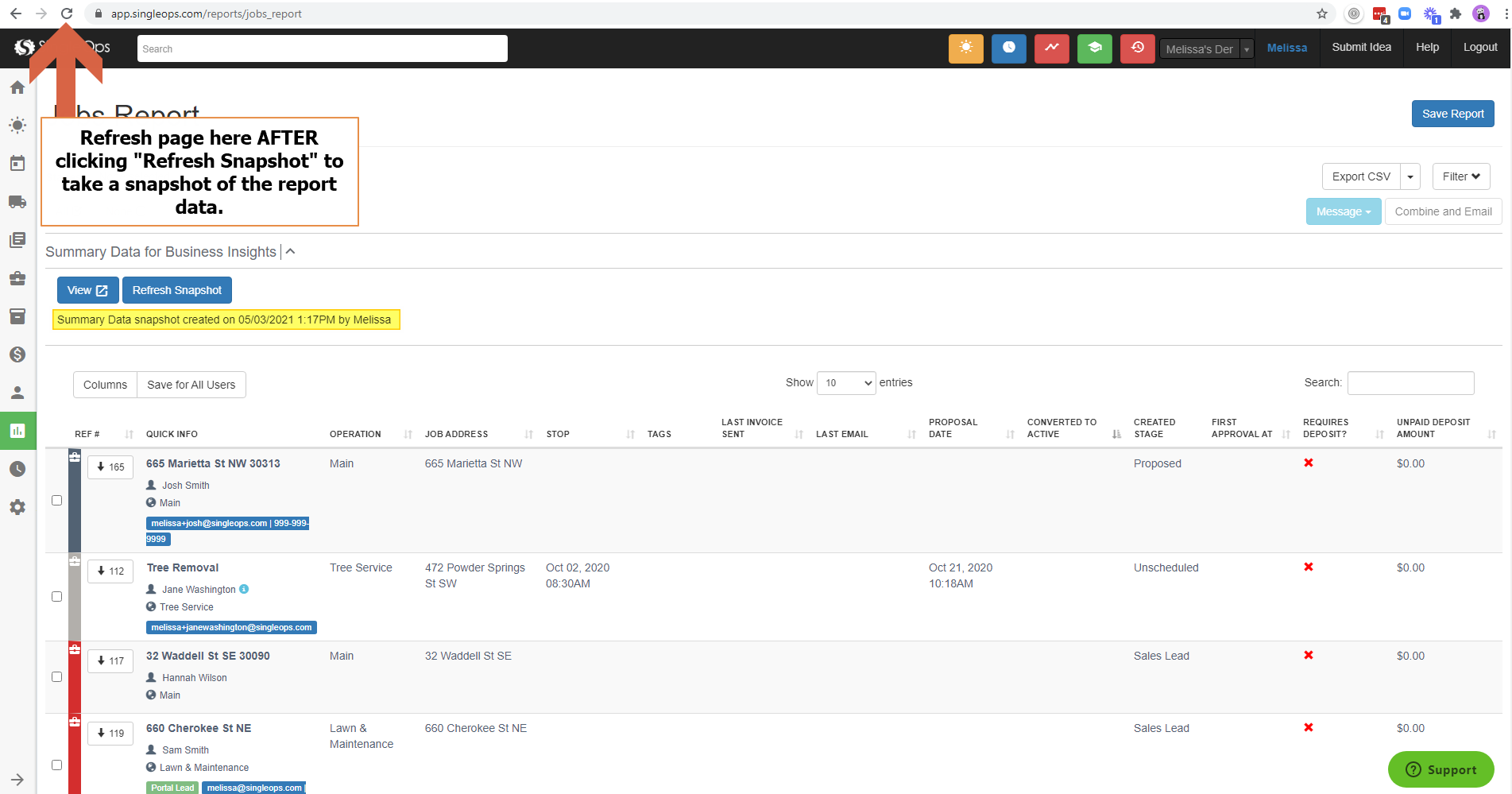 Once the data snapshot has finished loading and is displaying the Time and Date of the snapshot, you can click the View button.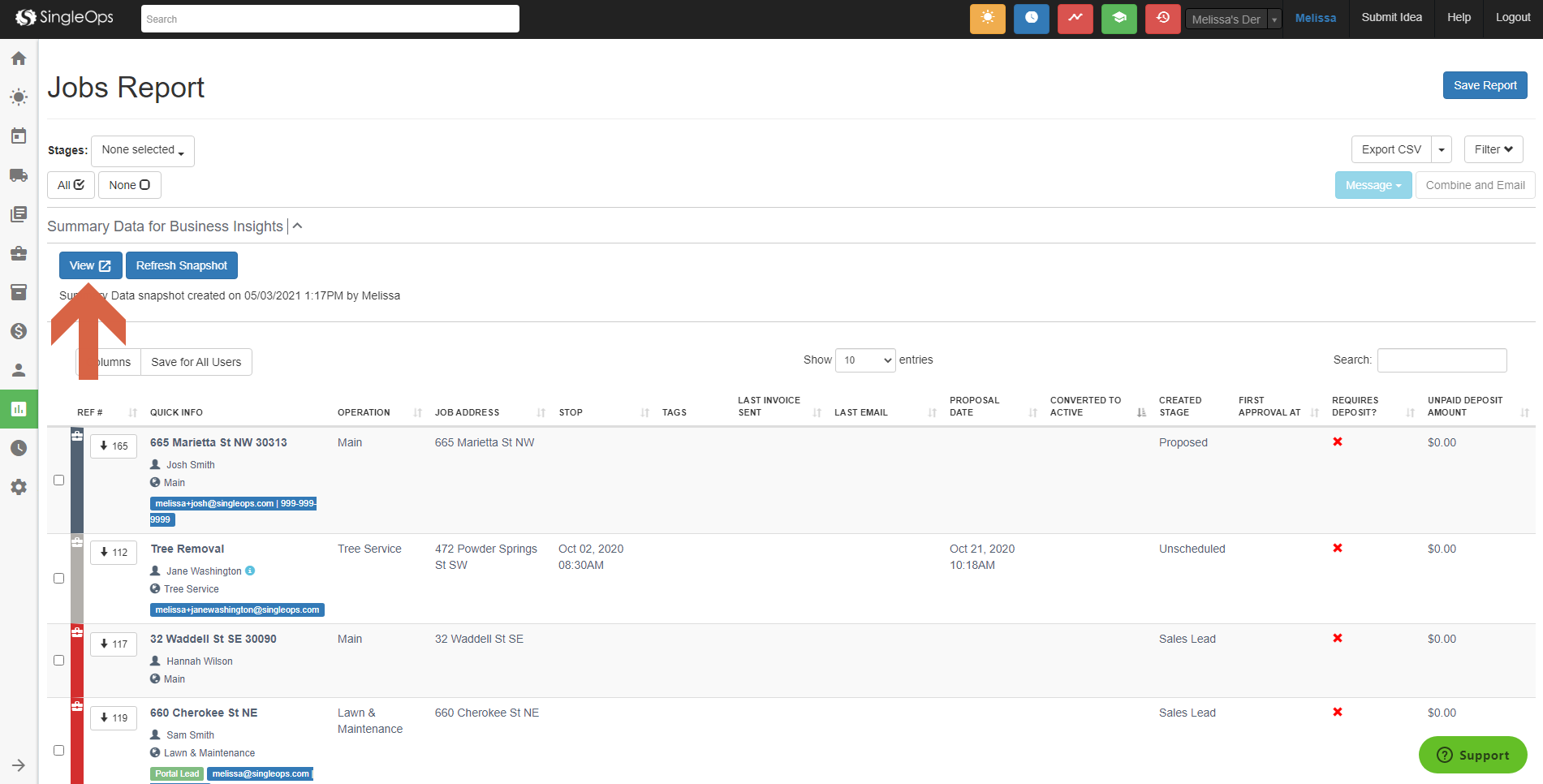 The View Button will open the Summary Data Table, with the Time and Date of the snapshot.
From here, you can configure the View of the Summary Data Table either by:
1. Click to Configure View to open the Pivot View screen and manually chose your filters, columns, rows and summary functions.
2. Load View to choose default views set by SingleOps or to choose a Saved View.
Setting up the Pivot View
Clicking on the "Click to configure View" option on the Summary Data Table page will open the screen to make changes to the filters, columns, rows and summary functions. Any field, including Custom Inputs, will be available here, even if the columns were not displayed on the report where the Data Snapshot was captured.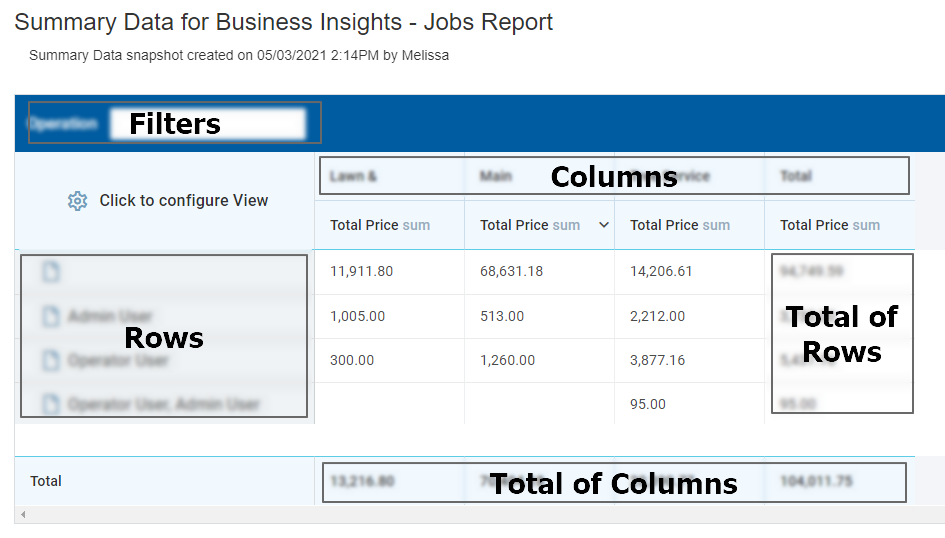 The Pivot Configuration screen is drag and drop, and allows you total control over how to build your report. This is how each section works:
Filters
Any fields moved to this section can act as filters on the data. Filters can be configured to be multi-select, text search, or a date picker
Rows
Rows are the core of your report, and control how you want to organize your data. For example if you choose Sales Rep or Assignee as a row you will see your data summed up to that employee, but if you chose Job Name you would see each individual job.
Columns
Columns allow you to "group" your data. For example if you chose Sales Rep as a row, with Total Price as your value, and then Operation as a column, the report would have a column that adds up the total price for each sales rep for each operation, and then a total column.
Values
These are the data elements that are summarized according to the column selections you have made. The default behavior is that the numbers will be summed up. Clicking "sum" will allow you to choose between sum, count, max (highest number), min (lowest number).
Your configuration is saved automatically when closing your report and will be waiting for you next time you view your report!
Advanced Features
After mastering the basics, here are a few advanced features that will help you take advantage of everything Summary Data has to offer!
Date Options
Date fields are broken out in the field list by Month, Quarter, and Year to allow for easier grouping of data for analysis. This can be useful for comparing periods of time against each other, try using them as a "Column".
Saved Configurations
While your default configuration is saved automatically as you build your report, one of the best ways to leverage this tool is to create additional configurations for each report you need! Once you have a Pivot Table set up the way you want. Click "Save Configuration" to make this available to you in the future.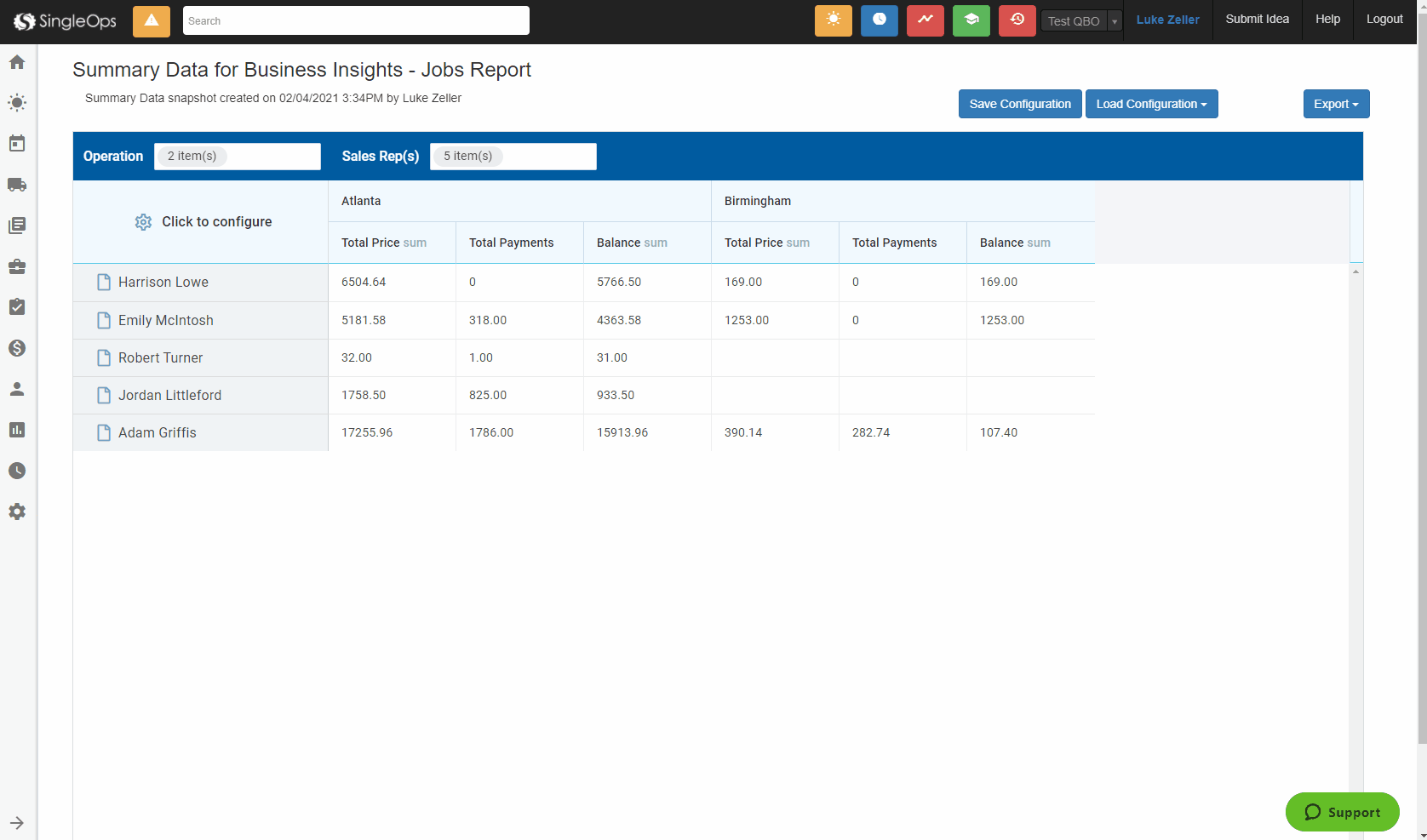 This makes it super fast to swap back and forth between different reports! Similar to the snapshots, configurations on reports are unique to each user, except for saved reports. Saved report configurations are global to all users who can access that report.