In this article:
Dashboards Overview
EMPOWER YOUR TEAM WITH DATA
Experience the power of SingleOps Dashboards, where your data is seamlessly consolidated into a single, unified interface. With Dashboard's clear visualizations and intuitive reports, you can quickly assess performance, identify trends, and make data-driven decisions to propel your business toward growth and success.
All-in-One Data Management: Monitor several key metrics such as Revenue Over Time, Proposal Conversion, Sale Leaderboards, and more at a glance.
Simplify Reporting: Streamline the process of generating reports and analyzing data, saving businesses time and effort while enabling them to make data-driven decisions.
Easy-to-Understand Visuals: Present charts, graphs, and other visual elements in an easily understandable and engaging manner.
Improve Collaboration: Provide a shared platform for your team to exchange information, track customer interactions, and work together on projects.
Additional Notes
All Admins and Operators can use Dashboards

All tiers in SingleOps have access to Dashboards

Dashboards are user-specific. Other users on the account will not be able to see your dashboard.
Create Dashboard
The dashboard will start empty so you can fill it with desired widget. Use steps below to fill in the dashboard.
Click the Dashboard option in the left hand navigation to open the Dashboards.
Click the Add Widget

button to open the widget selection modal.

Select the widget(s) you want to include in your dashboard.
Note: See table below for detail on available widgets
Click Continue and the

widgets will populate on the dashboard.
Configure Dashboard
Resize the widget by clicking and holding on the bottom right corner of the widget and resizing the widget based on your preference.
Move the widget by clicking and holding the "grid" icon (on the top right). Release the click when done.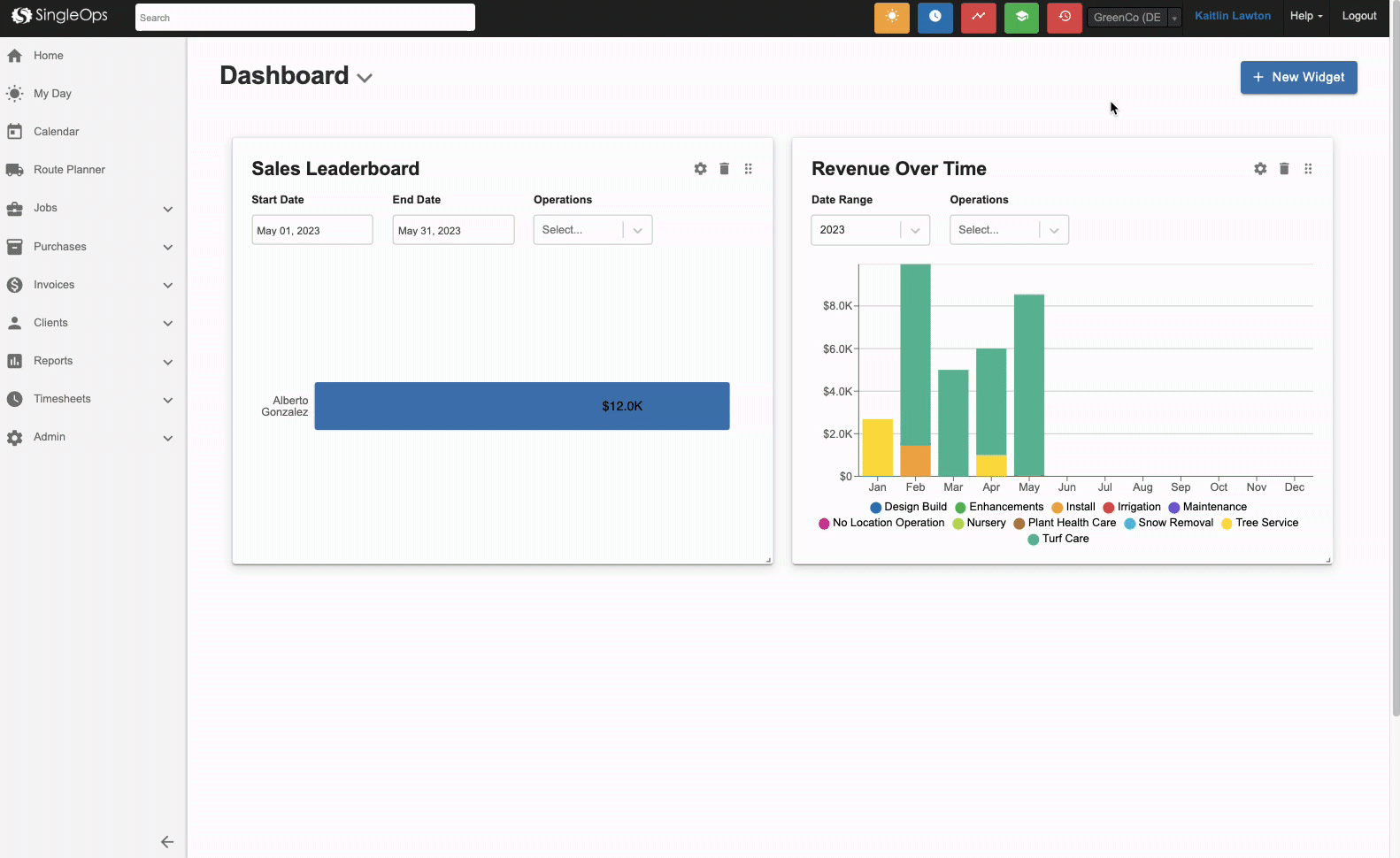 Remove a widget by clicking the trash icon.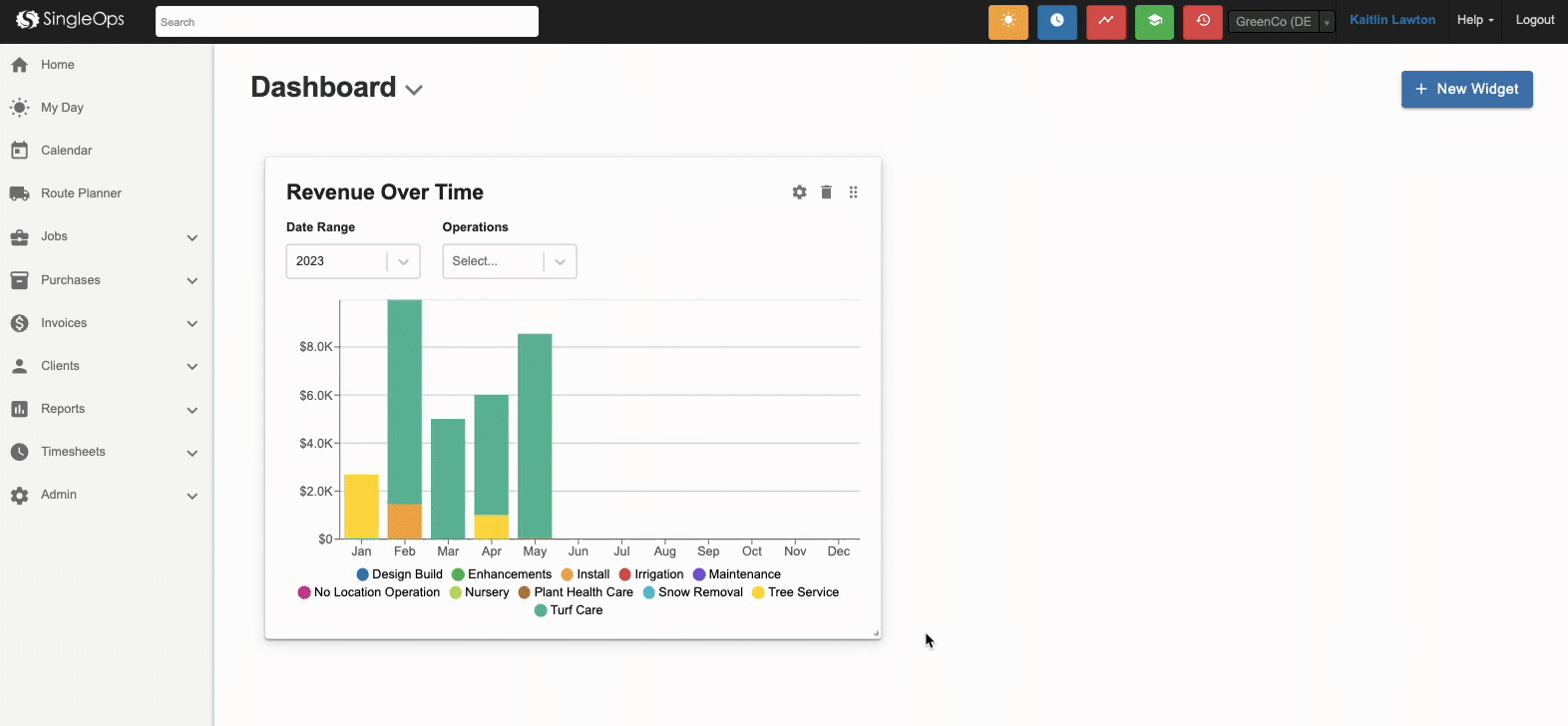 Edit a widget by clicking the cogwheel icon. At this time, you can only edit the widget's name.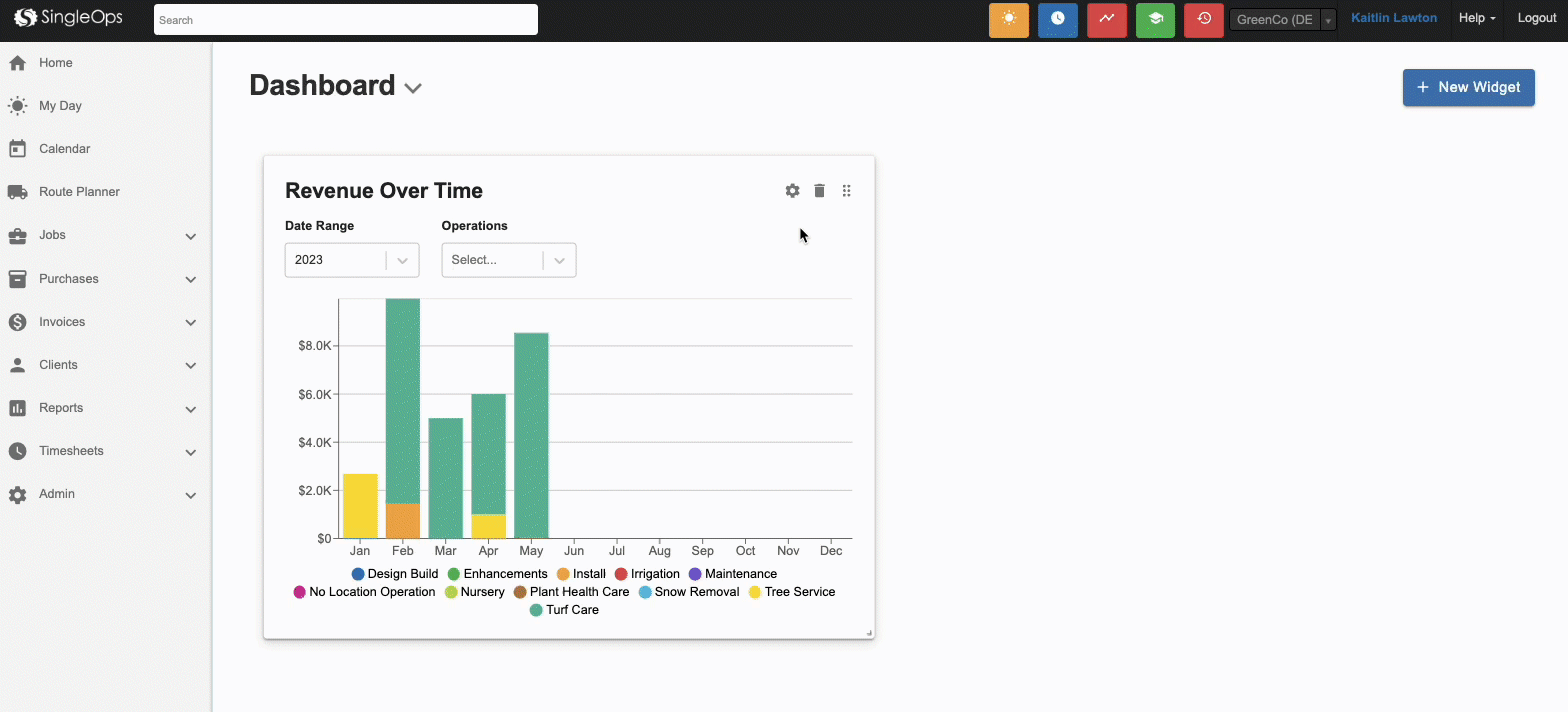 Widgets
Widget
Description
Revenue Over Time

Use this widget to track revenue billed through the year. Ensure your trend is growth!

Learn more about the Revenue Over Time Widget here.

Margin Per Man Hour

The first of two Man Hour widgets. Use this one to help assess the efficiency and productivity of your company's workforce.

Learn more about the Margin Per Man Hour here.

Labor Progress Report

Track the actual progress of your jobs with this widget. Keep tabs on how projects are advancing compared to their planned schedule, enabling you to identify any delays or issues early on.

Learn more about the Labor Progress Report here.

Sales Over Time

Use this widget to track and analyze past sales trends. It can help you anticipate seasonal patterns and peak demand periods, allowing you to adjust staffing and resources to meet customer needs during busy periods and optimize resource allocation during slower times.

Learn more about the Sales Over Time here.

Sales Leaderboard

Which one of your sales reps is selling the most? Keep track of your best sales reps and motivate your sales team with the Sales Leadership widget!

Learn more about the Sales Leaderboard here.

Proposal Conversion

Gain further insights into your sales performance and optimize your conversion rates. Use this widget to assess the effectiveness of your sales team as well as set realistic sales goals and forecast future revenue.

Learn more about the Proposal Conversion here.

Revenue Per Man Hour

Our second Man Hour report widget. Keep this widget handy as it shows you how much money your jobs bring in for each billable hour of labor.

Learn more about the Revenue Per Man Hour here.
Dashboards Overview Video